Corporal Harry Johns
Corporal Harry Johns was a member of the 999th Field Artillery Battalion. In 1945, there were approximately 240 field artillery battalions in Europe, with approximately eight of these battalions being composed of African Americans. The 999th Field Artillery was one of these African American Battalions in Patton's Third Army. They manned an eight-inch Howitzer that could fire at 200 lb. Projectile up to 10 miles. In combat, this battalion fired approximately 22,200 rounds.
Harry George Johns was born on December 7, 1921 in Alliance, Ohio to Iona Huskey Johns and Ewing James from Springfield, Tennessee. He attended Seneca Elementary School and graduated from Alliance High School in 1939. In 1940, Johns enrolled at Wilberforce College where he was a member of the school's ROTC program and a member of the Kappa Alpha Psi fraternity. In 1943, Johns volunteered for the United States Army and completed basic training at Fort Sill, Oklahoma. After receiving artillery training, Johns attended infantry school at Fort Bennie near Columbus, Georgia.
In 1944, Johns, part of the all black 999th Field Artillery became a part of the attachment to General Patton's Third Army and helped allied forces break through German lines of defense at Saint Lo. The 999th was reorganized and designated as the 999th Field Artillery Battalion Colored Division on February 25, 1943. The battalion departed the New York Port of Embarkation June 3 1944 and arrived in England two weeks later. the Battalion was committed to combat in the European Theater of Operations and landed in France on July 17,1944. Continuing to battle though France and Germany, the unit was at Ostingen, Germany at the end of World War II.
Following General Patton through France and then Germany, Corporal Harry Johns and his battalion faced continuous combat for nine months and 22 days. Their troop was an important part of the ground force led by General Patton and was one of the few all black divisions in the United States army during World War II.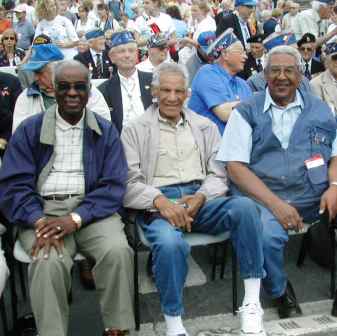 After completing his service in the army, Harry Johns returned to Wilberforce University and completed an accounting degree. He then earned a masters degree in Business from Columbia University. In 1949 Johns was hired as the assistant bursar at Central State University. In 1951, he was promoted to the position of university controller and also became a founding board member of the Central State University federal credit union. Johns was promoted to business manager of Central State University in 1955, and in 1959, he became the vice president of fiscal affairs and the director of physical and future planning. Harry Johns later served as dean of the college of business at Central State University from 1972 until 1977.

Later, Johns founded H.D. Johns Associates and began providing educational management services. In 1970, he became a member of Xenia Rotary Club and served as the club's first black president in 1974. Johns has received various awards and recognitions including the Central State University College of Business Administration Alumnus Award, the Xenia Area Chamber of Commerce Award and the PAL of the Year Award. Johns is also recognized through Central State University's Dr. Harry G. Johns Scholarship. In 2004, Mr. Johns was one of the five African Americans to attend the 60th anniversary of D-Day in Normandy, France. (shown here first row left)