Major General James F. Hamlet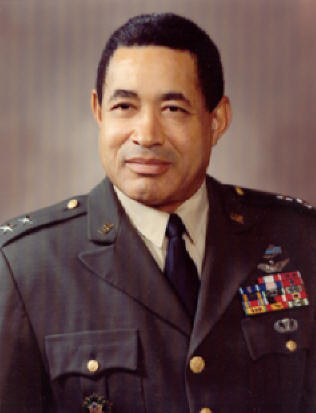 Major General James F. Hamlet distinguished himself by outstanding service as an aviator, aviation staff officer, and aviation commander during an Army career spanning more than 38 years.

His 29 years as an Army Aviator included aviation staff duty in key positions in logistics, operations, force development, and combat development. In these assignments, he was particularly influential during the formative years of the Army's aviation doctrine and organization.

During the Vietnam War, General Hamlet served three years in combat flying assignments. The range of his combat aviation command experience is unique - an aviation battalion; an aviation group; assistant division commander in both the 1st Cavalry Division (Airmobile) and the 101st Airborne Division (Airmobile); and finally command of the reinforced 3d Brigade of the 1st Cavalry Division which remained in Vietnam after the Division returned to the U.S.

Well known and highly respected among Army Aviators, General Hamlet was a model of selfless service and dedication to the Army and to Army Aviation. General James Hamlet was only the second African American to be awarded the two star ranking of major in the history of the army.
General James Hamlet was promoted to Major General on June 1, 1973, at the age of fifty two. General Hamlet was 32nd on a list of generals nominated to the two star general ranking, only fifteen months after receiving his first star.
Born in 1921, James Hamlet was from Alliance Ohio and graduated from St. Benedicts College in Atchisons Kansas. He completed the United States Army war College in Carlisle Barracks, Pennsylvania in June of 1970.
A helicopter pilot, General James Hamlet completed two tours of duty in Viet Nam.
James Hamlet was commissioned a Second Lieutenant of Infantry through Officer Candidate School in 1944. He saw service with the 366th Infantry Regiment in Italy. Following his service there,General Hamlet held a wide variety of command and staff positions before being assigned to Fort Leavenworth in the Army Combat Developments Command Coned Arms Agency from August 1963 to May 1966. In May 1966, General James Hamlet served his first tour of duty in the Republic of Vietnam as the Operations Officer for the 11th Aviation Group, 1st Cavalry Division. He ended his tour as the Commander of the 227th Aviation Battalion, returning to Fort Leavenworth as the Chief of the Air Mobility Branch.
Upon graduation from the War College in 1970, General Hamlet returned to the Republic of Vietnam. In July of 1970, Hamlet commanded the 11th Aviation Group, 1st Cavalry Division (Airmobile) Division in Vietnam, until being reassigned as the Assistant Division Commander, 101st Airborne Division (Airmobile), Vietnam.

In 1971 General Hamlet completed his tour of Viet Nam as Commanding General, 3rd Brigade, 1st Cavalry Division. Returning to the United States, Hamlet first served as Commanding General, 4th Infantry Division (Mechanized) in Fort Carson, Colorado, then in December of 1974 General James Hamlet became the Deputy to the Inspector General, (Inspections, safety, and Survey), United States Army, Washington D.C.

General Hamlet received numerous awards and honors including: Distinguished Service Medal Legion of Merit (with 2 Oak Leaf Clusters), Distinguished Flying Cross, Soldier's Medal, Bronze Star Medal (with 3 Oak Clusters), Air Medals, Army Commendation Medal (with 3 Oak Leaf Clusters), Combat Infantryman Badge, Parachutist Badge, and the Master Army Aviator Badge. General James Hamlet was inducted into the Army Aviation Hall of fame in 1983.
James Hamlet passed away on January 5, 2001, at the age of 79.