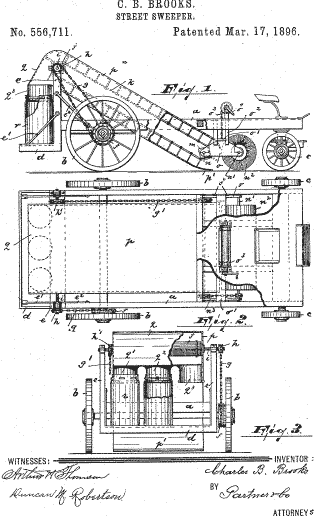 Charles Brooks designed the street sweeper and patented it on March 17, 1896. Prior to his invention, streets were cleaned manually by workers picking up trash by hand or sweeping it with brooms. Brooks' invention was made of a truck with a series of broom-like brushes attached which pushed trashed and debris off onto the side of the road.
An avid inventor, Charles Brooks is best known for his street sweeper invention. Living in Newark New Jersey, Brooks decided to create a sort of broom or sweeper and attach this device to a truck. Street sweeper Trucks became a lot like what you're used to seeing today. His truck had revolving brushes attached to the front fender and the brushes were interchangeable with scrapers that could be used in winter for snow removal. If you could imagine the days where a man would manually have to sweep the streets with a long horizontal head broom, shovel and dustpan, one would quickly demise that this invention was not only a time saver but also extremely economical.
Charles Brook also designed an improved refuse receptacle for storing the collected garbage and litter and a wheel drive for the automatic turning of the brushes and for powering a lifting mechanism for the scrapers.
Continuing to come up with innovative designs, Charles Brooks also patented an early paper punch, also called a ticket punch. It was a ticket punch that had a built-in receptacle on one of the jars to collect the round pieces of waste paper and prevent littering. Charles Brooks was the third person to design a hole punch, his design looked similar to the hand held metal whole punchers of today; the ones which make single holes and look like an oversized nail clipper with a wide handle grip. His paper punch was called a "Ticket punch" and it had a built in waste holder to prevent a mess of round paper dots which would ordinarily fall to the floor.