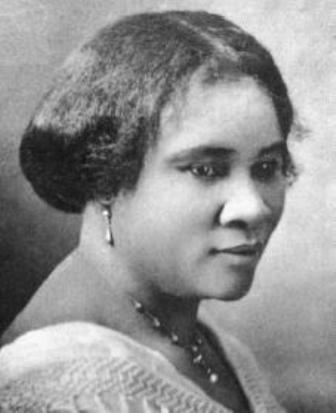 Sarah Breedlove McWilliams Walker, better known as Madame CJ Walker or Madame Walker, revolutionized the hair care and cosmetics industry for African American women early in the 20th century. "I am a woman who came from the cotton fields of the South. From there I was promoted to the washtub. From there I was promoted to the cook kitchen. And from there I promoted myself into the business of manufacturing hair goods and preparations....I have built my own factory on my own ground."
Madam C. J. Walker's true identity was Sarah Breedlove. She was on December 23, 1867 in Delta, Louisiana, the daughter of Owen and Minerva Breedlove. Her parents were former slaves working as sharecroppers and both died when Sarah was a child. As a result, she was shuffled from house to house among her relatives. At age seven, she moved in with her sister Louvina and her husband. After suffering abuse from Louvina's husband, Sarah ran away and married Moses McWilliams when she was 14 years old. In 1885, she gave birth to their daughter A'Lelia. Two years later, Moses was murdered by a White lynch mob.
After her husband's murder, Sarah Breedlove and her daughter moved to St. Louis, Missouri where she joined her four brothers who had established themselves as barbers. Working as a laundrywoman, she managed to save enough money to educate her daughter, and became involved in activities with the National Association of Colored Women.
Unfortunately, all of the stress and hardship had begun to take its toll on her and she found her hair falling out. She tried several products which claimed would help her condition but to no avail. Then one night Sarah had a dream in which a "big Black man appeared to me and told me what to mix up for my hair. Some of the remedy was grown in Africa, but I sent for it, put it on my scalp, and in a few weeks my hair was coming in faster than it had ever fallen out." After she shared her formula with some friends and found it successful for them as well, she realized that there were almost no hair products available for African Americans. She decided to go into business, selling hair products to Black women.
Changing her name to Madame CJ Walker, Sarah founded her own business and began selling her own product called Madam Walker's Wonderful Hair Grower, a scalp conditioning and healing formula. To promote her products, she embarked on an exhausting sales drive throughout the South and Southeast selling her products door to door, and giving demonstrations. In 1908, Madame C.J. Walker opened a college in Pittsburgh to train her "hair culturists."
By early 1910, she had settled in Indianapolis, then the nation's largest inland manufacturing center, where she built a factory, hair and manicure salon and another training school. Less than a year after her arrival, Walker grabbed national headlines in the black press when she contributed $1,000 to the building fund of the "colored" YMCA in Indianapolis.

Madame Walker began to teach and train other black women in order to help them build their own businesses. She also gave other lectures on political, economic and social issues at conventions sponsored by powerful black institutions. After the East St. Louis Race Riot, she joined leaders of the National Association for the Advancement of Colored People (NAACP) in their efforts to support legislation to make lynching a federal crime. In 1918 at the biennial convention of the National Association Of Colored Woman (NACW) she was acknowledged for making the largest contribution to save the Washington, DC house of abolitionist Frederick Douglass. She continued to donate money throughout her career to the NAACP, the YMCA, and to black schools, organizations, individuals, orphanages, and retirement homes.
As her business continued to grow, Walker organized her agents into local and state clubs. Her Madam C. J. Walker Hair Culturists Union of America convention in Philadelphia in 1917 must have been one of the first national meetings of businesswomen in the country. Walker used the gathering not only to reward her agents for their business success, but to encourage their political activism as well. "This is the greatest country under the sun," she told them. "But we must not let our love of country, our patriotic loyalty cause us to abate one whit in our protest against wrong and injustice. We should protest until the American sense of justice is so aroused that such affairs as the East St. Louis riot be forever impossible."

In May 1918 Madame Walker moved to her New York estate, Villa Lewaro, which had been designed by Vertner Tandy, the first licensed black architect in New York State. One of her neighbors was industrialist John D. Rockefeller. Madam C.J. Walker died at Villa Lewaro on Sunday, May 25, 1919 from complications of hypertension. She was 51. At her death she was considered to be the wealthiest African-American woman in America and known to be the first self-made female American millionaire. Her daughter, A'Lelia Walker, became the president of the C.J Walker Manufacturing Company.