Frederick Douglass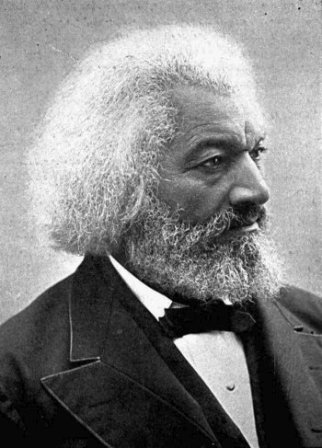 Frederick Douglass was one of the foremost leaders of the abolitionist movement, which fought to end slavery within the United States in the decades prior to the Civil War. A brilliant speaker, Douglass was asked by the American Anti-Slavery Society to engage in a tour of lectures, and so became recognized as one of America's first great black speakers. He won world fame when his autobiography was publicized in 1845. Two years later he began publishing an antislavery paper called the North Star.

Douglass served as an adviser to President Abraham Lincoln during the Civil War and fought for the adoption of constitutional amendments that guaranteed voting rights and other civil liberties for blacks. Douglass provided a powerful voice for human rights during this period of American history and is still revered today for his contributions against racial injustice.
Born a slave in February 1818 on Holmes Hill Farm, on Maryland's Eastern Shore, Frederick Augustus Washington Bailey changed his name to Frederick Douglass after escaping to freedom in 1838. Frederick's mother, Harriet Bailey, worked the cornfields surrounding Holmes Hill. He knew little of his father except that the man was white. As a child, he had heard rumors that the master, Aaron Anthony, had sired him. Because Harriet Bailey was required to work long hours in the fields, Frederick had been sent to live with his grandmother, Betsey Bailey, who lived in a cabin a short distance away. At the young age of six, Frederick Bailey was sent to live on the Lloyd Plantation. In 1826, he was sent to Baltimore, Maryland to live with Hugh and Sophia Auld, relatives of Captain Anthony's daughter.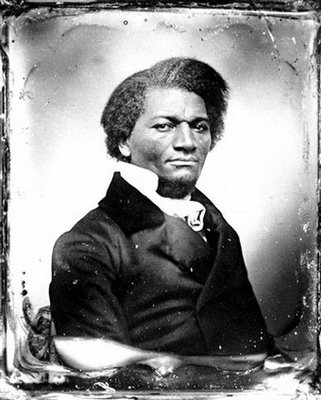 Upon Frederick's arrival at the Auld Home, his only duties were to run errands and care for the Auld's infant son, Tommy. Frederick enjoyed the work and grew to love the child. Sophia Auld was a religious woman and frequently read aloud from the Bible. Frederick asked his mistress to teach him to read and she readily consented. He soon learned the alphabet and a few simple words. Sophia Auld was very excited about Fredericks progress and told her husband what she had done. Hugh Auld became furious and demanded she stop at once. Frederick was forced to continue his education surreptitiously with the aid of schoolboys in the street.
Douglass spent seven relatively comfortable years in Baltimore before being sent back to the country, where he was hired out to a farm run by a notoriously brutal "slave breaker" named Edward Covey. And the treatment he received was indeed brutal. Whipped daily and barely fed, Douglass was "broken in body, soul, and spirit." On January 1, 1836, Douglass made a resolution that he would be free by the end of the year. He planned an escape. But early in April he was jailed after his plan was discovered.
After his imprisonment, Douglass was sent back to Auld to Baltimore. There, he was hired out to a local shipyard to learn the trade of a caulker. He joined an improvement society of free black caulkers and attempted, unsuccessfully, to buy his own freedom. In 1837, he met Anna Murray, a free African-American woman, and quickly fell in love. In September 1838, Douglass successfully escaped from slavery. He traveled to New York City, and once settled he sent for Murray to join him, and they were married. The Douglass family had five children in the next eleven years.
In 1838, the Douglass family settled in New Bedford, Massachusetts, where Frederick Douglass found work as a caulker for whaling ships. It was at that time that he dropped the name "Bailey," in order to protect himself from slave catchers, and became known as Frederick Douglass. In his spare time Frederick Douglass began reading abolitionist pamphlets and attending anti-slavery meetings held in black churches.
In 1841, Douglass spoke about his slave experiences at a convention of the Massachusetts Anti-Slavery Society held on Nantucket Island. He impressed prominent abolitionist leaders, including Garrison, and was hired as an anti-slavery lecturing agent. Douglass moved his family to Lynn, Massachusetts, and spent the next few years giving hundreds of anti-slavery speeches. In 1843, he joined a group of anti-slavery lecturers on a "One Hundred Conventions" tour, a grueling schedule of stops that included upstate New York, Ohio, Indiana, and western Pennsylvania.
Douglass supplemented his abolitionist speaking activities with the publication of his autobiography in 1845. The Narrative of the Life of Frederick Douglass, An American Slave, Written by Himself, was an instant success, and eventually sold over 30,000 copies in the United States and Britain. It was translated into French, German and Dutch. However, Douglass had jeopardized his freedom by putting the details of his life into print. He was forced to flee to Europe to avoid capture and the possibility of return to slavery. He left the United States in August 1845 and embarked on a lecture tour of England, Scotland and Ireland. During the lecture tour, which lasted 20 months, anti-slavery advocates in England raised funds and negotiated the purchase of his freedom. While there, Douglass also raised the funds necessary to start his own anti-slavery newspaper upon his return to the United States.

Back in the United States Frederick Douglass did indeed publish his own newspaper, The North Star. He also participated in the first women's rights convention at Seneca Falls, in 1848, and wrote three autobiographies. He was internationally recognized as an uncompromising abolitionist, indefatigable worker for justice and equal opportunity, and an unyielding defender of women's rights. He became a trusted advisor to Abraham Lincoln, United States Marshal for the District of Columbia, Recorder of Deeds for Washington, D.C., and Minister-General to the Republic of Haiti.
Frederick Douglass spent his life fighting for justice and equality for all people. As he stated "I will unite with anybody to do right and with no one to do wrong." His tireless struggle, transformative words, and inclusive vision of humanity continue to inspire and sustain people today.
Floridian Nature-
Discover the wonderful nature of Florida. From plants to animals, to Florida's pristine waters- Florida is nature at it's best.

floridiannature.com