Huey Newton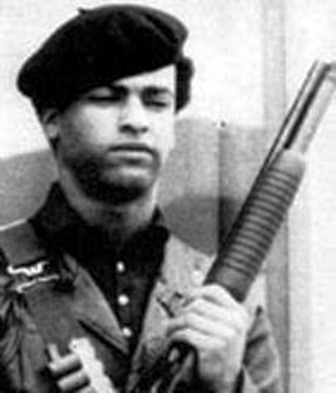 Bobby Seale and Huey Newton founded the Black Panther Party for Self Defense at a community center in Oakland, California, in October 1966 acknowledging it was a living testament to the Work of Malcolm X. The Panthers practiced militant self-defense of minority communities against the U.S. government, and fought to establish revolutionary socialism through mass organizing and community based programs. The party was one of the first organizations in U.S. history to militantly struggle for ethnic minority and working class emancipation. The Black Panther agenda was the revolutionary establishment of real economic, social, and political equality across gender and color lines. The FBI labeled Newton and his colleagues in the Black Panthers as 'Public Enemy Number One.
Huey Newton was born on February 17, 1942, in Monroe, Louisiana. In 1945, the family moved to Oakland, California. Hoping to prosper from jobs that had opened up in Oakland from World War II, the Newton family struggled financially and often relocated throughout the San Francisco Bay Area throughout Newton's childhood. Despite this, he contended that his family was close-knit and that he never went without food and shelter.
Growing up in Oakland, Newton claimed that he "was made to feel ashamed of being black." In his autobiography Revolutionary Suicide, he wrote, "During those long years in Oakland public schools, I did not have one teacher who taught me anything relevant to my own life or experience. Not one instructor ever awoke in me a desire to learn more or to question or to explore the worlds of literature, science, and history. All they did was try to rob me of the sense of my own uniqueness and worth, and in the process nearly killed my urge to inquire." Barely literate when he graduated from high school, Newton taught himself to read by studying poetry.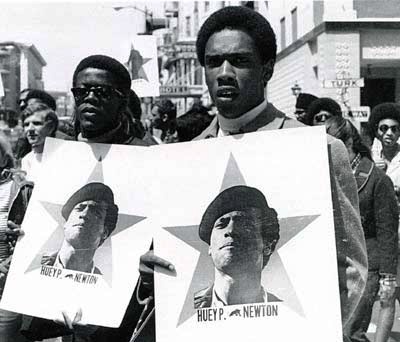 As a teenager, Huey Newton had been arrested several times for offenses, ranging from gun possession to vandalism. While attending Merritt College in Oakland Newton supported himself by burglarizing homes in the Oakland and Berkeley Hills areas, and committing other petty crimes. Newton also studied law at Oakland City College and at the San Francisco Law School, once claiming he studied law to become a better criminal.

While a student at Merritt College in Oakland, Newton became involved in politics in the Bay Area. He joined the Afro-American Association, became a prominent member of Phi Beta Sigma Fraternity, and played a role in getting the first African-American history course adopted as part of the college's curriculum. Huey Newton read the works of political activists like Karl Marx, Vladimir Lenin, Malcolm X, and Che Guevara.
It was during his time at Merritt College that Newton and Bobby Seale organized the Black Panther Party for Self Defense in October 1966. Based on a coin toss, Seale became Chairman and Newton became Minister of Defense.
The Black Panther Party was an African-American left-wing organization working for the right of self-defense for African-Americans in the United States. Distrustful of the police since childhood, Huey Newton and Bobby Seale decided the police must be stopped from harassing Oakland's African-Americans. It became their goal to "defend the community against the aggression of the power structure, including the military and the armed might of the police." Huey Newton was familiar with the California penal code and the state's law regarding weapons and was thus able to convince a number of African-Americans of their right to bear arms.
Members of the Black Panther Party for Self Defense began patrolling the Oakland police. Guns were the essential ingredient on these patrols. Huey Newton and other Black Panther members observed police procedure, ensured that African-American citizens were not abused, advised African-Americans of their rights, and posted bail for those arrested. In addition to patrolling the police, Newton and Seale were responsible for writing the Black Panther Party Platform and Program, which called for freedom, full employment, decent housing, education, and military exemption for African-Americans. But there was a darker side to the group, described in Former Panther Earl Anthony's book, Spitting in the Winds a party created with the goal to organize America for armed revolution.
The Black Panthers had chapters in several major cities and had a membership of over 2,000. Harassed by the police, members became involved in several shoot-outs. This included an exchange of fire between Panthers and the police at Oakland on October 28, 1967. Huey Newton was injured in the shoot out and while in the hospital recovering, he was charged with killing Oakland police officer John Frey. The following year he was found guilty of voluntary manslaughter.
Charged with murdering Frey, Newton was convicted in September 1968 of voluntary manslaughter and was sentenced to 2–15 years in prison. In May 1970, the California Appellate Court reversed the conviction and ordered a new trial. After two subsequent mistrials, the California Supreme Court dropped the case.
After being released from prison Huey Newton renounced political violence. Over a six year period 24 Black Panthers had been killed in gun fights with the police. Another member, George Jackson, was killed while in San Quentin prison in August, 1971.
Newton targeted community issues within the black community that he felt needed addressing. The movement provided free breakfasts for children, provided free shoes and sponsored a school.
Trouble followed Huey Newton and in 1974, he was accused of murdering a 17-year old prostitute, Kathleen Smith. He failed to turn up in court and jumped bail. For three years he lived in Cuba but returned to America in 1977 to face a murder charge. Newton believed that the climate had changed in America and that he was more likely to get a fair trial. After two trials, he was acquitted Smith's murder.
In 1977, Huey Newton enrolled in the University of California, Santa Cruz, where he completed his doctoral dissertation, "War Against the Panthers: A Study of Repression in America". But controversy was never far away.
In 1985, Newton was arrested for stealing federal and state money that had been paid into the Black Panther's community education and nutrition fund. In 1989, he faced the same charge of embezzlement from the funds of a school set-up by the Black Panthers. It was rumored the funds were used for Newton's alcohol and drug addictions. On August 22nd, 1989, Huey Newton, aged 47, was shot deadwhile walking down the street in Oakland California.