Geoffrey Canada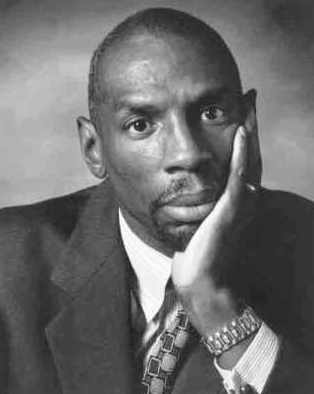 Geoffrey Canada is the acclaimed author of Fist Stick Knife Gun: A Personal History of Violence in America and was the recipient of the first Heinz Award in 1994 for his work as President and CEO of Harlem Children's Zone in New York City. He has demonstrated a passionate concern for children and his selfless determination to make their lives safer and saner has made a huge impact on the impoverished children living in Harlem. A much sought-after speaker, Mr. Canada enjoys a national reputation as both an advocate for and expert on issues concerning violence, children and community redevelopment.
Geoffrey Canada spent his childhood waiting for Superman to come and rescue him and his family from poverty. Told by his mother while still in the fourth grade that Superman "is not real", he then developed the ambitious idea that it was up to him to save the planet or, perhaps more modestly, at least rescue the ailing US education system

Geoffrey Canada was born in the South Bronx of New York City on January 13, 1952, the third of four sons of McAlister and Mary Canada. When his parent's marriage ended in 1956, his father became a dead beat dad, showing little attention to his children and refusing to contribute financial support. Growing up poor Canada was raised among the crime, violence and an all-encompassing sense of chaos found in low income urban neighborhoods.
His mother sent him to live with her parents in Freeport, Long Island when Canada was in his mid-teens. He attended Wyandanch Memorial High School, and won a scholarship from the Fraternal Order of Masons his senior year of high school. Attending Bowdoin College, Canada graduated with a Bachelor of Arts degree in psychology and sociology in 1974. Still continuing his education, Canada went on to graduate with a Master's degree in education from the Harvard Graduate School of Education.
Harlem has long been the spiritual capital of black America. In its heyday during the Harlem Renaissance, it was a wellspring of politics, music and art. But over the years, the neighborhood suffered a steady decline and came to symbolize the worst of urban poverty and decay. Geoffrey Canada set out with the goal to turn things around for the children of Harlem.
Joining the Harlem Children's Zone in 1983, Geoffrey Canada went on to became the President and Chief Executive Officer in 1990. Called "one of the most ambitious social-service experiments of our time," by The New York Times, the Harlem Children's Zone Project works to reweave the social fabric of Harlem, which has been torn apart by crime, drugs and decades of poverty. The two fundamental principles of The Zone Project are to help kids in a sustained way, starting as early in their lives as possible, and to create a critical mass of adults around them who understand what it takes to help children succeed.
In 1997, the agency launched the Harlem Children's Zone Project, which targets a specific geographic area in Central Harlem with a comprehensive range of services. The Zone Project today covers 100 blocks and aims to serve over 10,000 children by 2011. The budget for the HCZ Project for fiscal year 2010 is over $48 million, costing an average of $5,000 per child.
For children to do well, their families have to do well. And for families to do well, their community must do well. That is why HCZ works to strengthen families as well as empowering them to have a positive impact on their children's development.
The Harlem Children's Zone pipeline begins with The Baby College, a series of workshops for parents of children ages 0-3. The pipeline goes on to include best-practice programs for children of every age through college. The network includes in-school, after-school, social-service, health and community-building programs. The pipeline has, in fact, dual pathways: on one track, the children go through our Promise Academy charter schools; while on the other track, the agency works to support the public schools in the Zone with both in-class assistants and after school programs.

In October 2005, Geoffrey Canada was named one of "America's Best Leaders" by U.S. News and World Report. Drawing upon his own childhood experiences and at the Harlem Children's Zone, Geoffrey Canada has written two books: "Fist Stick Knife Gun: A Personal History of Violence in America," published in 1995 by Beacon Press, and "Reaching Up for Manhood: Transforming the Lives of Boys in America," published in 1998 by Beacon Press. In its review of "Fist Stick Knife Gun," Publishers Weekly wrote "a more powerful depiction of the tragic life of urban children and a more compelling plea to end 'America's war against itself' cannot be imagined." In September 2010, a new graphic novel version of "Fist Stick Knife Gun" was released.
For his years of work advocating for children and families in some of America's most devastated communities, Geoffrey Canada was a recipient of the first Heinz Award in 1994. In 2004, he was given the Harold W. McGraw Jr. Prize in Education and Child Magazine's Children's Champion Award. In 2009, Geoffrey Canada received the Independent Sector's John W. Gardner Leadership Award.
He has also received the Heroes of the Year Award from the Robin Hood Foundation, The Jefferson Award for Public Service, the Spirit of the City Award from the Cathedral of St. John the Divine, the Brennan Legacy Award from New York University and the Common Good Award from Bowdoin College. Geoffrey Canada has received honorary degrees from Harvard University, Bowdoin College, Williams College, John Jay College, Bank Street College and Meadville Lombard Theological Seminary.
Michael Arnold Art
-
Original signed acrylic paintings on canvas by award winning artist Michael Arnold. Beautiful selection of art for sale

michaelarnoldart.com