Malcolm X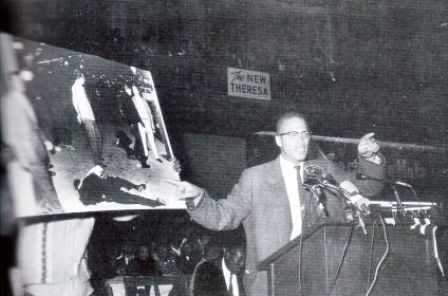 Malcolm X, an African-American Muslim minister, public speaker, and human rights activist was a courageous advocate for the rights of African Americans. He indicted white America in the harshest terms for its crimes against black Americans. Malcolm X has been called one of the greatest and most influential African Americans in history and in 1998, Time named The Autobiography of Malcolm X one of the ten most influential nonfiction books of the 20th century.
Malcolm X was born Malcolm Little on May 19, 1925 in Omaha, Nebraska, and was one of eight children. His mother, Louise Norton Little, was a homemaker, with light enough skin that she could have passed for being white. Born in Grenada, her father had been of Scottish descent, and her fair skin was passed down to Malcolm. Earl Little, Malcolm's father, was an outspoken Baptist minister. He supported activist Marcus Garvey and was a local leader of the Universal Negro Improvement Association. Malcolm never forgot the values of black pride and self-reliance that his father and other UNIA leaders preached. Because of Ku Klux Klan threats, the family relocated in 1926 to Milwaukee, Wisconsin, and shortly thereafter to Lansing, Michigan.

Malcolm Little would continue to have pain and violence follow him throughout his youth. In 1929 the family home was burnt to the ground, but fortunately, the family was uninjured. His family had frequently been harassed by the Black Legion, a white supremacist group and his father accused them of burning down the home.
On September 28, 1931, Earl Little was fatally struck by a streetcar in Lansing. Authorities ruled his death an accident. The police reported that Earl Little was conscious when they arrived on the scene, and he told them he had slipped and fallen under the streetcar's wheels. The family and the black community disputed the cause of death, believing there was circumstantial evidence of assault. Some blacks believed the Black Legion was responsible for Earl Little's death. As Malcolm later wrote, "How could my father bash himself in the head, then get down across the streetcar tracks to be run over?" Ironically one of the insurance policies refused to pay out on Earl Little, stating it couldn't have been an accident and therefore he must have committed suicide.
Tragedy struck again in December 1938. Louise Little had a nervous breakdown and was declared legally insane. The Little siblings were split up and sent to different foster homes. The state formally committed Louise Little to the state mental hospital at Kalamazoo, Michigan, where she remained until Malcolm and his siblings secured her release 26 years later.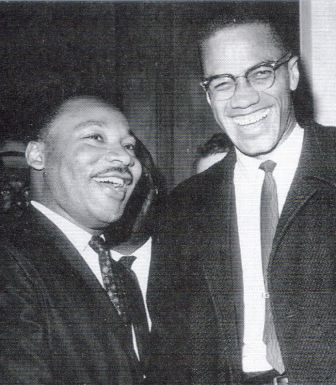 Although He had always been a good student, Malcolm had no choice but to drop out of school at 15. Living with his sister in Boston, Malcolm worked as a shoeshine boy, soda jerk, busboy, waiter, and railroad dining car waiter. At this point he began a criminal life that included gambling, selling drugs, burglary, and hustling. Eventually the law caught up to Malcolm Little and he was sentenced to 10 years in prison. It was this sentencing that was the turning point in Malcolm's life.
While serving seven years before he was paroled, Malcolm Little used the time to further his education. Malcolm's brother Reginald often visited him in jail and discussed his recent conversion to the Muslim religion and that he belonged to the religious organization the Nation of Islam. Intrigued, Malcolm began to study the teachings of NOI leader Elijah Muhammad. By the time he was paroled in 1952, Malcolm was a devoted follower with the new surname "X." He considered "Little" a slave name and chose the "X" to signify his lost tribal name.
Malcolm X was a gifted speaker and the NOI wisely used him as their spokesman. Articulate and intelligent he quickly rose to the top of the organization and new recruits from Malcolm X 's speeches increased the growth of the NOI from 500 members to over 30,000 followers. A media magnet, Malcolm X was followed everywhere and soon the FBI was watching his every move.
Malcolm's faith was dealt a crushing blow at the height of the civil rights movement in 1963. He learned that his mentor and leader, Elijah Muhammad, was secretly having relations with as many as six women within the Nation of Islam organization. As if that were not enough, Malcolm found out that some of these relationships had resulted in children. Malcolm had strictly adhered to the teachings of Muhammad, which included remaining celibate until his marriage to Betty Shabazz in 1958. Malcolm refused Muhammad's request to help cover up the affairs and subsequent children. Deeply hurt by the deception of Muhammad, whom he had considered a living prophet, Malcolm also felt guilty about the masses he had led to join the NOI, which he now felt was a fraudulent organization built on too many lies to ignore.

On December 1, 1963, Malcolm X stated that he saw President John F. Kennedy's assassination as a case of "The chickens coming home to roost." Soon afterward Elijah Muhammad suspended him and ordered him not to speak for the movement for 90 days. On March 8, 1964, Malcolm X publicly announced that he was leaving the Nation of Islam and starting two new organizations: the Muslim Mosque, Inc., and the Organization of Afro-American Unity. Despite his break from the NOI, Malcolm X remained a believer in the Islamic religion.
On March 26, 1964, Malcolm X met Martin Luther King, Jr. in Washington, D.C., after a press conference which followed both men attending the Senate debate on the Civil Rights bill. This was the only time the two men ever met and their meeting lasted only one minute, just long enough for photographers to take a picture. (photo shown above)
Searching for spiritual answers Malcolm X decided on a pilgrimage to Mecca. On April 19,1964 Malcolm X completed the Hajj, making the seven circuits around the Kaaba, drinking from the Zamzam Well, and running between the hills of Safah and Marwah seven times. After completing the Hajj, he was granted an audience with Prince Faisal. Malcolm X said the trip allowed him to see Muslims of different races interacting as equals. He came to believe that Islam could be the means by which racial problems could be overcome.
Malcolm X continued his travels, visiting Africa a total of three times and stopping in both the United Kingdom and France to give speeches on his beliefs. While in Africa for his third visit in July of 1964, Malcolm X was welcomed to the second meeting of the Organization of African Unity in Cairo. By the time he returned to the United States on November 24th, Malcolm had met with every prominent African leader and established an international connection between Africans on the continent and those in the Diaspora.
On February 21, 1965, in Manhattan's Audubon Ballroom, Malcolm X began to speak to a meeting of the Organization of Afro-American Unity when a disturbance broke out in the crowd. A man yelled, "Nigger! Get your hand outta my pocket!" As Malcolm X and his bodyguards moved to quiet the disturbance, a man rushed forward and shot him in the chest with a sawed-off shotgun. Two other men charged the stage and fired handguns, hitting him 16 times. Furious onlookers caught and beat one of the assassins as the others fled the ballroom. Malcolm X was pronounced dead at 3:30 p.m., shortly after he arrived at Columbia Presbyterian Hospital.
The legacy of Malcolm X has moved through generations as the subject of numerous documentaries, books and movies. A tremendous resurgence of interest occurred in 1992 when director Spike Lee released the acclaimed movie, Malcolm X. Denzel Washington, who portrayed Malcolm X in the movie received an Oscar nomination for the role.
Michael Arnold Art
-
Original signed acrylic paintings on canvas by award winning artist Michael Arnold. Beautiful selection of art for sale

michaelarnoldart.com
The Dog Encyclopedia-
Empowering information for pet owners to enhance and enrich a dog's life.

dogencyclopedia.org
Innovative
Improvements-
Innovative ideas to improve your health, finances, education and home.

improvingwebsites.com
Floridian Nature-
Discover the wonderful nature of Florida. From plants to animals, to Florida's pristine waters- Florida is nature at it's best.

floridiannature.com