Booker T. Washington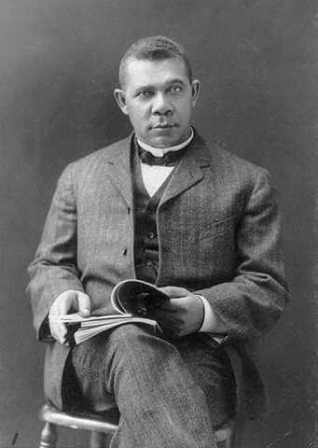 Booker T. Washington was an educator, author, orator, and political leader. He was the dominant figure in the African American community in the United States from 1890 to 1915. Booker T. Washington was part of the last generation of black leaders born in slavery and spoke on behalf of blacks living in the South. Throughout the final 25 years of his life Booker T. Washington was able to maintain his standing as the major black leader because of the sponsorship by powerful whites, substantial support within the black community, his ability to raise educational funds from both groups, and his accommodation to the social realities of the age of Jim Crow segregation
Booker Taliaferro was born a mulatto slave in Franklin Country on April 5, 1856. His father was an unknown white man and his mother, the slave of James Burroughs, a small farmer in Virginia. Later, his mother married the slave, Washington Ferguson. When Booker entered school he took the name of his stepfather and became known as Booker T. Washington.

After the Civil War the family moved to Malden, West Virginia. His step-father, Walter Ferguson worked in the salt mines and at the age of nine Booker found employment as a salt-packer. A year later he became a coal miner before going to work as a houseboy for the wife of Lewis Ruffner, the owner of the mines. She encouraged Booker to continue his education and in 1872 he entered the Hampton Agricultural Institute.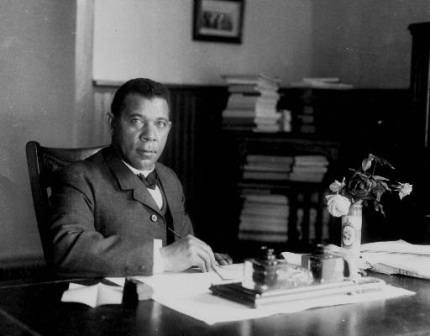 Booker T. Washington attended Hampton Institute and later Wayland Seminary. While he was a student at Wayland, he became convinced that black students who opted for a classical education forgot their roots and became estranged from the experience of black poverty.
An advocate of change, Booker T. Washington then helped to develop the Tuskegee Institute, recruiting its first students and raising money for its first buildings. As the head of the Tuskegee Institute, Washington encountered strong antipathy from Southern whites who feared that educated blacks would not be willing to enter the agricultural economy that dominated the South. To overcome this, Washington emphasized that the Tuskegee Institute would emphasize "industrial" education, which would provide its students with skill such farming, and carpentry. These, he believed, would be the most likely avenues of employment for the majority of African Americans. Booker T. Washington believed that being productive was the most powerful antidiscrimination tool available.
Washington argued that no race will ever be marginalized if they can contribute to the economy of the world. In 1895 he gave his famous "Atlanta Compromise" speech in which he further argued against "artificial forcing" of rights and emphasized that white society needed African Americans and that any attempt to stifle the growth of blacks by white society would be counterproductive. His compromise was for there to be a symbiotic relationship between the two races.
In 1900, Booker T. Washington founded the National Negro Business League. He strongly believed in self-help and hard work as the keys to success. One of the biggest critics of Washington's approach was W. E. B. Du Bois, whose ideas were influential in the shaping of modern day black liberalism. His major complaints against Washington were that Washington believed in a subordinate position for African Americans, that Washington denigrated higher education for blacks, and that he was too conciliatory toward the South.
In 1901, President Theodore Roosevelt invited Booker T. Washington to visit him in the White House. To southern whites this was going too far. One editor wrote: "With our long-matured views on the subject of social intercourse between blacks and whites, the least we can say now is that we deplore the President's taste, and we distrust his wisdom."
Washington now spent most of his time on the lecture circuit, and many African Americans became critical of his views. They often objected to the way Washington spoke that it was the role of blacks to serve whites, and that those black leaders who demanded social equality were political extremists. Booker T. Washington's autobiography was published, first in The Outlook magazine and later as Up From Slavery in 1901. His critics argued that the views expressed in his books, articles and lectures were essentially the prevailing views of white Americans.
Most blacks felt comfortable with Washington's approach, however, and his influence among whites was such that he became an unofficial arbiter determining which black individuals and institutions were deemed worthy to benefit from government patronage and white philanthropic support. He went on to receive honorary degrees from Harvard University and Dartmouth College. Booker T. Washington was taken ill and entered St. Luke's Hospital in late 1915. Fearing he did not have long to live, he decided to travel to Tuskegee where he died on 14th November 14, 1915. Over 8,000 people attended his funeral held in the Tuskegee Institute Chapel.