Coretta Scott King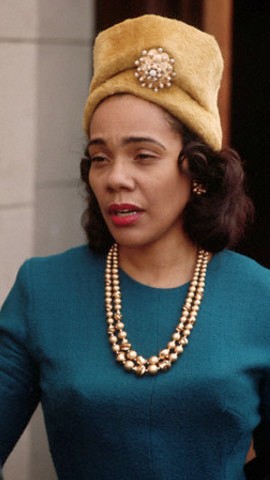 Coretta Scott King, the wife of civil rights leader Martin Luther King Jr. was a civil rights activist and crusader for equal rights. Becoming a voice for those who could not be heard, Coretta Scott King was an author, activist, and civil rights leader. Mrs. King's most prominent role may have been in the years after her husband's 1968 assassination when she took on the leadership of the struggle for racial equality herself and became active in the Women's Movement.
Coretta King was born on April 27, 1929 in Marion, Alabama. Her parents were truck farmers. Life was difficult for African Americans in the Deep South, and the family struggled financially and were often on the receiving end of racial injustice. Exposed at an early age to the injustices of life in a segregated society, Coretta Scott walked five miles a day to attend the one-room Crossroad School in Marion, Alabama, while the white students rode buses to an all-white school closer by. Young Coretta excelled at her studies, particularly music, and was valedictorian of her graduating class at Lincoln High School. She graduated in 1945 and received a scholarship to Antioch College in Yellow Springs, Ohio.

As an undergraduate, she took an active interest in the nascent civil rights movement; she joined the Antioch chapter of the NAACP, and the college's Race Relations and Civil Liberties Committees. She graduated from Antioch with a B.A. in music and education and won a scholarship to study concert singing at New England Conservatory of Music in Boston, Massachusetts. Studying voice at the Conservatory and planning a singing career, things forever changed when Coretta Scott met her future husband, Martin Luther King Jr. Coretta and Martin married on June 18, 1953, on the lawn of her parents' house in her hometown of Heiberger, Alabama in a ceremony performed by Rev, Martin Luther King Sr. The couple went on to have four children: Yolanda Denise, Martin III, Dexter Scott, and Bernice Albertine. In September of 1954, after Coretta completed her degree in voice and violin at the New England Conservatory, the newlyweds moved to Montgomery Alabama.
Coretta Scott King played an extremely important role in the Civil Rights Movement of the 1950s and 1960s. Martin wrote of her that, "I am indebted to my wife Coretta, without whose love, sacrifices, and loyalty neither life nor work would bring fulfillment. She has given me words of consolation when I needed them and a well-ordered home where Christian love is a reality." However, Martin and Coretta did conflict over her public role in the movement. Martin wanted Coretta to focus on raising their four children, while Coretta wanted to take a more public leadership role. Married and settled in Montgomery, Martin Luther King became pastor of the Dexter Avenue Baptist Church.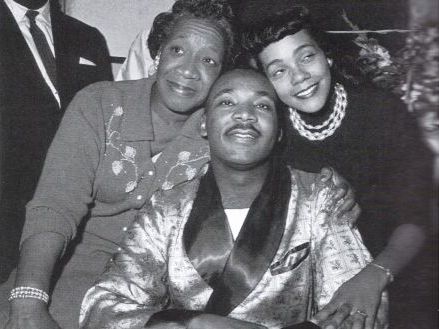 Although the demands of raising a family had caused Coretta Scott King to retire from singing, she found another way to put her musical background to the service of the cause. She conceived and performed a series of critically acclaimed Freedom Concerts, combining poetry, narration and music to tell the story of the Civil Rights movement. Over the next few years, Mrs. King staged Freedom Concerts in some of America's most distinguished concert venues, as fundraisers for the organization her husband had founded, the Southern Christian Leadership Conference.
Coretta Scott King became a symbol, in her own right, of her husband's struggle for peace and brotherhood, presiding with a quiet, steady, stoic presence over seminars and conferences on global issues.
On March 29, 1968, Martin Luther King Jr., went to Memphis, Tennessee in support of the black sanitary public works employees. On April 3, King addressed a rally and delivered his "I've Been to the Mountaintop" address at Mason Temple. Dr. King was booked in room 306 at the Lorraine Motel, where he and his entourage stayed so often it was known as the "King-Abernathy suite." At 6:01 p.m., April 4, 1968, a shot rang out as King stood on the motel's second floor balcony. Dr. Martin Luther King Jr., was pronounced dead at St. Joseph's Hospital at 7:05 p.m.
After the assassination of her husband, Coretta Scott King continued to work toward the common goals she and her late husband had dreamt of. "I'm more determined than ever that my husband's dream will become a reality," King said soon after his slaying, a demonstration of the strong will that lay beneath the placid calm and dignity of her character.

In 1969, Mrs. King founded the multimillion-dollar Martin Luther King Jr. Center for Nonviolent Social Change. King saw to it that the center became deeply involved with the issues that she said breed violence such as hunger, unemployment, voting rights and racism. "The center enables us to go out and struggle against the evils in our society," she often said.
Every year after the assassination of her husband in 1968, Coretta attended a commemorative service at Ebenezer Baptist Church in Atlanta to mark his birthday on January 15. She fought for years to make it a national holiday. Murray M. Silver, an Atlanta attorney, also made the appeal at the services on January 14, 1979. In 1986, after years of political battles, Martin Luther King, Jr. Day was finally made a federal holiday.