Medgar Evers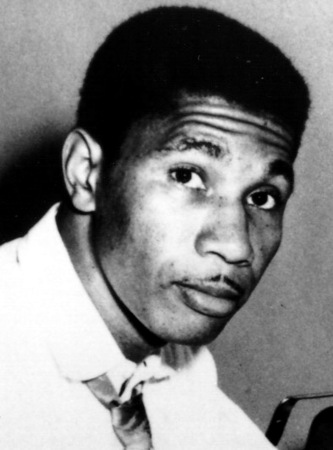 Medgar Evers was an African American civil rights activist in Mississippi until he was gunned down by Klu Klux Klan member Byron De La Beckwith. The field secretary for the National Association for the Advancement of Colored People (NAACP), Evers was one of the first martyrs of the civil rights movement. His death prompted President John Kennedy to ask Congress for a comprehensive civil-rights bill, which President Lyndon Johnson signed into law the following year.
Medgar Evers was born July 2, 1925 in Decatur, Mississippi, the son of James and Jessie Evers, the third of five children. Growing up inn the deep south, Medgar Evers experienced racism at a young age. "I was born in Decatur here in Mississippi, and when we were walking to school in the first grade white kids in their school buses would throw things at us and yell filthy things," the civil rights leader recollected. "This was a mild start. If you're a kid in Mississippi this is the elementary course.

As Medgar Evers grew so did his experience with violent racism. " When I was eleven or twelve a close friend of the family got lynched. I guess he was about forty years old, married, and we used to play with his kids. I remember the Saturday night a bunch of white men beat him to death at the Decatur fairgrounds because he sassed back a white woman. They just left him dead on the ground. Everyone in town knew it but never [said] a word in public. I went down and saw his bloody clothes. They left those clothes on a fence for about a year. Every Negro in town was supposed to get the message from those clothes and I can see those clothes now in my mind's eye.... But nothing was said in public. No sermons in church. No news. No protest. It was as though this man just dissolved except for the bloody clothes"
In 1943 Medgar Evers was inducted into the army along with his older brother Charlie. Evers fought in Normandy and in the European Theatre of World War II, and was honorably discharged in 1945 as a Sergeant. In 1946, Evers, along with his brother and four friends, returned to his hometown of Decatur Mississippi.
In 1948, Evers enrolled at Alcorn College, majoring in business administration. An active and gifted student, Medgar Evers was on the debate team, played football and ran track, sang in the school choir and served as president of his junior class. His achievements led him to be listed in Who's Who in American Colleges. While in college Medgar Evers married classmate Myrlie Beasley on December 24, 1951, and graduated with a BA degree the following year. Myrlie and Medgar Evers had three children, two boys and a girl.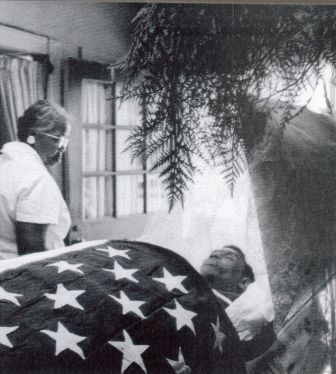 Evers and his wife moved to Jackson, Mississippi to set up an NAACP office. In 1954, the U.S. Supreme Court ruled school segregation unconstitutional. Evers applied for, but was denied admission to, the University of Mississippi Law School. That same year he was appointed Mississippi's first field secretary for the NAACP.
He investigated violent crimes that were committed against Blacks and worked to bring about change. He also conducted campaigns to help Blacks to become registered voters. In the 1960's Medgar Evers set up boycotts against certain merchants and this attracted national attention. He also tried to have his friend James Meredith admitted to the University of Mississippi. Meredith was denied admission just as Evers had been, but with the publicity Medgar Evers created, the Federal government could no longer turn a blind eye and in 1962, James Meredith was finally admitted to the university. This was a major event for civil rights and Evers was thrilled. His success with boycotts and integrating schools brought him national recognition, but also made enemies among racists and segregationists.
Evers was featured on a nine-man death list in the deep South as early as 1955. He and his family endured numerous threats and other violent acts, making them well aware of the danger surrounding Evers because of his activism. Still Medgar Evers persisted in his efforts to integrate public facilities, schools, and restaurants. He organized voter registration drives and demonstrations. He spoke eloquently about the plight of his people and pleaded with the all-white government of Mississippi for some sort of progress in race relations. To those people who opposed such things, he was thought to be a very dangerous man. "We both knew he was going to die," Myrlie Evers said of her husband in Esquire. "Medgar didn't want to be a martyr, but if he had to die to get us that far, he was willing to do it."
Only 37 years old, Mississippi civil rights leader Medgar Evers was gunned down outside his home in Jackson on June 12, 1963. The accused killer, a white supremacist named Byron De La Beckwith, stood trial twice in the 1960s. Both cases ended in mistrials because the all-white juries could not reach a verdict. Beckwith was convicted in a third trial in 1994, and sentenced to life in prison. It took 31 years for Evers' killer to be brought to justice but in that time, the state of Mississippi changed a great deal. Once the leader in the number of lynchings in America, today Mississippi leads in the number of elected black officials. When Evers died in 1963, only 28,000 blacks were registered voters. By 1971, there were 250,000. By 1982, there were over 500,000. In 1969, Evers' brother Charles was the first black man elected mayor in Mississippi.
Evers' assassination was a flash point for activism in the black community. During his funeral procession in Jackson, thousands marched in the streets shouting, "After Medgar, No More Fear."