Al Sharpton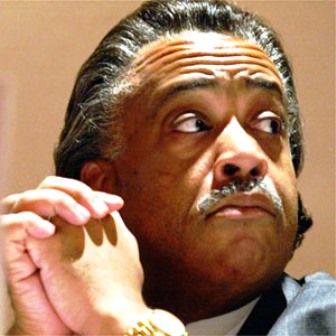 Al Sharpton is an American Baptist minister, civil rights activist, and radio talk show host. In 2004, he was a candidate for the Democratic nomination for the U.S. presidential election. Outspoken and sometimes controversial, Sharpton has become a leading figure in the fight against racial prejudice and injustice. He hosts his own radio talk show, Keepin' It Real, and he makes regular guest appearances on Fox News, CNN, and MSNBC.
Alfred Charles Sharpton Jr. was born October 3, 1954 in Brooklyn, New York into an upper middle class family. Even at an early age, Al was a gifted speaker and was touted as "the Wonder Boy Preacher" by age 7, when he toured with gospel singer Mahalia Jackson and F.D. Washington, the Pentecostal minister of the Washington Temple Church of God in Christ in Brooklyn. Washington personally ordained Al Sharpton a minister at the young age of nine. Sharpton's parents divorced when he was 10, leaving Sharpton and his mother impoverished. In 1969 he began his affiliation with Jesse Jackson, who appointed him youth director of Operation Breadbasket, a group that boycotted businesses which did not hire blacks.
Sharpton graduated from Samuel J. Tilden High School in Brooklyn, and attended Brooklyn College, dropping out after two years in 1975, and had no formal seminary training since.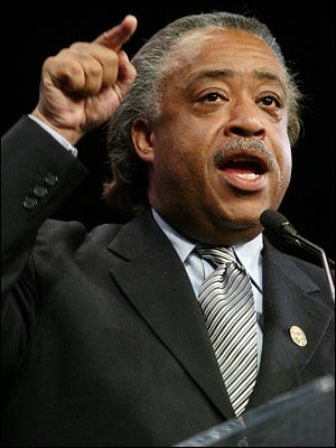 In 1971 Al Sharpton established the National Youth Movement, an organization that sought to fight drug use and to raise money for impoverished youth. He would lead the group for the next 17 years. During this time, Al Sharpton began working for the entertainer James Brown where he met his future wife, Kathy Jordan, a backup singer for Brown. Sharpton and Jordan married in 1980, and separated in 2004. Al Sharpton later worked for boxing promoter Don King. He made an unsuccessful run for the New York State Senate in 1978.
During the 1980s, Sharpton got involved in many high-profile cases in the New York City area that affected the African American community and led several protests against what he believed were injustices and incidents of racial discrimination. He helped keep media scrutiny on the racially based murder of a black teenager named Michael Griffith in 1986.
The following year Al Sharpton became embroiled in the Tawana Brawley case, a case that would haunt him for years. Brawley, an African American teenager, claimed that she was raped by a group of white men, some of whom were allegedly police officers. The case was later dismissed by a grand jury, which reportedly concluded that the teenager had made up the story. But this came after months of media frenzy around the case, largely encouraged by Sharpton. He was even sued by the district attorney working the case for making slanderous remarks. Sharpton was found guilty and fined for his comments.

On August 23, 1989, four African-American teenagers were beaten by a group of 10 to 30 white youths in Bensonhurst, a Brooklyn neighborhood. One Bensonhurst resident, armed with a handgun, shot and killed sixteen-year-old Yusef Hawkins. In the weeks following the assault and murder, Rev. Al Sharpton led several marches through Bensonhurst. The first protest, just days after the incident, was greeted by neighborhood residents shouting "Niggers go home" and holding watermelons to mock the demonstrators.
In May 1990, when one of the two leaders of the mob was acquitted of the most serious charges brought against him, Sharpton led another protest through Bensonhurst. In January 1991, when other members of the gang were given light sentences, Sharpton planned another march. On January 12, 1991, Sharpton escaped serious injury when he was stabbed in the chest by Michael Riccardi while Sharpton was preparing to lead the protest through the Brooklyn neighborhood. Riccardi was drunk and was apprehended by Sharpton's aides and handed over to police who were present for the planned protest. Sharpton, although forgiving his attacker and pleading for leniency on his behalf, filed suit against New York City alleging that the many police present had failed to protect him from his attacker. In December 2003 he finally reached a $200,000 settlement with the city just as jury selection was about to start.
In 1991, Sharpton and a group of activists that were committed to the principles of non-violent direct action and civil disobedience founded the National Action Network. Rev. Sharpton has served as the organization's president since its founding. The National Action Network (NAN) is one of the leading civil rights organizations in the nation, with numerous local chapters around the country. Using the motto "No Justice, No Peace", NAN works within the spirit and tradition of Dr. Martin Luther King, Jr. to promote a modern civil rights agenda that includes the fight for social justice and one standard of justice and decency for all people regardless of race, religion, national origin, and gender. Every Saturday morning since its founding, the National Action Network holds its weekly live action rally and radio broadcast which has been critical to its development.
Rev. Al Sharpton has led a variety of community projects in Harlem, including The program, dubbed "Cash for Guns." Beginning in 2008 police officers began working with city churches to purchase hand guns from the community. "It's showing a growing cooperation in the community," said Sharpton. "It shows the community is willing to work with the police, even if we question some of their tactics." The program allows people to drop off a handgun for a $200 bank card with "no questions asked" at designated Harlem churches.
Speaking at the Michael Jackson memorial service on July 7, 2009, Sharpton received a standing ovation for a rousing eulogy, which included telling Jackson's children from the stage, "Wasn't nothing strange about your Daddy. It was strange what your Daddy had to deal with. But he dealt with it anyway."
Michael Arnold Ar
Original signed acrylic paintings on canvas by award winning artist Michael Arnold. Beautiful selection of art for sale
michaelarnoldart.com

The Dog Encyclopedia-
Empowering information for pet owners to enhance and enrich a dog's life.
dogencyclopedia.org

Alaska Nature
The variety and impressive numbers of mammals, birds and marine wildlife in Alaska draw visitors from all over the world.
Alaskannature.com

Floridian Nature-
Discover the wonderful nature of Florida. From plants to animals, to Florida's pristine waters- Florida is nature at it's best.
floridiannature.com

Free Happy Holidays
Free creative ideas for decorating, creating menus and gift giving for every major holiday and event.
freehappyholidays.com

Cat Encyclopedia
Everything pet owners need to know to create a safe and healthy environment for your domestic house cat.
thecatencyclopedia.com

American Presidents
American Presidents looks back at all the Presidents of the United States of America. Get to know the American Presidents, and find out what made them great.
Ouramericanpresidents.org