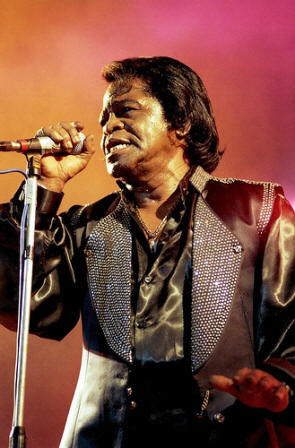 The Hardest-Working Man in Show Business," "Soul Brother Number One," "the Godfather of Soul," "the Minister of New New Super Heavy Funk". In whatever guise, James Brown is unquestionably one of the most charismatic musical icons of the 20th century. An irrepressible performer, ruthless but highly proficient bandleader, awesome dancer, and, unquestionably, the man who flipped soul music on its head to create funk, Brown became a huge black cultural symbol in the 1960s and '70s. He's certainly altered the course of black popular music more than once, with his innovations flowing into the careers of Michael Jackson, Mick Jagger, Public Enemy, Prince, and a multitude of others.
James Brown was born in a one-room shack in the woods of South Carolina in 1933. His parents split up when he was four years old and he moved in with his Aunt Honey, the madam of a brothel in Augusta, Georgia. Poverty dominated his youth; he danced for money, shined shoes, picked cotton, and was dismissed from school for "insufficient clothes." He developed his unique, compelling voice by singing in church. But at the age of 15, after breaking into a car, James Brown was sentenced to between eight to 16 years in jail. While incarcerated, he led a gospel choir, demonstrating his organizational prowess at an early age, and was befriended by a local musician, Bobby Byrd. Upon his release three years later, he was aided by the Byrd family and became part of Bobby's vocal group.
Eventually gravitating toward R&B music, the group, which came to be known as the Famous Flames, performed across Georgia in the mid-'50s. They impressed Ralph Bass, a King Records talent scout, with their demo tape of "Please Please Please," and the song was released in 1956, becoming their first hit single. In 1958, "Try Me" was also released and more hits followed. In the late 1950s and the 1960s, James Brown stubbornly mastered every dance craze like the "camel walk," the "mashed potato," and the "popcorn." He invented some too, often declaring he was about to "do the James Brown."
Brown rose to the fore as leader of the James Brown Revue - an entourage complete with emcee, dancers and an untouchable stage band (the J.B.'s). Reportedly sweating off up to seven pounds a night, Brown was a captivating performer who'd incorporate a furious regimen of spins, drops and shtick (such as feigning a heart attack, complete with the ritual donning and doffing of capes and a fevered return to the stage) into his skintight rhythm & blues.
During the late 1960s and early 1970s, James Brown was renowned for his work with social activism. In 1966, he released the single "Don't Be a Drop-Out" as a lesson to young students who had thoughts of dropping out. He later made public speeches in front of dozens of children and advocated the importance of education in school. In 1967, he issued a patriotic single, "America is My Home", which was a "rap" about how he felt people, particularly in the African-American community, were neglecting the country that he said "could give (them) opportunities" explaining how at one time he was shining shoes and the next, he was greeting the President of the United States as he did when President Lyndon B. Johnson thanked him for donating money to school drop-out prevention programs. Such message songs as "Say It Loud - I'm Black and I'm Proud" reverberated throughout the black community, within which he was regarded as a leader and role model. During this time, he began developing a hot funk sound with young musicians, such as bassist William "Bootsy" Collins, who passed through his ever-evolving band.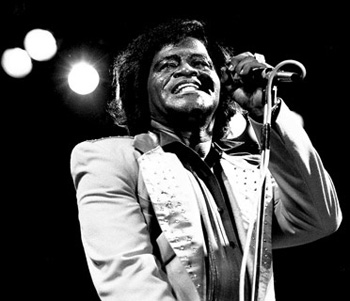 In November 1967, James Brown purchased radio station WGYW in Knoxville, Tennessee for a reported $75,000, according to the January 20, 1968
Record World
magazine. The call letters were changed to WJBE reflecting his initials. WJBE began on January 15, 1968 and broadcast a Rhythm & Blues format. The station slogan was "WJBE 1430 Raw Soul". At the time it was mentioned "Brown has also branched out into real estate and music publishing in recent months".
By the mid-1970s, Brown's star-status was on the wane, and key musicians in his band such as Fred Wesley and Bootsy left to join Parliament-Funkadelic, the collective conducted by George Clinton. The onslaught of the slickly commercial style of disco caught Brown off guard, as it superseded his raw style of funk music on the dance floor. His 1976 albums Get Up Offa That Thing and Bodyheat were Brown's first flirtations with disco rhythms and its slicker production techniques. While the albums Mutha's Nature (1977) and Jam 1980s (1978) did not generate chart hits, Brown's 1979 LP The Original Disco Man was a notable late addition to his oeuvre. This album featured the song "It's Too Funky in Here", which was his last top R&B hit of the decade. Like the rest of the songs on The Original Disco Man, "It's Too Funky in Here" was not produced by Brown himself, but produced instead by Brad Shapiro.
Brown was among the first group of performers inducted into the Rock and Roll Hall of Fame in 1986. Unfortunately, his personal life took a nose-dive in 1988, as he was investigated on a series of charges that ranged from spousal abuse and drug possession to problems with the IRS. Paroled after serving two years in prison, a chastened but resolute Brown picked up the pieces in the Nineties and carried on. If nothing else, his status as the Godfather of Soul has remained unassailable. In December 2003, only months after his 70th birthday, James Brown was the recipient of the prestigious Kennedy Center Honors.