Dorothy West, an author and journalist, is best known for her work during the Harlem Renaissance. She had once described herself as "the best-known unknown writer of the time," Waiting almost fifty years between her first and second novel, her legacy is her stories that exposed the divisions of racism and classism within African-American society, showing how they undermined relationships and progress.
The child of Rachel Pease Benson and Isaac Christopher West, Dorothy West was born on June 2, 1907 in Boston, Massachusetts. Her father, Isaac West, was a former slave from Virginia. Dorothy's father received his freedom at the age of seven and by ten had saved enough money in a cigar box to start his own business. By the time Dorothy was born they were the wealthiest black family in Boston. Isaac West owned a wholesale fruit company and was known as the "Black Banana King" of Boston.
Her formal education began at age two under the tutelage of Bessie Trotter, sister of Monroe Nathan Trotter, then editor of the Boston Guardian. Dorothy West began writing short stories at the tender age of seven. Her first short story, "Promise and Fulfillment," was published in the Boston Globe, a paper for which West became a regular contributor and that awarded her several literary prizes. After graduating from Girl's Latin High School in 1923, West continued her education at Boston University and later the Columbia University School of Journalism.
In 1926 Dorothy West tied for second prize with Zora Neale Hurston in a contest in Opportunity magazine. Her story, "The Typewriter," won her a trip to New York City. Once she had her taste of the big city, she decided to stay, taking up at the YWCA until she received a fellowship.

In New York, Dorothy West met some of the brightest black artists and writers in the country, including black poets, Langston Hughes and Countee Cullen, vital writers in the Harlem Renaissance. She also developed a friendship with H. L. Mencken. But while many of the writers of that Harlem-based group wrote about the working class, West concentrated on the social divisions well-to-do blacks created based on wealth and skin color.
Starting in 1927, to supplement her writing income, West became involved in acting. That year she found work as an extra in the original stage production of George Gershwin's opera Porgy and Bess . She stayed with the cast for several years, performing on Broadway and then in London.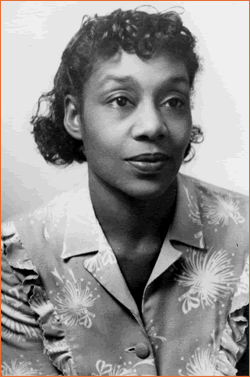 By 1932, nearly broke and discouraged by publishers' repeated rejections, West joined a group of 20 other black artists and intellectuals, which included Hughes, who traveled to Russia to make a film about racism in the United States. The film was to be titled Black and White . However, when the group reached Russia, the members learned that the production had been canceled. No reason was ever provided. Compounding the problem, group members were accused of being Communist sympathizers. Despite the disappointment and accusations, West liked Russia and stayed there for more than a year. Hughes remained with her. Eventually, West asked Hughes to marry her, but he declined. She finally left Russia to return home in 1933 when she learned that her father had died.

Times were hard for Dorothy West when she arrived back in the United States. The Great Depression had taken its toll and her father's business had failed shortly before his death. In 1934 Dorothy West invested her forty dollar savings and started the literary magazine Challenge in New York City. The magazine's goal was to showcase the talent in both experienced and up and coming African American writers in an attempt to re-capture some of the excitement of the Harlem Renaissance. One emerging black writer, Richard Wright, would later gain fame with his highly acclaimed novel Native Son. West persevered with the magazine for four years, producing six issues, before the publication folded in April of 1937.

Undaunted, she began another publishing venture that same year, teaming up with Wright to create a periodical called New Challenge . But it only lasted for one issue, which was published in 1937. This sole publication was notable for its inclusion of an essay by Wright ("Blueprint for Negro Writing"), as well as the first published work of Ralph Ellison, who would later write the groundbreaking novel Invisible Man.

In 1947 West went back to her family's vacation home on Martha's Vineyard, where she would live for the rest of her life. Once she settled in, she started work on her first novel, The Living is Easy , which was published in 1948. A partly autobiographical work, the novel involved upwardly mobile African Americans and the problems they had assimilating. Although her novel had some critical acclaim, it struggled with any financial success.

Dorothy West took a short story she had started years before and began to transform it into her second novel. She struggled with the book and was ready to give up until her neighbor, Jackie Onassis encouraged her to see it through. The novel, titled The Wedding , was eventually published in 1995. West dedicated it to Onassis, but unfortunately, Onassis died in 1994 before it was released. Set on Martha's Vineyard, The Wedding related the multigenerational tale of a well-to-do African-American family. As with a lot of West's writings, the book provided a somewhat satirical look at affluent blacks and related social and racial issues.