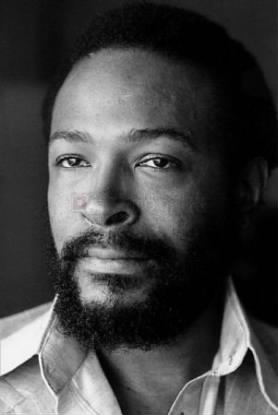 Marvin Gaye, was an African American singer-songwriter and instrumentalist with a three-octave vocal range. Marvin Gaye was crowned "The Prince of Motown" and "The Prince of Soul". In 2008, the American music magazine Rolling Stone ranked Gaye #6 on its list of The Greatest Singers of All Time, and Gaye also ranked #18 on 100 Greatest Artists of All Time.
Marvin Pentz Gay, Jr. was born April 2, 1939 in Washington, D.C. The second of three children born to Marvin Sr., an ordained minister in the House of God. Marvin Gaye added the "e' to the end of his surname as an adult. His father's church was a conservative Christian sect fusing elements of orthodox Judaism and Pentecostalism which imposed strict codes of conduct and did not observe traditional holidays. Marvin Gaye began singing in church at the age of three , quickly becoming a soloist in the choir. Later taking up piano and drums, music became Gaye's escape from the nightmarish realities of his home life, throughout his childhood, his father beat him on an almost daily basis.
After graduating high school, Gaye enlisted in the U.S. Air Force, hoping to become an aviator. His dislike for authority, caused him to defy orders and skip practices. His sergeant stated that Gaye refused to follow orders, and Gaye was discharged.
Upon returning to his hometown, Gaye worked as a dishwasher to make ends meet. Gaye still dreamed of a show-business career, and rejoining Reese Palmer, the duo formed a four-member group calling themselves the Marquees. In 1958, the Marquees were discovered singing at a D.C. club by Bo Diddley, who signed them to Okeh Records, where they recorded "Wyatt Earp". Later that year, Harvey Fuqua, founder and co-lead singer of the landmark doo-wop group The Moonglows, recruited them, after the break up of the original members to be The New Moonglows, which moved the formerly-named Marquees from Okeh to Chess Records. While there the "new Moonglows" recorded background vocals for Chess recording stars Chuck Berry and Etta James.
While first working at Motown as a session drummer and playing on early hits by Smokey Robinson and the Miracles, he met Gordy's sister Anna, and married her in late 1961. Upon mounting a solo career, Gaye struggled to find his voice, and early singles failed. Marvin Gaye's fourth song "Stubborn Kind of Fellow," became a minor hit in 1962, and his next two singles, the 1963 dance efforts "Hitch Hike" and "Can I Get a Witness", both reached the Top 30. With 1963's "Pride and Joy," Gaye scored his first Top Ten smash.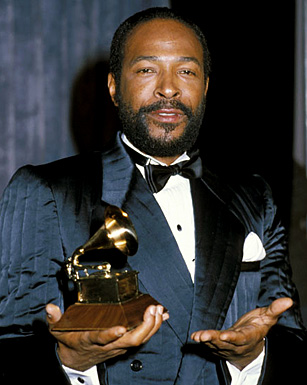 With 1964's Together, a collection of duets with Mary Wells, Gaye scored his first charting album; the duo also notched a number of hit singles together, including "Once Upon a Time" and "What's the Matter With You, Baby?"
As a solo performer, Gaye continued to enjoy success, scoring three Top Ten hits: "Ain't That Peculiar," "I'll Be Doggone," and "How Sweet It Is (To Be Loved by You)" in 1965. In total, he scored some 39 Top 40 singles for Motown, many of which he also wrote and arranged; with Kim Weston, the second of his crucial vocal partners.
Motown hooked Gaye up with veteran Philadelphia-based singer Tammi Terrell, who had an early stint with James Brown. They scored a series of massive hits including 1967's "Ain't No Mountain High Enough" and "Your Precious Love," followed by 1968's "Ain't Nothing Like the Real Thing" and "You're All I Need to Get By." The team's success was tragically cut short in 1967 when, during a concert appearance in Virginia, Terrell collapsed into Gaye's arms onstage, the first evidence of a brain tumor which abruptly ended her performing career and finally killed her on March 16, 1970. Her illness and eventual loss left Gaye deeply shaken, marring the chart-topping 1968 success of "I Heard It Through the Grapevine," his biggest hit. Gaye insisted, following Terrell's death, that he would no longer record duets with any other female performer nor was he ever going to perform on stage again since Terrell's collapse and subsequent death had spooked him. He already had apprehensions of performing, suffering bouts of stage fright throughout his performing career.
A landmark in world pop, "What's Going On", is one of the first concept albums,in which Gaye's views of Vietnam, ecology, racism and religion are fashioned into haunting musical modes. The ambitions and complexity of What's Going On baffled Berry Gordy, who initially refused to release the LP. Gaye was vindicated when the majestic title track reached the number two spot in 1971, and both of the follow-ups, "Mercy Mercy Me (The Ecology)" and "Inner City Blues (Make Me Wanna Holler)," also reached the Top Ten. The album's success gave Marvin Gaye artistic control over his work and helped loosen the reins for other Motown artists.
In late 1972, Gaye left Detroit and moved to Los Angeles. He continued to record music at Los Angeles' Motown studios and on March 18, 1973, recorded "Let's Get It On", reputedly inspired by Gaye's new-found independence, after separating from Anna Gordy the previous year. The song was released as a single in June of the year and became Gaye's second number-one single on the Billboard Hot 100.
On April 1, 1984, Marvin Gaye's father fatally shot him after an argument that started after his parents squabbled over misplaced business documents. Gaye attempted to intervene, and was killed by his father using a gun that Marvin Jr. had given him four months before.