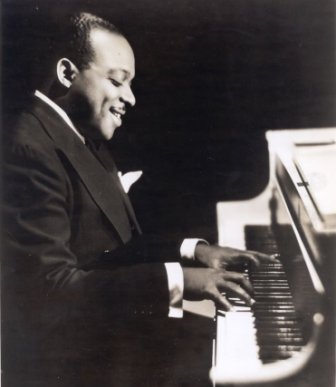 From the time Count Basie's "Old Testament Band" surged out of Kansas City in 1936 and brought his irrepressible mixture of blues and riff-based head arrangements to New York until his death in 1984, Basie and the bands he led were a touchstone of jazz history. Nowhere else have blues musicians ever been more firmly dedicated to the proposition that "it don't mean a thing if it ain't got that swing" than in Kansas City in the early 1930s.
William James Basie was born to Harvey Lee Basie, and Lillian Ann Childs, who lived on Mechanic Street in Red Bank, New Jersey. His father worked as a coachman and caretaker for a wealthy judge. After automobiles replaced horses, his father became a groundskeeper and handyman for several families in the area. His mother, a piano player who gave Basie his first piano lessons, took in laundry and baked cakes for sale and paid 25 cents a lesson for piano instruction for him.
Basie was not much of a scholar and instead dreamed of a traveling life, inspired by the carnivals which came to town. He only got as far as junior high school. He would hang out at the Palace Theater in Red Bank and did occasional chores for the management, which got him free admission to the shows. He also learned to operate the spotlights for the vaudeville shows. One day, when the pianist failed to arrive by show time, Basie took his place. Playing by ear, he quickly learned to improvise music appropriate to silent movies.
Though a natural at the piano, Basie preferred drums. However, the obvious talents of another young Red Bank area drummer, Sonny Greer (who was
Duke Ellington
's drummer from 1919 to 1951), discouraged Basie and he switched to piano exclusively by age 15. They played together in venues until Greer set out on his professional career. By then Basie was playing with pick-up groups for dances, resorts, and amateur shows, including Harry Richardson's "Kings of Syncopation". When not playing a gig, he hung out at the local pool hall with other musicians where he picked up on upcoming play dates and gossip. He got some jobs in Asbury Park, New Jersey, playing at the Hong Kong Inn, until a better player took his place
Before he was 20 years old, Basie toured extensively on the Keith and TOBA vaudeville circuits as a solo pianist, accompanist, and music director for blues singers, dancers, and comedians. This provided an early training that was to prove significant in his later career. Stranded in Kansas City in 1927 while accompanying a touring group, he remained there, playing in silent-film theaters.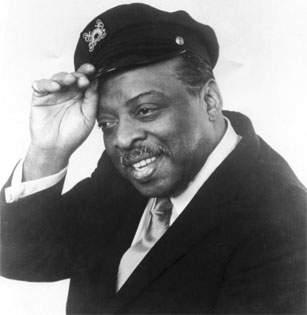 Count Basie became a member of the Walter Page Blue Devils in 1928 and '29. Included in the ranks of the Blue Devils was a blues shouter who was later to play a key role as early male vocalist with Basie's own big band, Jimmy Rushing. It was in fact the rotund Rushing who happened to hear Basie playing in Kansas City and invited him to attend a Blue Devil's performance. Basie soon joined the band after sitting in with them that night.
After Page's Blue Devils broke up Count Basie and some of the other band members integrated into the Bennie Moten band.
After Moten's death,
Basie started a group of his own and soon found a steady gig at the Reno Club in Kansas City employing some of the best personnel from the Moten band himself. The band gradually built up in quantity and quality of personnel and was broadcast live regularly from the club by a small Kansas City radio station. It was during one of these broadcasts that the group was heard by John Hammond, a wealthy jazz aficionado.
The Count Basie band enlarged its membership further and went to New York in 1936. Hammond installed Willard Alexander as the band's manager and in January of 1937 the Count Basie band made its first recording with the Decca record label. In less than a year the big band had become internationally famous.
The 1940s were a period of transition for Basie as it was for all big bands facing the challenges that would end their heyday after the war. The bands were hurt by the first of two recording bans imposed by the American Federation of Musicians of the decade, from August 1942 and lasting up to July 1944. Thus much of the band's best work from this period can be found on transcriptions, air checks, or the V-Discs and Jubilee broadcasts recorded for the armed forces during and after World War II.
A reconstituted Count Basie big band was born in 1952 with the encouragement of singer-bandleader Billy Eckstine, who needed a big band for a tour and wanted Basie at the helm. Eckstine, whose pioneering bebop band had folded in 1947, provided Basie with music stands and other equipment left over from his three years as a bandleader. Other key ingredients of the Basie revival included his signing with Norman Granz and his Clef label in 1952 when long playing albums were catching on; the electrifying arrival two years later of singer Joe Williams; appearances at Birdland in New York and Basie's friendships with record producer Teddy Reig and Morris Levy leading to his recordings for Roulette Records between 1957 and 1962. It was only in the 1950s that Basie became an enduring jazz institution, according to critic Whitney Balliett, who wrote in 1956 that the band was in the remaining tall hedges populated only by the bands of Ellington, Kenton and Herman. More importantly, Balliett claimed that jazz audiences were only then becoming fully aware of what Basie had stood for musically since 1936. In 1958 Count Basie was elected to the Down Beat Hall Of Fame.
Count Basie's health began deteriorating in 1976 when he suffered a heart attack that put him out of commission for several months. Following another stay in the hospital in 1981 he began appearing on stage driving an electric wheel chair. Count Basie died of cancer at 79.