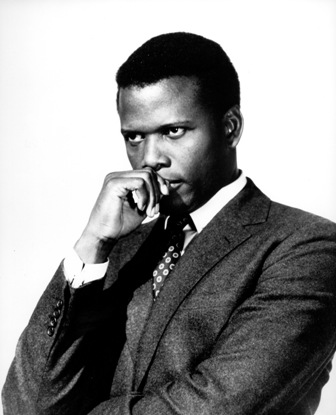 Sidney Poiter is a Bahamian American actor, film director, author, and diplomat. In 1963, Poitier became the first black person to win an Academy Award for Best Actor for his role in Lilies of the Field. More than an actor, Sidney Poitier is an artist. A writer and director, a thinker and critic, a humanitarian and diplomat, his presence as a cultural icon has long been one of protest and humanity. His career defined and documented the modern history of blacks in American film, and his depiction of proud and powerful characters was and remains revolutionary.

Born on February 20, 1924, in Miami, Florida, Sidney Poiter was raised in the Bahamas, the son of Reginald and Evelyn Poitier. Sidney Poitier was born prematurely in Miami, Florida. His parents had crossed the Florida straits in a sailboat to sell the tomatoes they raised on Cat Island in the Bahamas. Although he barely survived the first months of life, the infant Sidney returned with his parents to their farm.
Poitier grew up in poverty as the son of a dirt farmer. He had little formal education, his youth was filled with delinquency, and his parents eventually sent him to live with his brother in Florida in 1941. In Florida, Sidney Poitier first experienced racial inequality, a great shock to a boy coming from a society with a black majority.
Wanting to leave the South and it's prejudges, Sidney Poiter moved to New York. Knowing no one, he slept in bus stations and on rooftops until he had earned enough money to afford a rented room. Unprepared for the rigors of a New York winter, and unable to afford warm clothing, he lied about his age and joined the army to escape the cold. After a brief stint in the army, Poitier moved back to New York and found a job as a dishwasher. Soon after, he began working as a janitor for the American Negro Theater in exchange for acting lessons.
His teachers had little faith in him, but when the star of their student production, the young Harry Belafonte, was unable to appear, Poitier was allowed to substitute for him. His performance was seen by a Broadway director who offered him a small role in an all-black production of the ancient Greek comedy Lysistrata.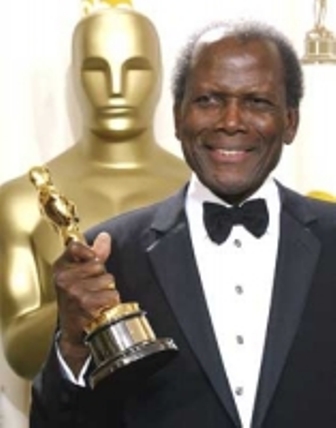 Poitier made his film debut in the 1950 feature No Way Out, playing a doctor tormented by the racist brother of a man whose life he could not save. Poitier worked steadily throughout the 1950s, appearing in the South African tale Cry, the Beloved Country, the classroom drama The Blackboard Jungle, and The Defiant Ones, in which Poitier and Tony Curtis play prison escapees who are chained together; their struggle helps them look past their differences and learn to respect each other. Sidney Poiter was nominated for an Oscar for his role in The Defiant Ones, although he didn't win, this helped to open the doors for an Oscar win just five later in Lilies of the Field. He became the first black man to win the Oscar for a major role in film.
Sidney Poiter's next film was In the Heat of the Night. Poitier gave an electrifying performance as a black detective from the north trying to solve a murder in a southern town. Poitier continued to make racially provocative films, appearing in Kramer's 'Guess Who's Coming to Dinner' as the black fiancé of a white woman. It was the first Hollywood movie about interracial romance not to end tragically. By the time of its completion in the late sixties, Poitier was one of Hollywood's most popular stars.
In 1969, Poitier founded the First Artists Production Company. Poitier directed several films, the most successful being the Richard Pryor-Gene Wilder comedy Stir Crazy which for years was the highest grossing film directed by a person of African descent. His feature film directorial debut was the western Buck and the Preacher in which Poitier also starred, alongside Harry Belafonte. Poitier replaced original director Joseph Sargent. The trio of Poitier, Cosby, and Belafonte reunited again (with Poitier again directing) in Uptown Saturday Night. Poitier also directed Cosby in Let's Do It Again, A Piece of the Action, and Ghost Dad. Poitier also directed the first popular dance battle movie Fast Forward in 1985.
Poitier was made a Knight Commander of the Order of the British Empire in 1974. The honor entitles him to use the title "Sir", though he usually chooses not to do so. In 2001, Sidney Poiter received a Grammy Award for Best Spoken Word Album for his autobiographical book The Measure of a Man.
In 2002, 38 years after receiving the Best Actor Award, Poitier was chosen by the Academy of Motion Picture Arts and Sciences to receive an Honorary Award, designated "To Sidney Poitier in recognition of his remarkable accomplishments as an artist and as a human being." Since 1997 he has been the Bahamian ambassador to Japan. On August 12, 2009, Sidney Poitier was awarded the Presidential Medal of Freedom, the United States of America's highest civilian honor, by President Barack Obama.