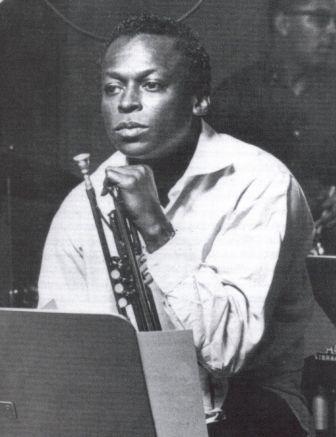 Miles Davis gave birth to the cool and to a whole new sound. The impact of Miles Davis on postwar jazz is unsurpassed. For three decades Davis was not only an outstanding figure in nearly every major jazz change, he also had a hand in directing those changes.
Throughout a professional career lasting 50 years, Miles Davis played the trumpet in a lyrical, introspective, and melodic style, often employing a stemless harmon mute to make his sound more personal and intimate.
Miles Davis was born in Alton, Illinois on May 26, 1926. His father, Dr. Miles Henry Davis, was a dentist. In 1927 the family moved to East St. Louis, Illinois. They also owned a substantial ranch in northern Arkansas, where Davis learned to ride horses as a boy. Davis' mother, Cleota Mae Davis, wanted her son to learn the piano; she was a capable blues pianist but kept this fact hidden from her son.
Miles Davis' musical studies began at 13, when his father gave him a trumpet and arranged lessons with local musician Elwood Buchanan. Davis later suggested that his father's instrument choice was made largely to irk his wife, who disliked the trumpet's sound. Against the fashion of the time, Buchanan stressed the importance of playing without vibrato; he was reported to have slapped Davis' knuckles every time he started using heavy vibrato.
Davis would carry his clear signature tone throughout his career. He once remarked on its importance to him, saying, "I prefer a round sound with no attitude in it, like a round voice with not too much tremolo and not too much bass. Just right in the middle. If I can't get that sound I can't play anything."
Davis quickly became enamored of jazz, particularly the new sounds being created by
Charlie Parker
and
Dizzy Gillespie
. Davis' father sent him to Juliard to study music, but Miles didn't spend much time there, dropping out to play with Parker's quintet from 1946 to 1948. That proved to be a humbling experience at first, since Miles didn't yet have the chops to keep up with Parker's breakneck tempos and chord substitutions. He learned quickly, though, and grew immensely as a musician during his tenure with Bird.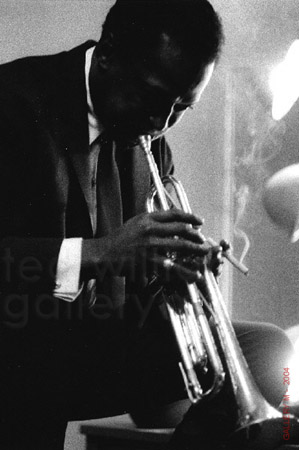 Davis's early playing was sometimes tentative and not always fully in tune, but his unique, intimate tone and his fertile musical imagination outweighed his technical shortcomings. By the early 1950s Davis had turned his limitations into considerable assets. Rather than emulate the busy, wailing style of such bebop pioneers as Gillespie, Davis explored the trumpet's middle register, experimenting with harmonies and rhythms and varying the phrasing of his improvisations. With the occasional exception of multi-note flurries, his melodic style was direct and unornamented, based on quarter notes and rich with inflections. The deliberation, pacing, and lyricism in his improvisations are striking.
The early 50s were an erratic time for Davis, mostly due to his heroin addiction, and he was a disappointing performer during this time. By the middle of the decade, however, he had cleaned up and formed his first quintet, comprised of Davis, John Coltrane, Red Garland, Paul Chambers, and Philly Joe Jones. This group became very popular and recorded several essential albums for the Prestige label: Cookin', Steamin', Workin', and Relaxin'. When the quintet broke up, Davis spent time collaborating again with arranger Gil Evans, resulting in great albums like Porgy and Bess and Sketches of Spain. He finished the decade out by recording one of the best known jazz albums of all time, Kind of Blue, with a sextet that included Coltrane, Julian "Cannonball" Adderley, Bill Evans, Paul Chambers, and Philly Joe Jones.
An historic set at the Newport Jazz Festival in 1955 resulted in George Avakian signing Miles to Columbia Records, and led to the form­a­tion of his so-called "first great quintet," featuring John Coltrane, Red Garland, Paul Chambers, and Philly Joe Jones (the 'Round About Midnight sessions). Miles' 30 years at Columbia was one of the longest exclusive signings in the history of jazz, and one that spanned at least a half-dozen distinct generations of changes in the music.
After several intermediate groups, which featured such giants as Hank Mobley, Wynton Kelly, Victor Feldman, and George Coleman, Miles' "second great quintet" slowly coalesced over 1963-64, into the lineup of Wayne Shorter, Herbie Hancock, Ron Carter, and Tony Williams. They recorded with producer Teo Macero and toured around the world together until 1968, achieving artistic and commercial success that was unprecedented in modern jazz.
1968 was a cataclysmic year of sea change for Miles and for America, a year of upheaval – the escalation of the war in southeast Asia, the assassinations of Martin Luther King and Robert Kennedy, and the rise of the Black Power movement were among the factors that pushed Miles' music toward a more insistent electric (amplified) pulse. At the same time, Miles dug the triple-whammy he heard in the music of James Brown, Jimi Hendrix, and Sly Stone.
What began in 1968 with Miles' quintet quietly adopting electric piano and guitar, blew up into a full-scale rock band sound on 1969's breakthrough double-LP Bitches Brew. Davis won new fans and alienated old ones with the release of Bitches Brew, where he fully embraced the rhythms, electronic instrumentation, and studio effects of rock music.
Davis was injured in an auto accident in 1972, curtailing his activities, and even retiring from 1975 through 1980. When he returned to public work with
The Man with the Horn
(1981), critics felt that Davis's erratic playing showed the effects of his five-year layoff, but he steadily regained his powers during the next few years.
One of the most-memorable events of Davis's later years occurred at the Montreux Jazz Festival in 1991, when he joined with an orchestra conducted by Quincy Jones to perform some of the classic Gil Evans arrangements of the late 1950s. Davis died less than three months later. His final album,
Doo-Bop
(1992), was released posthumously.