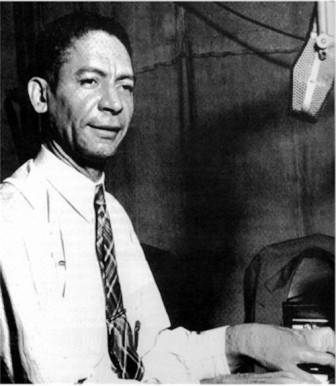 Piano player Jelly Roll Morton was a pioneer of modern American jazz. He was a talented arranger who wrote special scores that took advantage of the three-minute limitations of the 78 rpm records. But more than all these things, he was a real character whose spirit shines brightly through history, like his diamond studded smile.
Morton is often credited with mixing individual improvisation within rehearsed group arrangements, a format which became a staple of jazz. His best-known tunes included Jelly Roll Blues, King Porter Stomp, and Black Bottom Stomp.
Ferdinand Joseph LaMenthe was born on October 20, 1890 in New Orleans, Louisiana. At an early age, his father abandoned him, and only a few years later, his mother passed away. Consequently, his aunt, uncle, grandmother, and great-grandmother took turns taking care of him. Ferdinand was a Creole, a mix of African, French, and Spanish. He took on his step-father's (Ed Morton) last name so that he would not be called "Frenchy" by his peers. His nickname, "Jelly Roll" (which at that time held sexual connotations), was picked up later in his life when he had established a reputation of being a ladies' man. Ferdinand was raised as a Roman Catholic, but was later introduced to the voodoo tradition by his godmother. His ties with voodoo inevitably compelled him to make bizarre decisions later in his life
Music had always been a part of Jelly Roll Morton. As a toddler, young Ferdinand would beat on pots and pans. He then learned the guitar and banjo. By the age of ten, Jelly Roll was starting to play his main instrument, the piano. At twelve years of age, he began to play in the brothels of Storyville. Jelly Roll spent his days going to the famous red-light district, playing everything from popular ragtime pieces to French quadrilles, and becoming acquainted with various madams and prostitutes. Once his grandmother found out about this lifestyle, she kicked him out of her house. As a result, Jelly Roll had to resort to additional activities to earn a decent living. He soon became an exceptional card hustler, pool shark, and comedian, in addition to being a pimp in his spare time. However, music was still his main line of business.
Around 1904, Morton started wandering the American South, working with minstrel shows, gambling and composing. His works "Jelly Roll Blues," "New Orleans Blues," "Frog-I-More Rag," "Animule Dance," and "King Porter Stomp" were composed during this period. He got to Chicago in 1910 and New York City in 1911, where future stride greats James P. Johnson and Willie "The Lion" Smith caught his act, years before the blues were widely played in the North.
About 1917 Jelly Roll Morton moved west to California, where he played in nightclubs until 1922. He made his recording debut in 1923, and from 1926 to 1930 he made, with a group called Morton's Red Hot Peppers, a series of recordings that gained him a national reputation. Morton's music was more formal than the early Dixieland jazz, though his arrangements only sketched parts and allowed for improvisation.
In November 1928, Morton married showgirl Mabel Bertrand in Gary, Indiana and moved to New York City, where he continued to record for Victor. His piano solos and trio recordings are well regarded, but his band recordings suffer in comparison with the Chicago sides where Morton could draw on many great New Orleans musicians for sidemen. Morton generally had trouble finding musicians who wanted to play his style of jazz, and his New York sessions failed to produce a hit.

With the Great Depression and the near collapse of the phonograph record industry, Morton's recording contract was not renewed by Victor for 1931. Morton continued playing less prosperously in New York, briefly had a radio show in 1934, then was reduced to touring in the band of a traveling burlesque act while his compositions were recorded by Fletcher Henderson, Benny Goodman and others, though he received no royalties from these recordings

In 1935, Morton moved to Washington, D.C. with to become the manager/piano player of a bar called, at various times, the "Music Box," "Blue Moon Inn," and "Jungle Inn" in the African American neighborhood of Shaw. During Morton's brief residency at the Music Box, folklorist Alan Lomax heard Morton playing piano in the bar. In May 1938, Lomax invited Morton to record music and interviews for the Library of Congress. The sessions, originally intended as a short interview with musical examples for use by music researchers in the Library of Congress, soon expanded to record more than eight hours of Morton talking and playing piano, in addition to longer interviews during which Lomax took notes but did not record. Despite the low fidelity of these non-commercial recordings, their musical and historical importance attracted jazz fans, and they have helped to ensure Morton's place in jazz history. It wasn't until a decade later that these interviews were released to the public. Jelly Roll died just before the Dixieland revival rescued so many of his peers from musical obscurity. He blamed his declining health on a voodoo spell.

As well as being a brilliant piano soloist, Jelly Roll was an important bandleader. He developed ragtime and instrumental blues into a new ensemble style which embraced collective polyphony, solo improvisations, and ever-changing textures and timbres.