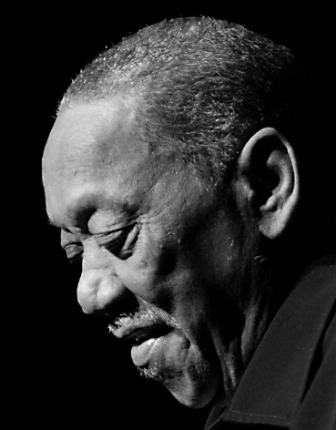 Bobby Bland earned his enduring blues superstar status the hard way: without a guitar, harmonica, or any other instrument to fall back upon. All Bland had to offer was his magnificent voice, a tremendously powerful instrument in his early heyday.
Bobby Bland discovered his own brand of the blues. It was a unique mixture of the gospel music he was singing in his church, the country & western music of the day, and that of some of the most popular musicians of that period. Along with some of his peers, Bobby "Blue" Bland would help foster this new blues sound, one that would eventually take him around the world singing in front of millions, put him in not one but two Halls of Fame, earn him a Grammy Lifetime Achievement award, and place him in the pantheon of one of the most beloved musical forms ever created.
Calvin Bland was born on January 27, 1930, in Rosemark Tennessee. Later moving to Memphis with his mother, Bland started singing with local gospel groups there, including amongst others the Miniatures. Eager to expand his interests, he began frequenting the city's famous Beale Street where he became associated with an ad hoc circle of aspiring musicians named "The Beale Streeters". He worked in a garage during the week and sang spirituals on weekends. At various times, he also served as a chauffeur for B.B. King and Roscoe Gordon and a valet for Junior Parker.
For all his promise, Bland's musical career ignited slowly. He was a founding member of the Beale Streeters, the fabled Memphis aggregation that also included
B.B. King
and Johnny Ace. Singles for Chess in 1951 (produced by Sam Phillips) and Modern the next year bombed, but that didn't stop local DJ David Mattis from cutting Bland on a couple of 1952 singles for his fledgling Duke logo. Duke was headed by hard-boiled Houston entrepreneur Don Robey, who provided top-flight bands for his artists. Scott soon became Bland's mentor, patiently teaching him the intricacies of phrasing when singing sophisticated fare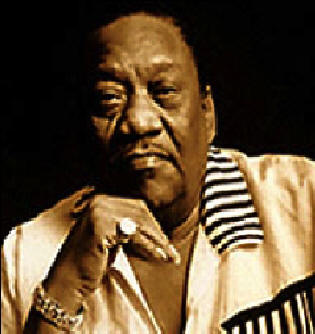 In the beginning, Bobby Bland styled himself after the likes of Roy Brown. After serving a stint in the army, however, Bland spent the latter half of the Fifties maturing into a masterful singer and assured entertainer. His hallmark was his supple, confidential soul-blues delivery. As a singer, Bland projected a grainy, down-to-earth quality, punctuated with guttural growls and snorts that would come to be known as the "chicken-bone sound." Yet his voice was simultaneously smooth as velvet, allowing Bland to bring audiences under his hypnotic spell as he walked a fine line between passionate expression and exquisite self-control.
Most of Bland's savage Texas blues sides during the mid- to late '50s featured the slashing guitar of Clarence Hollimon, notably "I Smell Trouble," "I Don't Believe," "Don't Want No Woman," "You Got Me (Where You Want Me)," and the torrid "Loan a Helping Hand" and "Teach Me (How to Love You)." But the insistent guitar riffs guiding Bland's first national hit, 1957's driving "Farther Up the Road," were contributed by Pat Hare, another vicious picker who would eventually die in prison after murdering his girlfriend and a cop. Later, Wayne Bennett took over on guitar, his elegant fretwork prominent on Bland's Duke waxings throughout much of the '60s.
Bobby Bland had some stiff competition in the 60′s; his highest-charting song on the pop charts "
Ain't Nothing You Can Do"
peaked at #20 during the same week The Beatles held the top 5 positions – but his real success came from the R & B charts where he is rated as the 13
th
best selling artist of that genre. But it was always the the blues that Bland is most known and beloved for. Bland was always pleased that the blues got a chance to make it as a musical genre despite it's depressing reputation.
Financial pressures forced the singer to cut his touring band and in 1968 the group broke up altogether. His relationship with Scott, who died in 1979, was irrevocably severed. Nonetheless, depressed and increasingly dependent on alcohol, Bland weathered this unhappy period. He stopped drinking in 1971; his record company Duke was sold by owner Don Robey to the larger ABC Records group. This resulted in several successful and critically-acclaimed contemporary blues/soul albums including
His California Album
and
Dreamer
, arranged by Michael O'Martian and produced by ABC staff man Steve Barri. The albums, including the later "follow-up" in 1977
Reflections in Blue
, were all recorded in Los Angeles and featured many of the city's top session en at the time.
In 1985, Bland was signed by Malaco Records, specialists in traditional Southern black music, who provided an empathetic environment and the singer has turned out a series of well-crafted albums in the ensuing years while continuing to tour and occasionally appear at concerts with fellow blues singer B. B. King. The two had collaborated for two albums in the 1970s. One of the finest singers in post-war blues, Bland need not apologize for never quite achieving across-the-board popular acclaim that his influence and craft deserves (such as that of B.B. King and even Muddy Waters) but his devoted, primarily older, African-American soul-blues fan base are content with his historic legacy as it is. Despite occasional age-related ill-health, Bland continues to record new albums for Malaco, perform occasional tours alone and also with B.B. King, plus appearances at blues and soul festivals worldwide. A DVD of a 1990's Memphis nightclub performance is a popular Malaco title.
Since the mid-'80s, Bland has recorded for Jackson, MS's Malaco Records. His pipes undeniably reflect the ravages of time, and those phlegm-flecked "snorts" he habitually emits become annoying in large doses. But Bobby "Blue" Bland endures as a blues superstar of the loftiest order, resurfacing in 1998 with Memphis Monday Morning.