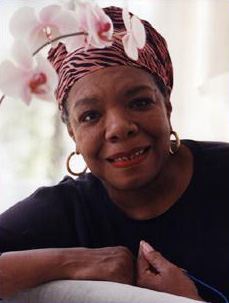 Dr. Maya Angelou is an African American woman who is hailed as one of the great voices of contemporary literature. Dr. Maya Angelou is a
poet
, educator, historian, best-selling
author
, actress, playwright, civil-rights activist, producer and
director
. As an American autobiographer and poet, Dr. Maya Angelou has been called "America's most visible black female autobiographer" by scholar Joanne M. Braxton. She is best known for her series of six autobiographical volumes, which focus on her childhood and early adult experiences. The first and most highly acclaimed,
I Know Why the Caged Bird Sings
(1969), tells of her first seventeen years. It brought her international recognition, and was nominated for a National Book Award. Dr. Maya Angelou has been awarded over 30 honorary degrees and was nominated for a Pulitzer Prize for her 1971 volume of poetry,
Just Give Me a Cool Drink of Water 'Fore I Diiie
.
Maya Angelou was born Marguerite Annie Johnson in St. Louis, Missouri. Her
parents divorced
when she was only three and she was sent with her younger brother Bailey to live with their grandmother in the small town of Stamps, Arkansas. In Stamps, the young girl experienced the racial discrimination that was the legally enforced way of life in the American South, but she also absorbed the deep religious faith and old-fashioned courtesy of traditional African American life. She credits her grandmother and her extended family with instilling in her the values that informed her later life and career. She enjoyed a close relationship with her younger brother. Unable to pronounce her name because of a stutter, Bailey called her "My" for "My sister." A few years later, when he read a book about the Maya Indians, he began to call her "Maya," and the name stuck.
The first 17 years of Angelou's life are documented in her first autobiography,
I Know Why the Caged Bird Sings.
When Angelou was three, and her brother four, their parents' "calamitous marriage" ended. Their father sent them to Stamps, Arkansas alone by train to live with his mother, Annie Henderson. Four years later, the children's father returned abrubtly and both her and brother were then raised by their mother in St. Louis. At age eight, while living with her mother, Angelou was sexually abused and raped by her mother's boyfriend, Mr. Freeman. She confessed it to her brother, who told the rest of their family. Freeman was found guilty, but was jailed for one day. Four days after his release, he was found kicked to death, probably by Angelou's uncles. Angelou became mute, believing, as she has stated, "I thought, my voice killed him; I killed that man, because I told his name. And then I thought I would never speak again, because my voice would kill anyone..." She remained mute for nearly five years. Shortly after Freeman's murder, Angelou and her brother were sent back to their grandmother once again.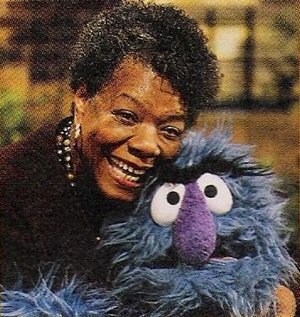 Maya began to speak again at 13, when she and her brother rejoined their mother in San Francisco. Maya attended Mission High School and won a scholarship to study dance and drama at San Francisco's Labor School, where she was exposed to the progressive ideals that animated her later political activism. She dropped out of school in her teens to become San Francisco's first African American female cable car conductor. She later returned to high school, but became pregnant in her senior year and graduated a few weeks before giving birth to her son, Guy. She left home at 16 and took on the difficult life of a single mother, supporting herself and her son by working as a waitress and cook, but she had not given up on her talents for music, dance, performance and poetry. Angelou's second autobiography,
Gather Together in My Name
, recounts her life from age 17 to 19. This book "depicts a single mother's slide down the social ladder into poverty and crime."[20] Angelou at times worked as a prostitute and as the Madame of a brothel. The book describes how she moved through a series of relationships, occupations, and cities as she attempted to raise her son without job training or advanced education.
In 1954 and 1955, Dr. Angelou toured Europe with a production of the opera
Porgy and Bess
. She studied modern dance with Martha Graham, danced with Alvin Ailey on television variety shows and, in 1957, recorded her first album,
Calypso Lady. In 1958, she moved to New York, where she joined the Harlem Writers Guild, acted in the historic Off-Broadway production of Jean Genet's The Blacks and wrote and performed Cabaret for Freedom.
Dr. Maya Angelou was a member of the Harlem Writers Guild in the late 1950s, was active in the Civil Rights movement, and served as Northern Coordinator of
Dr. Martin Luther King, Jr.
's Southern Christian Leadership Conference.
In 1973, Angelou married Paul du Feu, a British-born carpenter and remodeler, and moved to Sonoma, California with him. The years to follow were some of Angelou's most productive as a writer and poet. She worked as a composer, writing for singer Roberta Flack and composing movie scores. She wrote articles, short stories, TV scripts, autobiographies and poetry, produced plays, and spoke on the university lecture circuit. In 1977 Angelou appeared in a supporting role in the television mini-series
Roots
. Her screenplay,
Georgia, Georgia,
was the first original script by a Black woman to be produced.In the late '70s, Angelou met
Oprah Winfrey
when Winfrey was a TV anchor in Baltimore, Maryland; Angelou would later become Winfrey's close friend and mentor. Angelou divorced de Feu and returned to the southern United States in 1981, where she accepted the first lifetime Reynolds Professorship of American Studies at Wake Forest University in Winston-Salem, North Carolina.
Since 1991, Dr. Maya Angelou has taught at Wake Forest University in Winston-Salem, North Carolina. Since the 1990s she has made around eighty appearances a year on the lecture circuit. In 1993, Angelou recited her poem "
On the Pulse of Morning
" at
President Bill Clinton'
s inauguration, the first poet to make an inaugural recitation since Robert Frost at John F. Kennedy's inauguration in 1961. In 1995, she was recognized for having the longest-running record (two years) on The New York Times Paperback Nonfiction Bestseller List. Today, Dr. Maya Angelou holds Honorary Degrees from over 30 American universities and was the proud recipient of the 2000 Presidential Medal of Arts - not to mention hundreds (literally) of other awards and recognitions.