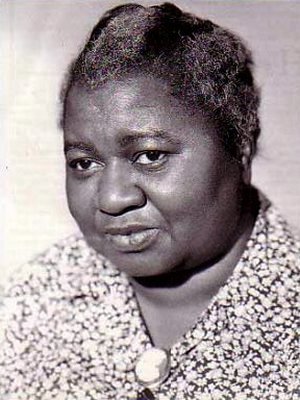 Hattie McDaniel was an American actress and the first African-American to win an Academy Award. She won the award for Best Supporting Actress for her role of Mammy in Gone with the Wind. McDaniel was also a professional singer-songwriter, comedian, stage actress, radio performer, and television star. Hattie McDaniel was in fact the first black woman to sing on the radio in America. Over the course of her career, McDaniel appeared in over 300 films, although she received screen credits for only about 80. She gained the respect of the African American show business community with her generosity, elegance, and charm.
Hattie McDaniel was born on June 10, 1895 in Wichita, Kansas, the thirteenth child of Henry McDaniel, a Baptist minister and sometime minstrel performer, and his wife Susan Holbert, both former slaves. When she was still very young, her parents moved the family to Denver, Colorado, a primarily white community, where Hattie grew up and demonstrated talents for singing and drama at school. After two years of high school, Hattie abandoned her education for a career in show business, joining her father and brother Otis on the road as part of a touring minstrel company. By 1925 Hattie was singing on the radio with "Professor George Morrison and his Melody Hounds," one of Denver's most respected black musical groups, and touring vaudeville circuits throughout the West.
With the onset of the Great Depression, however, little work was to be found for minstrel or vaudeville players, and to support herself McDaniel went to work as a bathroom attendant at Sam Pick's club in Milwaukee, Wisconsin. Although the club as a rule hired only white performers, some of its patrons became aware of McDaniel's vocal talents and encouraged the owner to make an exception. McDaniel performed at the club for more than a year until she left for Los Angeles, where her brother found her a small role on a local radio show, The Optimistic Do-Nuts; known as Hi-Hat Hattie, she became the show's main attraction before long.
A big break came for McDaniel in 1934, when she was cast in the Fox production of Judge Priest. In this picture McDaniel was given the opportunity to sing a duet with Will Rogers (1879–1935), the well-known American humorist. Her performance was well received by the press and her fellow actors alike.
Once established in Hollywood, McDaniel found no shortage of work. In 1936 alone she appeared in twelve films. For the decade as a whole her performances numbered about forty and nearly all of them in the role of maid or cook to a white household. McDaniel won the role of "Mammy" in Gone with the Wind over several rivals. Her salary for Gone with the Wind was to be $450 a week. The Loew's Grand Theatre on Peachtree Street in Atlanta, Georgia, was selected as the theater for the premiere of Gone with the Wind, Friday, December 15, 1939. When the date of the Atlanta premiere approached, all the black actors were barred from attending and excluded from being in the souvenir program. David Selznick had attempted to bring Hattie McDaniel, but MGM advised him not to because of Georgia's segregationist laws, which would have required McDaniel to stay in a segregated "blacks-only" hotel and prevented her from sitting in the theater with her white peers. Clark Gable angrily threatened to boycott the Atlanta premiere unless McDaniel was allowed to attend, but McDaniel convinced him to attend anyway.
McDaniel's performance as Mammy in Gone with the Wind was more than a bit part. It so impressed the Academy of Motion Picture Arts and Sciences that she was awarded the 1940 Oscar for best supporting actress, the first ever won by an African American. McDaniel's award-winning performance was generally seen by the black press as a symbol of progress for African Americans, although some members of the National Association for the Advancement of Colored People (NAACP) were displeased with her work. As the 1940s progressed, the servant roles McDaniel and other African American performers had so frequently played were subjected to increasingly strong criticism by groups such as the NAACP. In response to the NAACP's criticism, McDaniel replied, "I'd rather play a maid and make $700 a week than be one for $7."

McDaniel was a member of Sigma Gamma Rho, one of four African-American Greek letter sororities in the United States. During World War II, McDaniel was the Chairman of the Negro Division of the Hollywood Victory Committee, providing entertainment for soldiers stationed at military bases. She also put in numerous personal appearances to hospitals, threw parties, performed at United Service Organizations (USO) shows and war bond rallies, to raise funds to support the war, on behalf of the Victory Committee. Bette Davis also performed for black regiments as the only white member of an acting troupe formed by Hattie McDaniel, that also included Lena Horne and Ethel Waters.

She joined Clarence Muse for an NBC radio broadcast to raise funds for Red Cross relief programs for Americans, many of them black, who had been displaced by devastating floods. Within the black community, she gained a reputation for generous giving, often without question feeding and lending money to friends and stranger alike.
Hattie McDaniel made her last film appearances in Mickey (1948) and Family Honeymoon (1949). She was still quite active on radio and television in her final years, becoming the first major African American radio star with her comedy series Beulah. She starred in the ABC television version, taking over for Ethel Waters after the first season. It was a hit, earning McDaniel $2,000 a week. After filming a handful of episodes, however, McDaniel learned she had breast cancer. By the spring of 1952, she was too ill to work and was replaced by Louise Beavers.