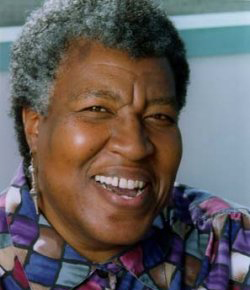 Octavia E. Butler, was an internationally acclaimed science fiction writer whose evocative, often troubling, novels explore far-reaching issues of race, sex, power and, ultimately, what it means to be human. As a science fiction writer, she was awarded a MacArthur fellowship, the first science fiction writer to be so honored. She received two Hugo Awards from the World Science Fiction Society and two Nebula Awards from the Science Fiction Writers of America.
Set in time periods ranging from the historical past to the distant future, Ms. Butler's books were known for their controlled economy of language and for their strong, believable protagonists, many of them black women. She wrote a dozen novels, including "Parable of the Sower", "Parable of the Talents", and most recently, "Fledgling". One of Octavia Butler's best-known novels, "Kindred", told the story of a modern-day black woman who must travel back to the antebellum South to save the life of a white, slaveholding ancestor and, in so doing, save her own. Frequently assigned in black-studies courses, the book was rooted in the experience of the author's mother, who worked as a maid.
Octavia Estelle Butler was born on June 22, 1947, in Pasadena, Calif. As a girl, she was known as Junie, possibly derived from "Junior" since her mother was also named Octavia. Her father, a shoeshine man, died when she was very young, and her mother reared her alone. Always conspicuously tall for her age, Junie grew up shy, losing herself in books despite having dyslexia. Octavia Senior could not afford books, but she brought home the tattered discards of the white families for whom she worked. Octavia Junior began writing stories as a child and soon turned to science fiction, attracted by a genre whose limitless possibilities let her imagine absolutely anything.
After getting an associate's degree from Pasadena City College in 1968, she next enrolled at California State University, Los Angeles. Octavia Butler eventually left Cal State and took writing classes through UCLA extension. Butler would later credit two writing workshops for giving her "the most valuable help I received with my writing"
In the '70s and '80s, when much of science fiction centered around space or the internet, Butler's scientific interest was in biology. Her work is all about the body, disease, reproduction, and the food chain. Many of her stories feature graphic depictions of fluid-spilling, flesh-eating, oozing, gooey physicality. There were times as a reader when you might find yourself wishing her imagination and her prose were a little less vivid.
Octavia Butler remains the only science fiction writer to receive one of the vaunted "genius grants" from the John D. and Catherine T. MacArthur Foundation, a hard-earned $295,000 windfall in 1995 that followed years of poverty and personal struggles with shyness and self-doubt. "People may call these 'genius grants,' " Butler said in a 2004 interview with the Seattle P-I, "but nobody made me take an IQ test before I got mine. I knew I'm no genius."
Butler published one collection of her shorter writings,
Bloodchild and Other Stories,
in 1996. She states in the preface that she "hate[s] short-story writing" and that she is "essentially a novelist. The ideas that most interest me tend to be big." The collection includes five short stories spanning Butler's career, the first finished in 1971 and the last in 1993. "Bloodchild", the Hugo and Nebula award-winning title story, concerns humans who live on a reservation on an alien planet ruled by insect-like creatures. The aliens breed by implanting eggs in the humans, with whom they share a symbiotic existence. In Butler's afterword to the story, she writes that it is not about slavery as some have suggested, but rather about love and coming-of-age—as well as male pregnancy and the "unusual accommodation[s]" that a group of interstellar colonists might have to make with their adopted planet's prior inhabitants. She also states that writing it was her way of overcoming a fear of bot flies.
Butler used the hyperbolic reach of speculative fiction to explore modern and ancient social issues. She often represented concepts like race, sexuality, gender, religion, social progress, and social class in metaphoric language. However, these issues were not relegated only to metaphor. For instance, class struggle is an overt topic in the Parable of the Sower series.
Octavia Butler died outside of her home in Lake Forest Park, Washington, on February 24, 2006, at the age of 58. Contemporary news accounts were inconsistent as to the cause of her death, with some reporting that she suffered a fatal stroke, while others indicated that she died of head injuries after falling and striking her head on her walkway. Another suggestion, backed by Locus magazine, is that a stroke caused the fall and hence the head injuries.
The Octavia E. Butler Memorial Scholarship was established in Butler's memory in 2006 by the Carl Brandon Society. Its goal is to provide an annual scholarship to enable writers of color to attend one of the Clarion writing workshops where Butler got her start. The first scholarships were awarded in 2007