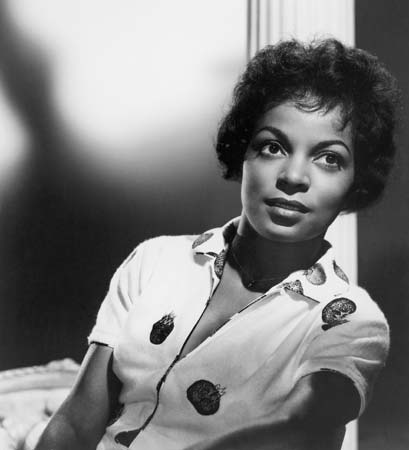 Ruby Dee's acting career has spanned more than fifty years and has included theater, radio, television, and movies. She has also been active in the National Association for the Advancement of Colored People (NAACP), the Southern Christian Leadership Conference (SCLC), and the Congress of Racial Equality (CORE).
Ruby Dee was born Ruby Ann Wallace on October 27, 1924, in Cleveland, Ohio. Her parents, Marshall and Emma Wallace, moved the family to Harlem in New York City when Dee was just a baby. In the evening Dee, her two sisters, and her brother read poetry aloud to each other. As a teenager Dee submitted poetry to the New York Amsterdam News, a black weekly newspaper. Later in life, Dee admitted that during those years she was a shy girl but that she always felt a burning desire to express herself.
Ruby Dee was raised during the golden age of Harlem. After high school, she attended New York's Hunter College, graduating in 1945. Expressive and literate, Dee was drawn to the theatre while still a college student. Dee acted in small Shakespearian productions and landed a role in the play,
South Pacific
in 1943. She also began to study with the American Negro Theatre, where she would meet her future husband, Ossie Davis. They would fall in love during a cross-country tour of
Anna Lucasta
.
Dee made several appearances on Broadway before receiving national recognition for her role in the 1950 film The
Jackie Robinson
Story. Her career in acting has crossed all major forms of media over a span of eight decades, including the films A Raisin in the Sun, in which she recreated her stage role as a suffering housewife in the projects, and Edge of the City. She played both roles opposite
Sidney Poitier
. During the 1960s, Dee appeared in such politically charged films as Gone Are the Days and The Incident, which is recognized as helping pave the way for young African-American actors and filmmakers.
In 1957 Dee appeared in Edge of the City. Over the next decade, Dee appeared in several plays and movies including A Raisin in the Sun and Davis's play Purlie Victorious. In 1965 Ruby Dee became the first African American actress to appear in major roles at the American Shakespeare Festival in Stratford, Connecticut. Her musical satire Take It from the Top opened in New York in 1979.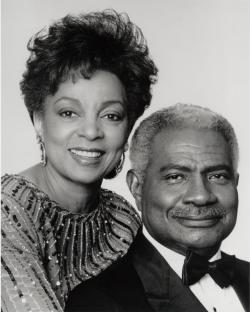 Beginning in the early 1960s, Dee made numerous appearances on television including roles in the Play of the Week and in several series. In 1968 she became the first African American actress to be featured on Peyton Place. In 1970 she starred in the critically acclaimed play Boesman and Lena.
Ruby Dee appeared in one episode of The Golden Girls' sixth season. Dee has been nominated for eight Emmy Awards, winning once for her role in the 1990 TV film Decoration Day. She was nominated for her television guest appearance in the China Beach episode, "Skylark". Her husband Ossie Davis (1917–2005) also appeared in that episode.
In 2003, Ruby Dee also narrated a series of WPA slave narrativesin the HBO film Unchained Memories.
In 2007 the winner of the Grammy Award for Best Spoken Word Album was tied between Dee and Ossie Davis for
With Ossie And Ruby: In This Life Together,
and former
President Jimmy Carter
.
Dee and her husband are authors, storytellers and recording artists as well as actors. Her published works include the humorous, My One Good Nerve and various recordings for young people. In 1998, Dee and Davis co-wrote the autobiographical book, With Ossie and Ruby: In This Life Together, in which they take turns telling their stories as actors, activists, a married couple and as parents.

Dee's life has not all been acting. She is a survivor of breast cancer for more than thirty years, and has long been active in a variety of movements. She, along with Davis, traveled to Lagos, Nigeria, as goodwill ambassadors, and eulogized Malcolm X in 1965 and later his widow, Betty Shabazz in 1997.
Jointly presented with The Academy of Television Arts and Science's Silver Circle Award in 1994, Dee and Davis officially became "national treasures" when they received the National Medal of Arts in 1995. In 2000, they were presented the Screen Actors Guild's Life Achievement Award. They are inductees in the Theater Hall of Fame as well as the NAACP Hall of Fame. In 2008, Dee was awarded the Screen Actors Guild Award for Best Supporting Actress for her role in the film, American Gangster. She also received an Academy Award nomination for this role.