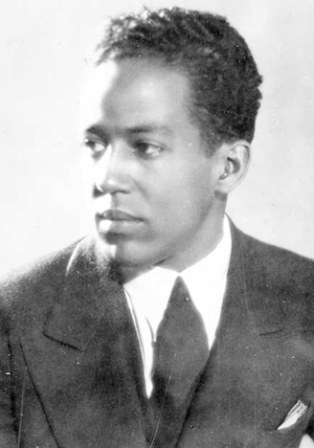 With a career that extended from the Harlem Renaissance of the 1920's to the Black Arts movement of the 1960's, Langston Hughes was the most prolific African American writer of his era. Hughes wrote 16 books of poems, five works of non-fiction, and nine children's books, along with editing and translating numerous works. Known as the Shakespeare in Harlem and the Poet Laureate of the Negro Race, Langston Hughes was a wonderful literary asset for Americans. Hughes chose to focus his work on modern, urban black life and many of his poem's "demanded that African Americans be acknowledged as owners of the culture they gave to the United States and as fully enfranchised American citizens"
Born in Joplin, Missouri, James Langston Hughes was a member of an abolitionist family. He was the great-great-grandson of Charles Henry Langston, brother of John Mercer Langston, who was the first Black American to be elected to public office, in 1855. Hughes attended Central High School in Cleveland, Ohio, but began writing poetry in the eighth grade, and was selected as Class Poet.
Hughes spent the year after high school in Mexico with his father, who tried to discourage him from writing. But Hughes's poetry was beginning to appear in the Brownie's Book, a publication for children edited by
W. E. B. Du Bois
, and he was starting work on more ambitious material for adult readers. The poem "A Negro Speaks of River," which marked this development, appeared in the Crisis magazine in 1921.
Langston's father paid his tuition to Columbia University on the grounds he study engineering. After only a year, Langston dropped out of the program. Although he had good grades, his heart remained faithful to writing poetry. After Hughes left Columbia, he took on odd jobs in New York, and in 1923 he signed on to work on a freighter. His first voyage took him down the west coast of Africa, his second took him to Spain and in 1924 he spent six months in Paris, France.
During his time in England in the early 1920s, Hughes became part of the black expatriate community. In November 1924, Hughes returned to the U. S. to live with his mother in Washington, D.C. Hughes again found work doing various odd jobs before gaining white-collar employment in 1925 as a personal assistant to the historian Carter G. Woodson at the Association for the Study of African American Life and History. Not satisfied with the demands of the work and its time constraints that limited his writing, Hughes quit to work as a busboy in a hotel.
It was while working as a busboy that Hughes would encounter the poet Vachel Lindsay. Impressed with the poems Hughes showed him, Lindsay publicized his discovery of a new black poet. By this time, Hughes' earlier work had already been published in magazines and was about to be collected into his first book of poetry. The following year, Hughes enrolled in Lincoln University, a historically black university in Chester County, Pennsylvania. There he became a member of the Omega Psi Phi Fraternity, a black fraternal organization founded at Howard University in Washington, D.C.
Thurgood Marshall
, who later became an Associate Justice of the Supreme Court of the United States, was an alumnus and classmate of Langston Hughes during his undergraduate studies at Lincoln University.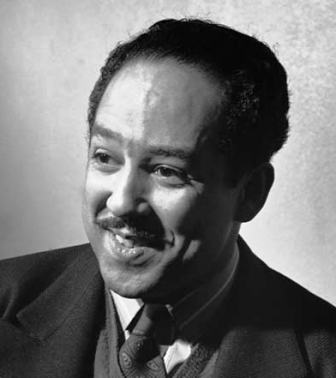 One of Hughes' most acclaimed essays appeared in the Nation in 1926, entitled "The Negro Artist and the Racial Mountain". It spoke of Black writers and poets, "who would surrender racial pride in the name of a false integration," where a talented Black writer would prefer to be considered a poet, not a Black poet, which to Hughes meant he subconsciously wanted to write like a white poet. Hughes argued, "no great poet has ever been afraid of being himself."
Langston Hughes published his first novel "Not without Laughter" in 1930. The story portrays an African American boy, Sandy, caught between two worlds and two attitudes. The boy's hardworking and respectable mother provides a counterpoint to his energetic, easygoing, footloose father. The mother is oriented to the middle-class values of the white world; the father believes that fun and laughter are the only things worth pursuing. Though the boy's character is blurred, Hughes's attention to the details of African American culture in America gives the novel insight and power.

The relative commercial success of Not without Laughter inspired Hughes to make his living as an author. In 1931 he made the first of what became annual lecture tours. The following year he took a trip to the Soviet Union, the former country that today consists of Russia and other smaller nations. Meanwhile, he turned out poems, essays, book reviews, song lyrics, plays, and short stories. He edited five books of African American writing and worked with Arna Bontemps on another and on a book for children. He wrote some twenty plays, including "Mulatto," "Simply Heavenly," and "Tambourines to Glory.
In 1942, during World War II, Hughes began writing a column for the African American newspaper, the Chicago Defender. In 1943 he introduced the character of Jesse B. Semple, or Simple, to his readers. This fictional everyman, while humorous, also allowed Hughes to discuss very serious racial issues. The Simple columns were also popular--and they ran for twenty years and were collected in several books.