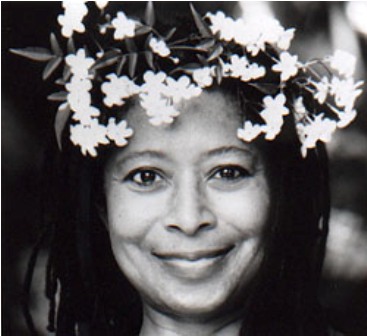 Alice Walker is one of the most admired African American writers working today. She has written at length on issues of race and gender, and is most famous for the critically acclaimed novel The Color Purple for which she won the Pulitzer Prize for Fiction.
Born in Eatonton Georgia, on February the 9th, 1944, just before the end of World War Two, Alice Malsenior Walker was the eighth of eight children to Minnie Tallulah Grant Walker and Winnie Lee Walker. Her father, who was, in her words, "wonderful at math but a terrible farmer," earned only $300 a year from sharecropping and dairy farming, while her mother supplemented the family income by working as a maid. Her mother worked 12 hours a day for $17 a week. After a childhood accident blinded her in one eye, she went on to become valedictorian of her local school, and attend Spelman College and Sarah Lawrence College on scholarships, graduating in 1965.
After college, Alice Walker worked in the Welfare Department in New York City. She also became a teacher and lecturer. Alice Walker met Martin Luther King Jr. when she was a student at Spelman College in Atlanta in the early 1960s. Walker credits King for her decision to return to the South as an activist for the Civil Rights Movement. She attended the famous 1963 March on Washington. As a young adult she volunteered her time registering voters in Georgia and Mississippi in 1966 Alice Walker fell in love with Jewish civil rights lawyer Melvyn Laventhal. They married in New York the following year. Despite prejudges over their inter-racial marriage the moved to the deep south of Jackson Mississippi. The couple was harassed regularly and were even threatened by the Klu Klux Klan.
Walker resumed her writing career, returning to New York where she joined Ms. magazine as an editor before moving to northern California in the late 1970s. An article she published in 1975 was largely responsible for the renewal of interest in the work of Zora Neale Hurston, who was a large source of inspiration for Walker's writing and subject matter. In 1973, Walker and fellow Hurston scholar Charlotte D. Hunt discovered Hurston's unmarked grave in Ft. Pierce, Florida. Both women paid for a modest headstone for the gravesite.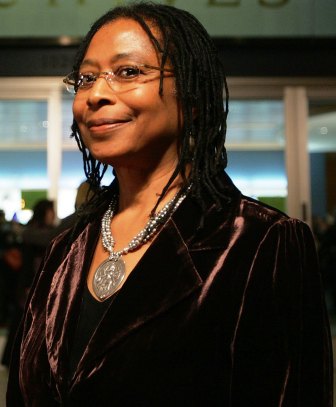 In addition to her collected short stories and poetry, Walker's first novel, The Third Life of Grange Copeland, was published in 1970. Alice Walker and her husband had one child, a daughter, before divorcing in 1976. She retained her maiden name, falling in love with fellow editor Robert Allen and published Meridian to universal acclaim. Walker's next project was another book of short stories: You Can't Keep A Good Woman Down, which only received a lukewarm response.
Nothing however prepared the critics for Alice Walker's Pulitzer Prize winning novel The Color Purple. The story chronicles the life of a black African American girl called Celie, growing up in the Deep South. The novel was later made into a feature-length motion picture, directed by Steven Spielberg and later into a Broadway play. The Color Purple placed Alice Walker in the spotlight and she was both praised and criticized. Many critics were disheartened with the negative portrayals of men in The Color Purple, though most admitted that the movie presented more simplistic negative pictures than the book's more nuanced portrayals.
Walker published her autobiography In Search of Our Mother's Gardens in 1983 and her attitudes towards the female circumcision rituals in Africa led her to co-produce the shocking documentary Warrior Marks with Pratibha Parmar.
Alice Walker followed the book up with two volumes of poetry called Horses Make A Landscape More Beautiful and Goodnight Willie Lee I'll See You in the Morning. Her second book of essays entitled Living by the Word and her epic novel The Temple of My Familiar followed in 1988 and 1989 respectively.
Alice Walker's works typically focus on the struggles of blacks, particularly women, and their struggle against a racist, sexist, and violent society. Her writings also focus on the role of women of color in culture and history. Walker is a respected figure in the liberal political community for her support of unconventional and unpopular views as a matter of principle.

Additionally, Walker has published several short stories, including the 1973 Everyday Use, in which she discusses feminism, racism against blacks, and the issues raised by young black people who leave home and lose respect for their parents' culture.
In 2007, Walker gave 122 boxes of manuscripts and archive material to Emory University's Manuscript, Archives, and Rare Book Library. In addition to drafts of writings such as The Color Purple, unpublished poems and writings, and correspondence with editors, the collection includes extensive correspondence with family members, friends and colleagues, an early treatment of the film script for The Color Purple that was never used, syllabi from courses she taught, and fan mail. The collection also contains a scrapbook of poetry compiled when Walker was 15 entitled "Poems of a Childhood Poetess".

In 2009, Alice Walker was one of over 50 signers of a letter protesting the Toronto Film Festival's "City to City" spotlight on Israeli filmmakers, condemning Israel as an "apartheid regime.