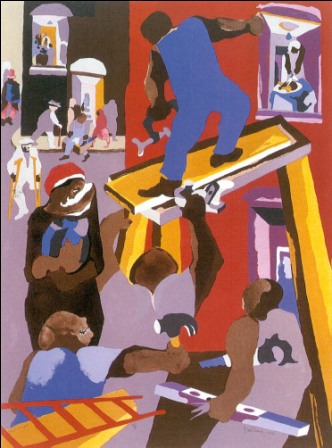 Jacob Lawrence emerged as one of America's leading figurative artists and the first to document the history of African Americans through widely-viewed and influential artworks. Lawrence considered himself both an artist and educator and used his art to tell stories about black history, stories that were overlooked in the typical "American History" taught in schools. In narrative series of paintings, he has highlighted the lives of outstanding blacks and chronicled contemporary black history. Jacob Lawrence referred to his style as "dynamic cubism", though by his own account the primary influence was not so much French art as the shapes and colors of Harlem.
Jacob Lawrence was born in Atlantic City, New Jersey, but spent his early childhood in Pennsylvania. Jacob was one of four children raised by a single parent mother who worked as a domestic. When he was thirteen, his mother took him to live in Harlem, then an active center for the arts.
Jacob Lawrence began studying art at an early age, first in after-school programs and later at the Harlem Art Workshop. For much of this time black artist Charles Alston was his mentor. In 1937, Lawrence received a scholarship to the American Artists School; the next year, when he turned 21, he was accepted as a painter in the WPA Federal Art Project.
The artist was twenty-one years old when his series of paintings of the Haitian general Toussaint L'Ouverture was shown in an exhibit of African American artists at the Baltimore Museum of Art. Jacob Lawrence followed up his success with a series of paintings of the lives of Frederick Douglass and Harriet Tubman, as well as a series of pieces about the abolitionist John Brown.
Gouache and tempera were Lawrence's characteristic media. His use of somber browns and black for shadows and outlines in an otherwise vibrant palette lent his work a distinctive overtone. His best-known works are his series on historical or social themes, including …And the Migrants Kept Coming (1940), Life in Harlem (1942), and War (1947).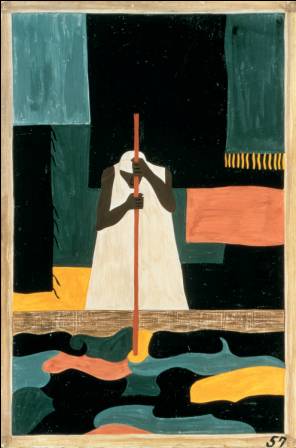 Lawrence was only twenty-three when, in 1941 he completed the sixty-panel set of narrative paintings entitled Migration of the Negro, now called The Migration Series. The series, a moving portrayal of the migration of hundreds of thousands of African Americans from the rural South to the North after World War I, was shown in the prestigious Downtown Gallery in New York, and brought him national recognition. Lawrence's narrative paintings were an instantaneous success. Two museums bought them all, and twenty-six were reproduced by "Fortune" magazine for a special color issue. This same year Lawrence married fellow artist Gwendolyn Knight.
During the 1940s Lawrence was given his first major solo exhibition at the Museum of Modern Art in New York City, and became the most celebrated African American painter in the country.
In October 1943, during the Second World War, Lawrence enlisted in the United States Coast Guard and served with the first racially integrated crew on the USCGC Sea Cloud, under Carlton Skinner. He was able to paint and sketch while in the Coast Guard.
A trip to Nigeria in 1964 provided Jacob Lawrence with material that, for the first time, did not deal with the American black. In recent years Lawrence's paintings have dealt less with social commentary, and his more purely decorative side has come to the fore.

In 1970 Lawrence settled in Seattle and became an art professor at the University of Washington. Some of his works are now displayed there in the Paul G. Allen Center for Computer Science & Engineering and in Meany Hall for the Performing Arts. The piece in the main lobby of Meany Hall, entitled "Theatre", was commissioned by the University for the hall in 1985.

Shortly after moving to Washington State, Lawrence did a series of five paintings on the westward journey of African American pioneer George Washington Bush. These paintings are now in the collection of the State of Washington History Museum.
Lawrence spent the rest of his life painting, teaching and writing. He is best known for his representational compositions, full of simplified shapes, and bold colors and his use of watercolor and gouache. Unlike nearly any other modern or contemporary artist, he always worked in series of paintings, each with a distinct theme. His influence, as the visual artist who "told" stories of the dignity, hopes and struggles of African Americans in American history, is incalculable. Even Lawrence's mature paintings have retained an almost childlike simplicity. This, combined with his ability to capture expressive human gestures, gives his work a subdued strength.
In 1970, Lawrence and his wife, painter Gwendolyn Knight, moved to Seattle when Lawrence accepted an appointment as Professor in the School of Art at the University of Washington. He retired in 1980 and continued to serve as Emeritus Professor until his death in 2000 at the age of 83.