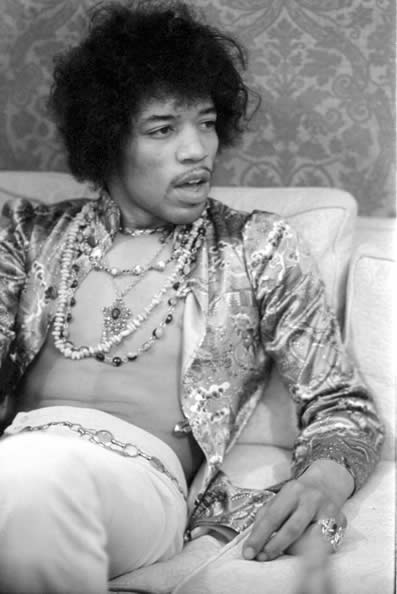 If there ever was a shooting star, it was Jimi Hendrix. In the four short years that he was a superstar, he did more with the electric guitar than any other guitarist before or after him ever would. He is widely considered the greatest electric guitarist in the history of rock music and one of the most influential musicians of his era across a range of genres. Jimi Hendrix was also a gifted singer and songwriter.
A left-hander who took a right-handed Fender Stratocaster and played it upside down, Hendrix pioneered the use of the instrument as an electronic sound source. Players before Hendrix had experimented with feedback and distortion, but he turned those effects and others into a controlled, fluid vocabulary every bit as personal as the blues with which he began.
Born Johnny Allen Hendrix, on November 27, 1942, in Seattle, Washington, Hendrix later changed his name to James Marshall. His mother, Lucille, was only 17 years old when Hendrix was born. She had a stormy relationship with his father, Al, and eventually left the family after the couple had two more children together, sons Leon and Joseph. Hendrix would only see his mother sporadically before her death in 1958. He had a difficult childhood, sometimes living in the care of relatives and even acquaintances at times.
In many ways, music became a sanctuary for Hendrix. He was a fan of blues music and taught himself to play guitar. At the age of 14, Hendrix saw Elvis Presley perform. He got his first electric guitar the following year and eventually played with two bands—the Rocking Kings and the Tomcats. In 1959, Hendrix dropped out of high school. He worked odd jobs while continuing to follow his musical aspirations.
Embarking on a music career, Hendrix first went by the name Jimmy James, his band was called the Blue Flames, and he first started playing the Blues in Greenwich Village, NY clubs. Word started to spread fast in town about this new guitarist who could get sounds out of his Stratocaster that no one ever heard before. Musicians from all over the City would stop in to see him play, and one of them, in town for a visit, was bassist Chas Chandler of the Animals. Blown away like everybody else by what he heard, Chandler talked Hendrix into moving to England, where Chandler promised to make him a star.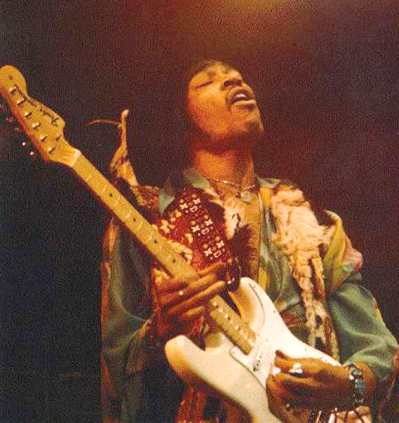 Chas Chandler him to London in the autumn of 1966 and arranged for the creation of the Jimi Hendrix Experience, with Englishmen Noel Redding on bass and Mitch Mitchell on drums. The Experience's first single, "Hey Joe," reached Number Six on the U.K. chart in early 1967, followed shortly by "Purple Haze" and its double-platinum debut album, Are You Experienced? Hendrix fast became the rage of London's pop society. Although word of the Hendrix phenomenon spread to the U.S., he was not seen in America and no records were released until June 1967, when, at Paul McCartney's insistence, the Experience appeared at the Monterey Pop Festival. The performance, which Hendrix climaxed by burning his guitar, was filmed by D.A. Pennebaker for the documentary Monterey Pop.
Mitchell and Redding both quit the band, but this did little to stop Jimi. He quickly found a six-piece band with Mitchell and formed the Band of Gypsys. They went on to play at the Woodstock Music and Art Fair in New York. Once again Jimi performed a stunt for the crowd, this time playing a mangled version of "The Star Spangled Banner." The improvisation of the Star Spangled banner has since been regarded as a defining moment of the 1960s. Although the band didn't go on stage until Monday morning and almost 2/3s of the audience had already left, the rendition is always noted as the highlight of the Woodstock concert.
Hendrix was eager to experiment with musical ideas, and he jammed with jazz fusionists John McLaughlin, Larry Coryell, and members of Traffic, among others. Miles Davis admired his instinctiveness (and, in fact, planned to record with him), and Bob Dylan — whose "Like a Rolling Stone," "All Along the Watchtower," and "Drifter's Escape" Hendrix performed and recorded — later returned the tribute by performing "Watchtower" in the Hendrix mode.
Early on September 18, 1970, Jimi Hendrix died in London. He had spent the latter part of the previous evening at a party and was picked up by girlfriend Monika Dannemann and driven to her flat at the Samarkand Hotel, 22 Lansdowne Crescent, Notting Hill. According to the estimated time of death, from autopsy data and statements by friends about the evening of September 17, he died within a few hours after midnight, though no precise estimate was made at the original inquest

Hendrix won many of the most prestigious rock music awards in his lifetime, and has been posthumously awarded many more, including being inducted into the US Rock and Roll Hall of Fame in 1992 and the UK Music Hall of Fame in 2005. An English Heritage blue plaque was erected in his name on his former residence at Brook Street, London, in September 1997. A star on the Hollywood Walk of Fame (at 6627 Hollywood Blvd.) was dedicated in 1994. In 2006, his debut US album, Are You Experienced, was inducted into the United States National Recording Registry, and Rolling Stone named Hendrix the top guitarist on its list of the 100 greatest guitarists of all-time in 2003. He was the first person inducted into the Native American Music Hall of Fame.