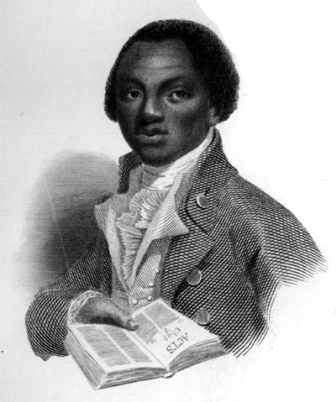 Captured far from the African coast when he was a boy of 11, Olaudah Equiano was sold into slavery, later acquired his freedom, and, in 1789, wrote his widely-read autobiography,
The Interesting Narrative of the Life of Olaudah Equiano, or Gustavus Vassa, the African
. His story became the first major African contribution to the campaign for abolition in Britain to be published.
Equiano's narrative begins in the West African village where he was kidnapped into slavery in 1756. He vividly recalls the horror of the Middle Passage: "I now wished for the last friend, Death, to relieve me." The young Equiano was taken to a Virginia plantation where he witnessed torture. Slavery, he explained, brutalizes everyone, the slaves, their overseers, plantation wives, and the whole of society.
About six or seven months after being abducted, Equiano was brought to the coast, where he first encountered a slave ship and white men. As it was for all slaves, the Middle Passage for Equiano was a long, arduous nightmare. In his autobiography he describes the inconceivable conditions of the slaves' hold: the "shrieks of the women," the "groans of the dying," the floggings, the wish to commit suicide, how those who somehow managed to drown themselves were envied.
The ship finally arrived at Barbados, where buyers purchased most of the slaves. There was no buyer, however, for the young Equiano. Less than two weeks after his arrival, he was shipped off to the English colony of Virginia, where he was purchased and put to work. Less than a month later, he had a new master -- Michael Henry Pascal, a lieutenant in the Royal Navy. Under this master, who owned Equiano for the next seven years, Equiano would move to England, educate himself, and travel the world on ships under Pascal's command.
In the summer of 1754, Equiano was sold to an officer in the Royal Navy called Michael Pascal. Pascal gave the boy the name of Gustavus Vassa. The renaming of Equiano was a typical act of slave owners. By taking away the identity of the slave the owner was able to demonstrate the total control he had over his 'possession'.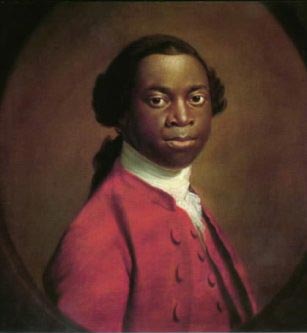 As the slave of a naval captain, Equiano received training in seamanship and traveled extensively with his master. This was during the Seven Years War with France. Although he was Pascal's personal servant, Equiano was also expected to assist in times of battle; his duty was to haul gunpowder to the gun decks. As one of Pascal's favorites, Equiano was sent to Ms. Guerin, Pascal's sister in Britain, to attend school and learn to read. At this time Equiano decided to convert to Christianity. His master allowed Equiano to be baptized in St. Margaret's Church, Westminster, in February 1759. Despite the special treatment, after the British won the war, Equiano did not receive a share of the prize money, as was awarded to the other sailors. Pascal had also promised his freedom but did not release him.
He was sold on to Robert King, a Quaker merchant from Philadelphia who traded in the Caribbean. Pascal had instructed Doran to ensure that he sold Equiano "to the best master he could, as he told him I was a very deserving boy, which Captain Doran said he found to be true;" King set Equiano to work on his shipping routes and in his stores. In 1765, King promised that for forty pounds, the price he had paid, Equiano could buy his freedom. King taught him to read and write more fluently, guided him along the path of religion, and allowed Equiano to engage in profitable trading on his own as well as on his master's behalf. He enabled Equiano to earn his freedom, which he achieved by his early twenties.
Equiano traveled to London and became involved in the abolitionist movement. The movement had been particularly strong amongst Quakers, but was by then non-denominational. Equiano proved to be a popular speaker. He was introduced to many senior and influential people, who encouraged him to write and publish his life story. Equiano was supported financially by philanthropic
abolitionists
and religious benefactors; his lectures and preparation for the book were promoted by, among others, Selina Hastings, Countess of Huntingdon.
His account surprised many with the quality of its imagery, description, and literary style. Some who had not yet joined the abolitionist cause felt shame at learning of his suffering. Entitled
The Interesting Narrative of the Life of Olaudah Equiano, or Gustavus Vassa, the African
, it was first published in 1789 and rapidly went through several editions. It is one of the earliest known examples of published writing by an African writer. It was the first influential slave autobiography. Equiano's personal account of slavery and of his experiences as an 18th-century black immigrant caused a sensation when published in 1789. The book fueled a growing anti-slavery movement in Great Britain.
The book not only was an exemplary work of English literature by a new, African
author
, but it made Equiano's fortune. The returns gave him independence from benefactors and enabled him to fully chart his own purpose. He worked to improve economic, social and educational conditions in Africa, particularly in Sierra Leone.
Equiano died in March 1797, a full ten years before the slave trade was abolished in British ships, forty years before slavery was abolished in British colonies, and 68 years before slavery was ended in the United States. Although Equiano did not live to see these events, his narrative played an important part in bringing them about.