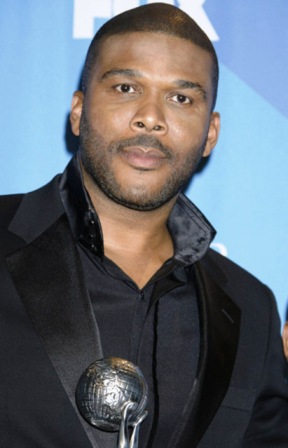 Tyler Perry is an African American actor, director, playwright, screenwriter, producer, and author. Already a successful artist in Southern theater, Perry began to make national celebrity status in 2005 with the release of his first movie, Diary of a Mad Black Woman. In 2009, Perry was ranked by Forbes magazine as the sixth highest-paid man in Hollywood.
Born Emmitt Perry Jr. in New Orleans, Louisiana in 1969, he lived with his mother, an abusive father and three siblings. Tyler's childhood was far from perfect. He was tortured by his father's beatings. Perry once said of his father, "his only answer to everything was to beat it out of you." As a child, Perry once went so far as to attempt suicide in an effort to escape his father's beatings. In contrast to his father, his mother took him to church each week, where he sensed a certain refuge and contentment
. At the age of sixteen Emmitt Perry Jr. legally changed his name to Tyler in an effort to distance himself from his abusive father. Tyler had been molested by two different adults and also found out that his father had molested a friend of his.
While Perry never completed high school, he did earn his GED. In his early '20s, watching an Oprah Winfrey talk show, he heard someone describe the sometimes therapeutic effect that the act of writing can have, enabling the author to work out his or her own problems. This comment inspired him to apply himself to a career in writing. He soon started writing a series of letters to himself, which became the basis for the musical, I Know I've Been Changed.
Around 1990, Tyler Perry moved to Atlanta, where two years later I Know I've Been Changed was first performed at a community theater, financed by the $12,000 life savings of the 22-year-old Perry. It included Christian themes of forgiveness, dignity and self-worth, while addressing issues such as child abuse and dysfunctional families. The musical initially received a "less than stellar" reception and was a financial failure
Tyler Perry's strong belief in God and involvement with the church gave him continuous strength to hold on, and to keep going. He struggled for 6 years. During this time Perry lived in poverty, sleeping in cheap hotels when he could afford it and living out of his car during the lowest times.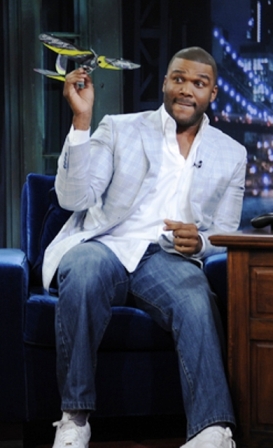 In 1998, Perry tried one more time to win over theater audiences. He rented out the House of Blues in Atlanta for another production of I Know I've Been Changed. Soon Perry was performing to sell out crowds and the musical was moved to a larger theater. After so many years of hard work, he finally earned critical acclaim as well as commercial success.
For his next project, Perry worked on an adaptation of evangelist T. D. Jakes' book Woman, Thou Art Loosed, which proved to be quite popular. His next effort, however, brought to life his most famous character Madea. The gun-toting, sharp-tongue grandma first appeared in his 2000 play, I Can Do Bad All by Myself. Basing Madea on his mother and several other mature women in his life, Perry played the eccentric character himself wearing drag. She next appeared in Diary of a Mad Black Woman in 2001.

The character Madea is a 68 year old who doesn't care about being politically correct. She doesn't care what you think about her. She's going to tell the truth." Perry's performance as Madea earned him a Helen Hayes Award nomination in 2001 in the category of Outstanding Lead Actor, Non-Resident Production, the first time an urban theater production had been honored at a traditional awards ceremony. Developing quite a following, Madea has starred in a number of plays, including Madea's Family Reunion (2002) and Madea's Class Reunion (2003).


Perry proved himself to be a box office powerhouse with the release of his debut film, Diary of a Mad Black Woman, starring Kimberly Elise as the scorned wife and Steve Harris as the adulterous husband. Perry appeared as three different characters in the film, including the legendary Madea. Eventually grossing more than $50 million, the film's success showed Hollywood that there was a market for urban African American comedies.

Adding to his already dynamic career, Perry wrote the 2006 best-selling book, Don't Make a Black Woman Take Off Her Earrings: Madea's Uninhibited Commentaries on Love and Life. The book went on to win two Quill Awards—Book of the Year and Best in Humor.
Currently single, Perry lives on a sprawling ranch outside of Atlanta.