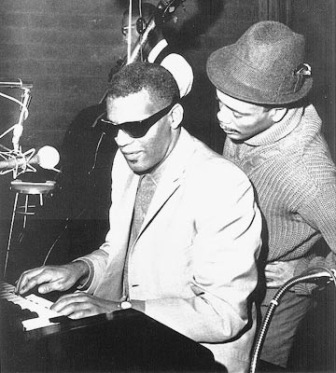 In a musical career that has spanned six decades, Quincy Jones has earned his reputation as a renaissance man of American music. Jones has distinguished himself as a bandleader, a solo artist, a sideman, a songwriter, a producer, an arranger, a film composer, and a record label executive, and outside of music, he's also written books, produced major motion pictures, and helped create television series.
Jones was born in Chicago, IL, on March 14, 1933. His parents divorced soon after his younger brother, Lloyd, was born, and the Jones boys were raised by their father, a carpenter, and his new wife. She had three children of her own and three more with Quincy Jones, Sr. His birth mother, Sarah Jones, was in and out of mental hospitals, and it was not until his adult life that Quincy was able to enjoy a close relationship with her

When he was still a youngster, his family moved to Seattle, Washington, and he soon developed an interest in music. In his early teens, Jones began learning the trumpet, and started singing with a local gospel group. By the time he graduated from high school in 1950, Jones had displayed enough promise to win a scholarship to the Boston based music school Schillinger House (which later became known as the Berklee School of Music).
Returning to New York, Jones composed and arranged for Count Basie, Dinah Washington, and Sarah Vaughan, while holding an executive post at Mercury Records and producing his own increasingly pop-oriented records. In the mid-1960s he began composing for films and television, eventually producing over 50 scores and serving as a trailblazing African-American musician in the Hollywood arena.
Jones's first venture into Hollywood came when he composed the score for the 1965 film The Pawnbroker. Jones won an Academy Award for his score for In Cold Blood (1967) and went on to write the music for over fifty films. In 1969 Jones signed a contract as a recording artist with A&M Records, and his first album with that label, Walking in Space, won a Grammy for best jazz instrumental album of 1969.

Television has also featured Jones's music, starting in 1971 with musical scores and theme songs for such shows as Ironside and Sanford and Son. In 1973 Jones co-produced "Duke Ellington, We Love You Madly," a special for CBS, featuring a forty-eight-piece orchestra conducted by Jones. The special was a project of the Institute for Black American Music, a foundation formed by Jones and other musicians with the goal of increasing awareness of the African American contribution to American music and Duke Ellington in particular. Jones also wrote the score for the successful 1977 television mini-series Roots.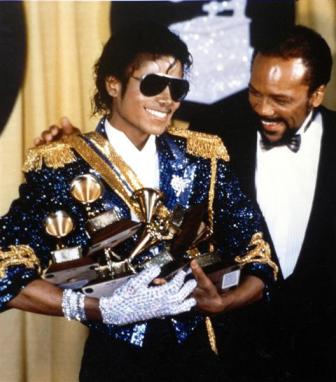 In 1975, Jones founded Qwest Productions, for which he arranged and produced hugely successful albums by Frank Sinatra and other major pop figures. In 1978, he produced the soundtrack for the musical adaptation of The Wizard of Oz, The Wiz, starring Michael Jackson and Diana Ross. In 1982, Jones's produced Michael Jackson's all-time best-selling album Thriller.

In 1985, Quincy Jones used his clout among major American recording artists to record the much celebrated anthem "We Are the World" to raise money for victims of famine in Ethiopia. His work on behalf of social causes has spanned his career, including the Quincy Jones Listen Up Foundation, which built more than 100 homes in South Africa in 2001. The charity aims to connect youths with technology, education, culture and music and sponsors an intercultural exchange between teens in Los Angeles and South Africa.
Jones also produced the 1985 film The Color Purple directed by Steven Spielberg and starred Whoopi Goldberg, Oprah Winfrey, and Danny Glover; the television series The Fresh Prince of Bel-Air starring Will Smith (1990-96) and published the magazines Vibe and SPIN. In 1990, Quincy Jones formed Quincy Jones Entertainment (QJE), a co-venture with Time Warner, Inc.
Quincy Jones produced a massive concert to help commemorate the 1993 inauguration of President Bill Clinton, and at the 1995 Academy Awards won the Jean Hersholt Humanitarian Award, a prize that doubtless found its place beside Quincy's 26 Grammy awards. In 1996 Jones performed at the Montreux Jazz Festival to celebrate his 50th anniversary in the music business. The concert was captured on video and released as a DVD by Eagle Rock.
Jones spent the rest of the '90s and first decade of the new century concentrating on his music publishing business and being an "unofficial" cultural ambassador for the United States.
Jones has been married three times; to Jeri Caldwell from 1957 to 1966 (they have one daughter), to Ulla Andersson from 1967 to 1974 (they have a son and a daughter), and to Peggy Lipton from 1974 to 1990 (they have two daughters). He also has two daughters from prior relationships.