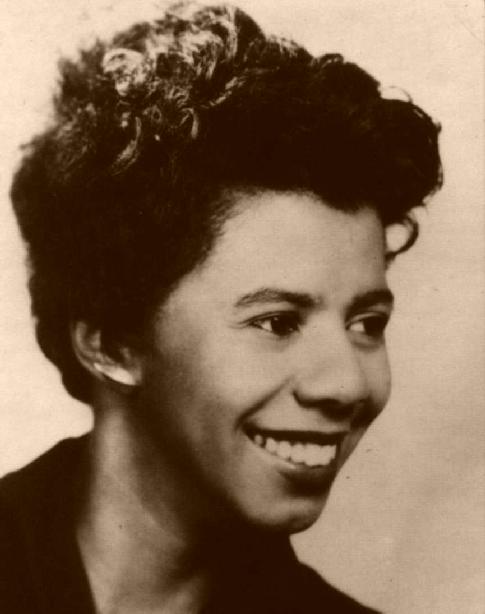 Lorraine Hansberry was an African American playwright whose A Raisin in the Sun (1959) was the first drama by an African American woman to be produced on Broadway. A penetrating psychological study of the personalities and emotional conflicts within a working-class black family in Chicago, A Raisin in the Sun was directed by actor Lloyd Richards, the first African American to direct a play on Broadway since 1907. It won the New York Drama Critics' Circle Award, and the film version of 1961 received a special award at the Cannes Festival. Hansberry's next play, The Sign in Sidney Brustein's Window, a drama of political questioning and affirmation set in Greenwich Village, New York City, where she had long made her home, had only a modest run on Broadway in 1964. Her promising career was cut short by her early death.
Lorraine Hansberry was born in Chicago, the daughter of a prominent real-estate broker, Carl Hansberry, and the niece of William Leo Hansberry (1894-1965), a Howard University professor of African history in D.C. William Leo Hansberry taught at Howard University until 1959, after rejecting employment offers from Atlanta University and the Honorable Marcus Garvey. A college at the University of Nigeria was named in his honor. Hansberry's parents were intellectuals and activists. Her father was an active member of the Republican Party. He won an anti-segregation case before the Illinois Supreme Court, upon which the events in
A Raisin in the Sun
was loosely based. When Lorraine was eight, her parents bought a house in a white neighborhood, where they were welcomed one night by a racist mob. Their experience of discrimination there led to a civil rights case.
Lorraine graduated from Englewood High School in 1948 and attended the University of Wisconsin. She excelled in the humanities, but struggled with the required science courses. Two years later, Hansberry left college and moved to New York to pursue her writing career. Living on the Lower East Side, Lorraine was free to explore the life of Harlem and Greenwich Village and participated in protests about racial discrimination and various other forms of social injustice. She took classes in writing at the New School for Social Research and worked as an associate editor of Paul Robeson's Freedom, a radical black magazine. During this period, Hansberry met Langston Hughes, the famous Harlem Renaissance poet, whose work had deep influence on her mind. His artistic integrity served as a model for her, too. While Hanserry was completing a seminar on African history under W.E.B. Du Bois, she wrote a research paper on 'The Belgian Congo: A Preliminary Report on Its Land, Its History and Its People.'
A Raisin in the Sun was written at this time, and was a huge success. It was the first play written by an African-American woman to be produced on Broadway. At 29 years, she became the youngest American playwright and only the 5th woman to receive the New York Drama Critics Circle Award for Best Play. While many of her other writings were published in her lifetime - essays, articles, and the text for the SNCC book The Movement, the only other play given a contemporary production was The Sign in Sidney Brustein's Window.
In June of 1952, lorraine Hansberry met a young man named Robert Nemiroff while they were both protesting segregated sports teams at New York University. Nemiroff was the son of Russian-Jewish immigrants who owned a downtown restaurant, and Hansberry spent many afternoons there with his family and friends. Not long after, on June 20, 1953, Hansberry and Nemiroff were married in Chicago at a ceremony that both families attended. Hansberry worked to support her husband through his graduate studies in literature at New York University by doing several odd jobs, including a two-week camp for adults to promote racial unity. In 1956 Nemiroff was able to achieve financial security when he wrote the hit song "Cindy, O Cindy", and began to help support his wife's writing career.

In 1961, Hansberry was set to replace Vinnette Carroll as the director of the musical, Kicks and Co, after its try-out at Chicago's McCormick Place. It was written by Oscar Brown, Jr. and featured an interracial cast including Lonnie Sattin, Nichelle Nichols, Vi Velasco, Al Freeman, Jr., Zabeth Wilde and Burgess Meredith in the title role of Mr. Kicks. A satire involving miscegenation, the $400,000 production was co-produced by her husband Robert Nemiroff, but despite a warm reception in the Windy City, the show never made it to Broadway.
On January 12, 1965, Lorraine Hansberry died an early death at the age of 34 after a struggle with pancreatic cancer. That same night, the curtain closed as The Sign in Sidney Brustein's Window gave its last performance. Inscribed on her tombstone is the following passage from the play:

I care. I care about it all. It takes too much energy not to care...The why of why we are here is an intrigue for adolescents; the how is what must command the living. Which is why I have lately become an insurgent again.