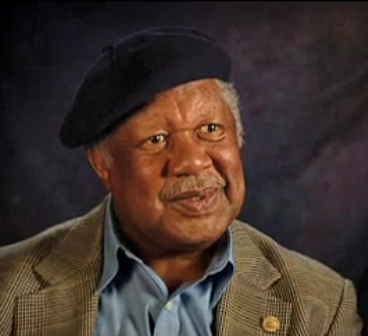 Ernest Gaines is an African American
author
. His works have been taught in college classrooms and translated into many languages, including French, Spanish, German, Russian, and Chinese. Four of his works have been produced into television movies. His 1993 novel,
A Lesson Before Dying
, won the National Book Critics Circle Award for fiction. Gaines has been a MacArthur Foundation fellow, inducted into the American Academy of Arts and Letters, awarded the National Humanities Medal, and inducted into the French Order of Arts and Letters as a Chevalier.
Ernest J. Gaines was born on January 15th, 1933 on River Lake Plantation in Oscar, Louisiana, which was a quiet hamlet in obscure Pointe Coupee Parish. Born during the Depression, he is the son of a sharecropper and was raised by his great aunt Augusteen Jefferson, who provided the inspiration for Miss Jane Pittman, as well as other strong black female characters
in his later books.


Even though all the slaves were free, Gaines recalls living, eating, and working like a slave. Ernest Gaines began working in the fields, earning just fifty cents a day, when he was eight. Most people would have found it galling and tiring to do so, but Gaines had a remedy for that. After the work was done, or on a rest day, an elder would sit on his porch and a crowd of young ones would sit below him. " People sat around telling stories," said Gaines.
Ernest Gaines moved to Vallejo California, near San Francisco, in 1948 to live with his mother and stepfather. Gaines spent his spare time reading in the Vallejo Public Library but found nothing that resonated with his own experience of life, since all the writers he read were white and did not portray blacks or their culture.
In 1949, Ernest Gaines wrote an early version of his novel
Catherine Carmier
, but it was rejected by a New York publisher. Following his high school graduation in 1951, Gaines attended and graduated from Vallejo Junior College in 1953, before serving two years in the United States Army.
After serving in the U.S. Army, he enrolled at San Francisco State University, where he published a number of short stories in the University quarterly. His stories won him admission to the selective graduate program in creative writing at Stanford University, conducted by the novelist Wallace Stegner. Gaines settled in San Francisco after graduate school, working a variety of part-time jobs in the afternoon and reserving his morning hours for writing.
His first novel,
Catherine Carmier
, was published in 1964. A tragic love story played out against the complex caste system of rural Louisiana, the work met a favorable critical reception, but sold poorly. The next years were difficult ones for Gaines, as a succession of novels and short stories were rejected by publishers. In 1966, he was awarded a grant from the National Endowment of the Arts to continue his writing. The following year, his second novel,
Of Love and Dust
, appeared. Again, he told a story of life and love thwarted by the legacy of servitude and discrimination, but this book attracted greater attention than his first.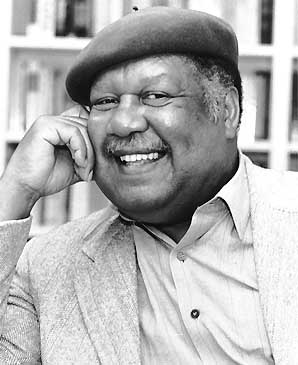 In 1971, Gaines was appointed Writer-in-Residence at Denison University in Granville, Ohio. That same year, he completed the work that was to make him famous far beyond his own country. The Autobiography of Miss Jane Pittman (1971) is the first-person narrative of a fictional 110-year-old woman, born in slavery, who lives to see the stirrings of the modern Civil Rights Movement. Her story led readers through a century of African American life. A 1974 television adaptation of the novel became a national event. The film won nine Emmy Awards and brought Gaines's work to the attention of a vast audience for the first time.
In 1993, Gaines received a MacArthur Foundation "genius grant." The same year saw the publication of his most critically acclaimed novel to date. Set in the fictional community of Bayonne, Louisiana, in the late 1940s,
A Lesson Before Dying
tells the story of Jefferson, a twenty-one-year-old uneducated black field worker wrongfully accused and convicted of the robbery and murder of a white man, and sentenced to death by electrocution. At his trial, Jefferson's court-appointed defense attorney argues that Jefferson lacks the intelligence to plan a robbery, and that, even if he had been involved in the killing, sentencing him to death would be like putting a hog in the electric chair. In spite of this so-called defense, the all-white jury finds Jefferson guilty. To compound the horror of his situation, Jefferson internalizes the attorney's racist depiction of him as a dumb animal.
In Gaines's work, he has taken the years of oral storytelling, and transformed it into literature. " A writer tries to write about what he is a part of, " explains Gaines. "That's what I was trying to do with Miss Jane Pittman, to get the essence of what she was saying. Then you use your background or fill it in with history. You fill it in with things you know."
It has been said that Gaines's contemporary works tend to be " more concerned with community, place, and the past and its legacy -- and to ground its fiction more fully in a rich traditional folk culture than his white counterparts." This is obvious, since he lived on a plantation where the people cared fiercely for each other while they tried to scratch a living laboring in the fields. I suppose that it should not be a big surprise that Gaines cares about the old traditions and writes about racial conflict because he experienced it firsthand and the ways that he used to live and breathe everyday may have propelled him into becoming a great African American author.