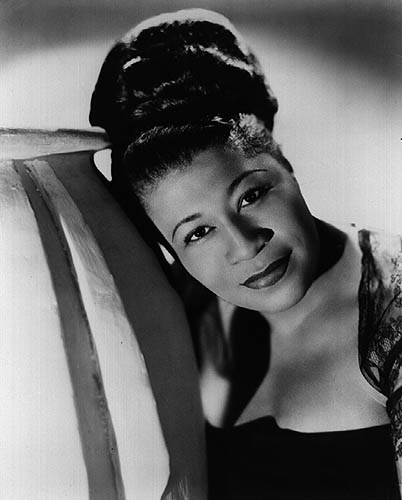 The first lady of jazz, Ella Fitzgerald is considered one of the best singers in the history of jazz. She sang with a buoyancy and energy that is yet unmatched. From slow, lamenting ballads to up-tempo bebop tunes, she inhabited the songs she sang, conveying subtle moods with a wide-ranging, virtuosic voice. Ella Fitzgerald was the most popular female jazz singer in the United States for more than half a century. In her lifetime, she won 13 Grammy awards and sold over 40 million albums.
Her voice was flexible, wide-ranging, accurate and ageless. She could sing sultry ballads, sweet jazz and imitate every instrument in an orchestra. She worked with all the jazz greats, from
Duke Ellington
,
Count Basie
and
Nat King Cole,
to Frank Sinatra,
Dizzy Gillespie
and Benny Goodman. Ella Fitzgerald performed at top venues all over the world, and packed them to the hilt. Her audiences were as diverse as her vocal range. They were rich and poor, made up of all races, all religions and all nationalities. In fact, many of them had just one binding factor in common - they all loved her.
Ella Fitzgerald was born in 1917 and raised in Yonkers, a New York suburb. During elementary school she began singing at her local church, the Bethany African Methodist Episcopal Church. At fifteen her mother died and she was cared for by her aunt in Harlem, a black neighborhood in New York that was rich with jazz music. She got into singing by accident. At the age of 15, she entered an amateur night talent contest at the Apollo Theater with a dancing routine. Because of the reputation of the Apollo crowd for being hard on performers, she developed stage fright and sang, instead. She won the contest.
By 1940 Fitzgerald was recognized throughout the music world as a vocal wonder—a singer with clarity of tone, flexibility of range, fluency of rhythm, and, above all, a talent for improvisation (to make up without practice) that was equally effective on ballads and faster tunes. Although for a long time she had a better reputation among fellow musicians than with the general public, this changed soon after she joined Norman Granz's Jazz at the Philharmonic (JATP) in 1946. She made annual tours with the group and was always the concert favorite. Three of her unfailing show-stoppers were "Oh, Lady Be Good," "Stomping at the Savoy," and "How High the Moon." Each would begin at a medium tempo and then speed up as Fitzgerald moved up-tempo and "scatted" (that is, sang harmonic variations of the melody in nonsense syllables). The huge JATP crowds always responded well.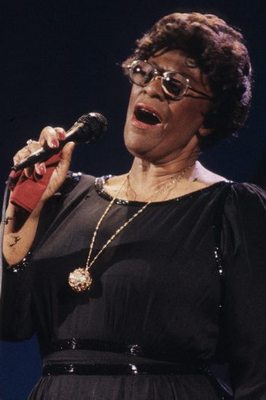 Ella Fitzgerald Sings the Cole Porter Songbook, released in 1956, was the first of eight multi-album Songbook sets Fitzgerald would record for Verve at irregular intervals from 1956 to 1964. The composers and lyricists spotlighted on each set, taken together, represent the greatest part of the cultural canon known as the Great American Songbook. Fitzgerald's song selections ranged from standards to rarities and represented an attempt by Fitzgerald to cross over into a non-jazz audience.
Ella Fitzgerald Sings the Duke Ellington Songbook was the only Songbook on which the composer she interpreted played with her. Duke Ellington and his longtime collaborator Billy Strayhorn both appeared on exactly half the set's 38 tracks and wrote two new pieces of music for the album: "The E and D Blues" and a four-movement musical portrait of Fitzgerald (the only Songbook track on which Fitzgerald does not sing).
The Songbook series ended up becoming the singer's most critically acclaimed and commercially successful work, and probably her most significant offering to American culture. The New York Times wrote in 1996, "These albums were among the first pop records to devote such serious attention to individual songwriters, and they were instrumental in establishing the pop album as a vehicle for serious musical exploration
On the touring circuit it was well-known that Ella's manager felt very strongly about civil rights and required equal treatment for his musicians, regardless of their color. Norman refused to accept any type of discrimination at hotels, restaurants or concert halls, even when they traveled to the Deep South.
In the mid-1950s, Fitzgerald became the first African-American to perform at the Mocambo, after Marilyn Monroe had lobbied the owner for the booking. The booking was instrumental in Fitzgerald's career. The incident was turned into a play by Bonnie Greer in 2005.
Ella continued to work as hard as she had early on in her career, despite the ill effects on her health. She toured all over the world, sometimes performing two shows a day in cities hundreds of miles apart. In 1974, Ella spent a legendary two weeks performing in New York with Frank Sinatra and Count Basie. Still going strong five years later, she was inducted into the Down Beat magazine Hall of Fame, and received Kennedy Center Honors for her continuing contributions to the arts.