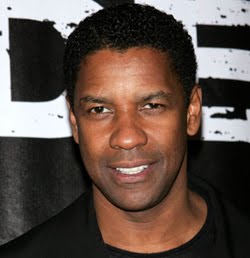 One of Hollywood's sexiest and most magnetic leading men, Denzel Washington's poise and radiantly sane intelligence permeate whatever film he is in, be it a socially conscious drama, biopic, or suspense thriller. More importantly, Washington's efforts, alongside those of director Spike Lee, have done much to dramatically expand the range of dramatic roles given to African-American actors and actresses.
Denzel Hayes Washington, Jr. was born on Tuesday, December 28, 1954 in Mt. Vernon, New York. Denzel was raised in Mount Vernon and he has an older sister. The son of a Pentecostal minister and a hairdresser, his parents' professions shaped Washington's early ambition to launch himself into show business: from his minister father he learned the power of performance, while hours in his mother's salon (listening to stories) gave him a love of storytelling. Unfortunately, when Washington was 14, his folks' marriage took a turn for the worse, and he and his older sister were sent away to boarding school so that they would not be exposed to their parents' eventual divorce.

Although he wanted to study at Texas Tech University, Denzel ended up at Fordham University where he studied Drama and Journalism. He managed to finish his studies there in 1977 and got a B.A. in Journalism. He still found time to pursue his interest in acting, however, and after graduation he moved to San Francisco, where he won a scholarship to the American Conservatory Theatre.
In the same year after graduating Washington made his break in professional acting with a role in "Wilma", a television movie. His big screen debut was made with "Carbon Copy" in 1981. Washington shared a 1982 Distinguished Ensemble Performance Obie Award for playing Private First Class Melvin Peterson in the off Broadway Negro Ensemble Company production A Soldier's Play which premiered November 20, 1981. A major career break came for Washington when he starred as Dr. Phillip Chandler in the television hospital drama St. Elsewhere which ran from 1982 to 1988 on NBC. He was one of a few actors to appear on the series for its entire six-year run. Washington also appeared in several television, film and stage roles during this time.
In 1987 Washington starred as South African anti-apartheid political activist Steven Biko in Richard Attenborough's Cry Freedom for which he received a nomination for the Academy Award for Best Supporting Actor. In 1989 Washington won an Academy Award for Best Supporting Actor for playing a defiant self-possessed ex-slave soldier in the film Glory.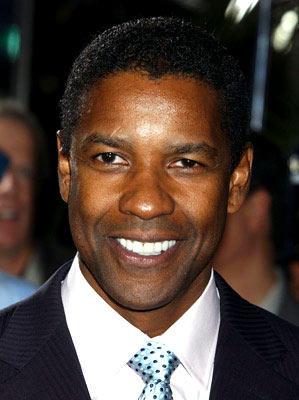 In 1990, Denzel Washington starred as Bleek Gilliam in the Spike Lee movie Mo' Better Blues. In 1992, he starred as Demetrius Williams in the romantic drama Mississippi Masala. Washington was reunited with Lee to play one of his most critically acclaimed roles as the title character of 1992's Malcolm X. His performance as the black nationalist leader earned him another nomination for the Academy Award for Best Actor. The next year he played the homophobic lawyer of a homosexual man with AIDS in the 1993 movie Philadelphia. During the early and mid 1990s, Washington starred in several successful thrillers, including The Pelican Brief and Crimson Tide, as well as in comedy Much Ado About Nothing and alongside Whitney Houston in the romantic drama The Preacher's Wife.
In 2001, he received his second Oscar (this time in a leading role) for the cop thriller Training Day. The following year, Denzel Washington directed his first film, the drama Antwone Fisher, in which he also co-starred.
In February 2009, Washington began filming The Book of Eli a post-Apocalyptic drama set in the near future which was released in January 2010. Also the same year, he starred as a veteran railroad engineer in the action film Unstoppable, about an unmanned, half-mile-long runaway freight train carrying a dangerous cargo. The film was directed by Tony Scott, and was the fifth collaboration between the two, after previous films Crimson Tide (1995), Man on Fire (2004), Déjà Vu (2006) and The Taking of Pelham 1 2 3 (2009).
Washington is a devout Christian, and has considered becoming a preacher. "A part of me still says, 'Maybe, Denzel, you're supposed to preach. Maybe you're still compromising.' I've had an opportunity to play great men and, through their words, to preach. I take what talent I've been given seriously, and I want to use it for good." In 1995 he donated 2.5 million dollars to help build the new West Angeles Church of God in Christ facility in Los Angeles

On June 13, 2010, Washington won the Tony Award for Best Performance by a Leading Actor in a Play for his role in the play Fences.

Denzel Washington married actress Pauletta Pearson in 1983; they have four children. Their oldest son, John David, was drafted in 2006 by the NFL's St. Louis Rams. Their other children are daughter Katia, who attends Yale University and twins Olivia and Malcolm.