B.B. King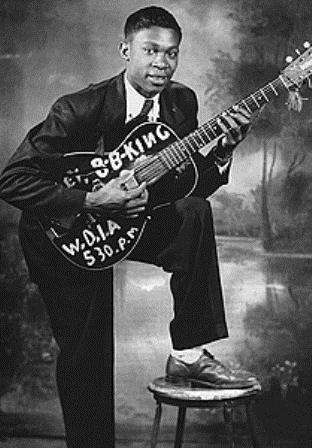 For more than half a century, Riley B. King, better known as B.B. King, has defined the blues for a worldwide audience. B. B. King is one of the most talented and celebrated electric-blues artists of the late 20th Century. He has recorded between 90 to 100 blues albums over the course of his singing career and is known for refining electric-blues more than any other blues artist. King's trademark is his Black Gibson ES-355 guitar, named "Lucille".
Riley B. King was born to a family of poor sharecroppers on a plantation near the small town of Itta Bena in the Mississippi Delta. King's parents separated when he was only five and his mother took him to live in the nearby hill country in Kilmichael, Mississippi. By age seven he was doing the work of a grown man in the field. He was only nine when his mother died.
Young Riley. grew up attending the Elkhorn School, which was right across the road from and affiliated with the Elkhorn Baptist Church. There he met a teacher named Luther Henson, who had a large influence on his young life, teaching him about the greatness of Black people like Booker T. Washington, Mary McLeod Bethune and Frederick Douglas. Mr. Henson taught him that hard work, tenacity and faith were important things to have in his character and young Riley would embrace these values for the rest of his life. But it was in church, in Kilmicheal that he would get his first musical experience. Riley's mother and grandmother were very religious and attended church every Sunday. Riley's mother sang in the choir. But it was the minister of the church, Archie Fair, a very good guitarist in his own right, who became an important musical inspiration for young Riley.
Following his service in the U.S. Army, he began his career as a disc jockey in Memphis, Tennessee, where he was dubbed "The Beale Street Blues Boy." That nickname was soon shortened to "B. B." In 1949, King began recording songs under contract with Los Angeles-based RPM Records. Many of King's early recordings were produced by Sam Phillips, who later founded Sun Records.
King's first big break came in 1948, in Memphis, when he performed on Sonny Boy Williamson's radio show after playing him one of his songs. Williamson liked it and put the young singer and guitarist on the air. After the radio audience heard B.B. King they flooded the radio station with calls of praise for this unknown singer. This led to steady engagements at the Sixteenth Avenue Grill in West Memphis and later to a ten minute radio spot on the Black owned radio station, WDIA.
In the winter of 1949, King played at a dance hall in Twist, Arkansas. In order to heat the hall, a barrel half-filled with kerosene was lit, a fairly common practice at the time. During a performance, two men began to fight, knocking over the burning barrel and sending burning fuel across the floor. The hall burst into flames, which triggered an evacuation. Once outside, King realized that he had left his guitar inside the burning building. He entered the blaze to retrieve his beloved $30 guitar, a Gibson semi-hollow electric. Two people died in the fire. The next day, King learned that the two men were fighting over a woman named Lucille. King named that first guitar Lucille, as well as every one he owned since that near-fatal experience, as a reminder never again to do something as stupid as run into a burning building or fight over women.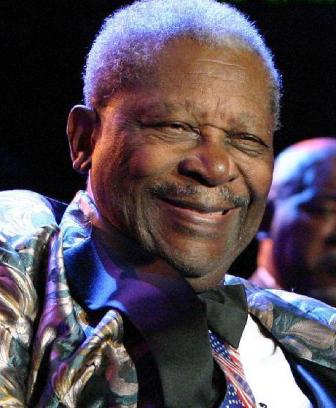 In 1962 B.B. King signed with ABC Records, which released Live at the Regal, a benchmark blues concert album. In 1969 he released his biggest hit single, "The Thrill is Gone.""The Thrill Is Gone" crossed over to the pop charts. No longer the star of a segregated minority, or the cult hero of musicians and aficionados, B.B. King had become a national institution. In 1969 he opened 18 American concerts for the Rolling Stones. National television appearances on the The Tonight Show and The Ed Sullivan Show brought him his largest audience yet.
He was the first bluesman to tour the Soviet Union in 1979, by this time he had also become the first bluesman to enter the pop mainstream, making regular appearances in Las Vegas, Nevada, and on network television. King also found commercial success with the many collaborations he's made over the years with artists such as Eric Clapton, Elton John, Sheryl Crow, Van Morrison, Bonnie Raitt, to name just a few.

B.B. King was inducted into the Blues Foundation Hall of Fame in 1984 and into the Rock and Roll Hall of Fame in 1987. He received a Grammy Award for Lifetime Achievement in 1987, and has collected awards and honorary doctorates from the University of Mississippi, Yale University and Berklee College of Music. In 1988 he recorded a track with Irish rockers U2, "When Love Comes to Town," for their album Rattle and Hum. The song became a hit and the record and associated concert film introduced King to a whole new generation of music lovers.
Still performing into his 80s, B.B. King won his fourteenth Grammy Award in 2006, and that year embarked on a sell-out international tour. That same year, he received the Presidential Medal of Freedom. In 2008 the B.B. King Museum and Delta Interpretive Center opened in Indianola. The museum is dedicated to King's music, the music which influenced him, and the history of the delta area.