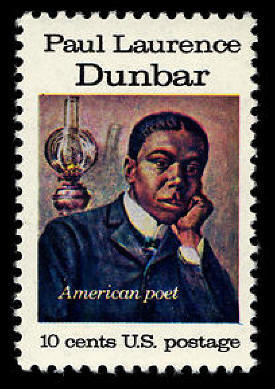 Paul Laurence Dunbar was the first African-American to gain national eminence as a poet. Dunbar gained national recognition for his 1896 "Ode to Ethiopia", one poem in the collection L
yrics of Lowly Life
. His work often addressed the difficulties encountered by members of his race and the efforts of African-Americans to achieve equality in America. A gifted poet and a precursor to the
Harlem Renaissance
, Dunbar was read by both blacks and whites in turn-of-the-century America.
Dunbar was born in Dayton, Ohio to Joshua and Matilda Dunbar. They had escaped from slavery in Kentucky. Hs father, Joshua Dunbar, was a veteran of the American Civil War, having served in the 55th Massachusetts Infantry Regiment and the 5th Massachusetts Colored Cavalry Regiment. His parents instilled in him a love of learning and history. Matilda and Joshua had two children before separating in 1874. Matilda also had two children from a previous marriage. The family was poor, and after Joshua left, Matilda supported her children by working in Dayton as a washerwoman. One of the families she worked for was the family of Orville and Wilbur Wright.
Paul Dunbar was the only African-American student during the years he attended Dayton's Central High School, and he participated actively as a student. During high school, he was both the editor of the school newspaper and class president, as well as the president of the school literary society. Dunbar had also started the first African-American newspaper in Dayton.
After graduating from high school in 1891, racial discrimination forced Dunbar to accept a job as an elevator operator in a Dayton hotel. He wrote on the job during slack hours.
Paul Laurence Dunbar's first public reading was on his birthday in 1892. A former teacher arranged for him to give the welcoming address to the Western Association of Writers when the organization met in Dayton. James Newton Matthews became a friend of Dunbar's and wrote to an Illinois paper praising Dunbar's work. The letter was reprinted in several papers across the country, and the accolade drew regional attention to Dunbar. He became well known as the "elevator boy poet" after the reading.
In 1893 Dunbar published his first volume of poetry,
Oak and Ivy
, on the press of the Church of the Brethren. He sold his book for a dollar to people who rode the elevator. As more people came in contact with his work, however, his reputation spread. In 1893, he was invited to recite at the World's Fair, where he met
Frederick Douglass
, the renowned abolitionist who rose from slavery to political and literary prominence in America. Douglass called Dunbar "the most promising young colored man in America."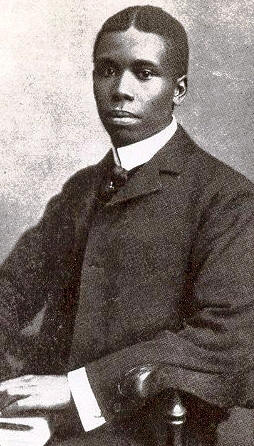 After dating for three years, Paul Laurence Dunbar married Alice Ruth Moore in 1898. She was an
author
and educator whom he fell in love with after seeing a photograph of her published about a poem she published in the Boston Monthly Review. During the years of their marriage, Dunbar began to suffer from tuberculosis and the alcohol prescribed for it. The Dunbars separated permanently in 1902 but remained friends, and Alice continued to be known as "the widow of Paul Laurence Dunbar" after his death in 1906. After the separation, Paul Dunbar moved back in with his mother.
Dunbar moved to Toledo, Ohio, in 1895, with help from attorney Charles A. Thatcher and psychiatrist Henry A. Tobey. Both were fans of Dunbar's work, and they arranged for him to recite his poems at local libraries and literary gatherings. Tobey and Thatcher also funded the publication of Dunbar's second book, Majors and Minors.
Paul Laurence Dunbar wrote a dozen books of poetry, four books of short stories, five novels, and a play. He also wrote lyrics for
In Dahomey
, the first musical written and performed entirely by African-Americans to appear on Broadway in 1903 The musical comedy successfully toured England and America over a period of four years, one of the more successful theatrical productions of its time. His essays and poems were published widely in the leading journals of the day. His work appeared in Harper's Weekly, the Saturday Evening Post, the Denver Post, Current Literature and a number of other publications. During his life, considerable emphasis was laid on the fact that Dunbar was of pure black descent. Much of the controversy surrounding Paul Laurence Dunbar concerns his dialect poetry, wherein some scholars, such as the late Charles T. Davis, felt that Dunbar showed the greatest glimmers of genius.
While Dunbar sought an appropriate literary form for the representation of African American vernacular expression, he was also deeply ambivalent about his undertaking in this area. He recognized that many of his experiments yielded imperfect results and he was concerned that prominent white critics such as William Dean Howells praised his work for the wrong reasons, setting a tone that other Dunbar critics would follow for years as they virtually ignored his standard English verse and his published experiments with Irish, German, and Western regional dialects.
Although he lived to be only 33 years old, Dunbar was prolific, writing short stories, novels, librettos, plays, songs and essays as well as the poetry for which he became well known. Paul Laurence Dunbar's writing style encompassed two distinct voices, the standard English of the classical poet and the evocative dialect of the turn-of-the-century black community in America. He was gifted in poetry similar to the way that Mark Twain was in prose, using dialect to convey character.