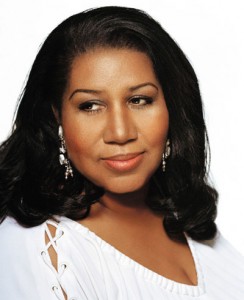 The queen of soul, Aretha Franklin is one of the giants of soul music, and indeed of American pop as a whole. More than any other performer, she epitomized soul at its most gospel-charged. Although renowned for her soul recordings, Franklin is also adept at jazz, blues, R&B and gospel music. Rolling Stone magazine ranked Franklin No. 1 on its list of The Greatest Singers of All Time.
Aretha Franklin is one of the most honored artists by the Grammy Awards, with 18 competitive Grammys to date, and two honorary Grammys. She has scored a total of 20 No. 1 singles on the Billboard R&B Singles Chart, one of which also became her first No. 1 hit on the Billboard Hot 100: "Respect" (1967). She also has the most million-selling singles of any female artist with 14. Between 1967 and 1982 Aretha had 10 #1 R&B albums - more than any other female artist.
Aretha Louise Franklin was born at a two-room house in Memphis Tennessee. She was the second of four children born to Barbara and C.L. Franklin. Franklin's family moved to Buffalo, when Franklin was two, and then by six, had settled in Detroit. Following the move to Detroit, Franklin's parents, who had a troubled marriage, split. Due to her father's work as a Baptist minister, Franklin was primarily raised by her grandmother, Rachel. Aretha Franklin suffered a tragedy when her mother died in Buffalo when Aretha was ten. Franklin sang in church at an early age and learned how to play piano by ear. By her late preteens, Franklin was regularly singing solo numbers in her father's New Bethel Baptist Church. Franklin's father, C.L., was a respected and popular preacher. Franklin grew up with local and national celebrities hanging out at her father's home including gospel greats Albertina Walker and her group The Caravans,
Mahalia Jackson
and Clara Ward, three women who played a pivotal role in her vocal development as a child.
After Franklin's father gained fame for his recorded sermons for Checker Records and for gaining even more popularity for his work as a civil rights activist, he helped his daughter sign a contract with Checker's JVB gospel record division. In 1956, when Aretha was only fourteen she released her first album,
Songs of Faith
. Aretha Franklin began touring the gospel circuit and worked under the direction of James Cleveland. When it seemed that the child prodigy was unstoppable her career hit a road block.
By the time she was fifteen years old, Aretha Franklin was pregnant and at the age of seventeen she was the mother of two children. Aretha overcame these hitches in style. John Hammond was Columbia Record's official talent scout; he offered Aretha a contract with the famous company.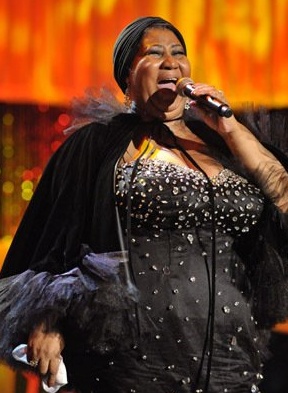 The hits began to roll in. Aretha's gospel songs were being sung by everyone in America. Her popular numbers included "Since You've Been Gone," "Think," "Respect," and "The House That Jack Built." She added many variations to Gospel singing. One of her hits "Dr. Feelgood" had obvious sexual undertones. Her success was unparalleled at one point in time when she had ten songs in the top Ten between 1967 and 1968. Another phenomenon of which she was one of the pioneers is doing the cover versions of famous artists. Aretha Franklin gospelized "Eleanor Rigby" of The Beatles, "Bridge Over Troubled Water" by Simon & Garfunkel, Burt Bacharach's "I Say a Little Prayer" and Something He Can Feel by Curtis Mayfield. Aretha expanded her style when she ventured into blues, pop, rock and even some Pink Floyd style psychedelic music.
Aretha Franklin married Ted White in 1962 and he became her manager during her years with Columbia Records. The marriage ended in 1969 and she has always refused to answer questions about it. A Time Magazine cover story in 1968 led to a lawsuit from Ted White over allegations that he had roughed her up in public. The affair made her guard her private life even more jealously and she gave no interviews for several years after that.
In the late '60s, Franklin became one of the biggest international recording stars in all of pop. Many also saw Franklin as a symbol of Black America itself, reflecting the increased confidence and pride of African-Americans in the decade of the civil rights movements and other triumphs for he Black community. The chart statistics are impressive in and of themselves: ten Top Ten hits in a roughly 18-month span between early 1967 and late 1968, for instance, and a steady stream of solid mid-to-large-size hits for the next five years after that. Her Atlantic albums were also huge sellers, and far more consistent artistically than those of most soul stars of the era.
In the early 1970s, Aretha Franklin's music mellowed slightly, though losing nothing of its power, and she continued the hugely successful relationship with Wexler and Mardin while beginning to take a greater role in producing her work. A partnership with
Quincy Jones
led to a disappointing album in 1973 You. But it still produced a standout track 'Angel', written by her sister Carolyn which became a soul classic.
In 1987, Aretha Franklin became the first female artist to be inducted into the Rock and Roll Hall of Fame. Aretha Franklin was the only featured singer at the 2009 presidential inauguration for
Barack Obama
.