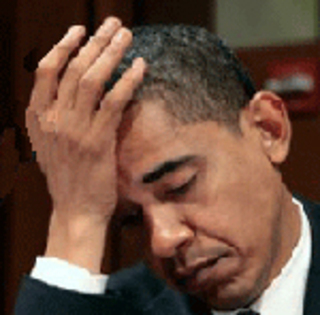 Barack Obama is the 44th President of the United States of America. He is the first African American to hold the office. Obama previously served as a United States Senator from Illinois, from January 2005 until he resigned after his election to the presidency in November 2008.

Barack Hussein Obama was born on August 4, 1961, in Honolulu, Hawaii from parents of mixed race. His parents Barack Obama Sr. and Ann Dunham met while both were attending the University of Hawaii. Barack Obama, Sr., was born of Luo ethnicity in Nyanza Province, Kenya. The elder Obama grew up herding goats in Africa, eventually earning a scholarship that allowed him to leave Kenya and pursue his dreams of college in Hawaii. Ann Dunham, who was of English, German, and Irish descent, grew up in Wichita, Kansas, and after World War II, her family relocated to Hawaii. The couple married on February 2, 1961. Barack was born six months later. Obama's parents separated when he was two years old, divorcing in 1964. After attending Harvard on a scholarship, Obama Sr. remarried and returned to Kenya, visiting Barack in Hawaii only once, in 1971. He died in an automobile accident in 1982.
In 1966, Obama's mother Ann Dunham married Lolo Soetoro, another East–West Center student from Indonesia. A year later, the family moved to Jakarta, Indonesia, where Obama's half-sister Maya Soetoro Ng was born. Several incidents in Indonesia left Dunham afraid for her son's safety and education so, at the age of 10, Barack was sent back to Hawaii to live with his maternal grandparents. His mother and sister later joined them.
While living with his grandparents, Obama enrolled in the esteemed Punahou Academy, excelling in basketball and graduating with academic honors in 1979. As one of only three black students at the school, Obama became conscious of racism and what it meant to be African-American. He later described how he struggled to reconcile social perceptions of his multiracial heritage with his own sense of self. "I began to notice there was nobody like me in the Sears, Roebuck Christmas catalog...and that Santa was a white man," he said. "I went to the bathroom and stood in front of the mirror with all my senses and limbs seemingly intact, looking the way I had always looked, and wondered if something was wrong with me."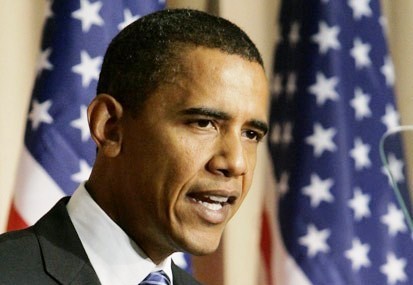 Following high school, Barack Obama moved to Los Angeles in 1979 to attend Occidental College, then transferred to Columbia University, where he graduated with a bachelors degree in political science in 1983. Following his graduation Barak Obama worked for a year at the Business International Corporation, then at the New York Public Interest Research Group. After four years in New York City, Obama was hired in Chicago as director of the Developing Communities Project (DCP), a church based community organization originally comprising eight Catholic parishes in Greater Roseland on Chicago's far South Side. He worked there as a community organizer from June 1985 to May 1988.
In the fall of 1988 Barak Obama entered Harvard Law School, where he was the first African American President of the Harvard Law Review. He was a community organizer in Chicago before earning his law degree. He worked as a civil rights attorney in Chicago and taught constitutional law at the University of Chicago Law School from 1992 to 2004.
On October 3, 1992, Barak Obama and Michelle Robinson were married. The couple first met in June of 1989 when he was employed as a summer associate at the Chicago law firm of Sidley Austin. Assigned for three months as Obama's adviser at the firm, Robinson joined him at group social functions, but declined his initial requests to date. She eventually relented and the couple began dating later that summer, and then became engaged in 1991. After the marriage they moved to Kenwood, on Chicago's South Side, and had two daughters, Malia and Sasha.
Barak Obama published his autobiography in 1995 Dreams From My Father: A Story of Race and Inheritance. The work received high praise from literary figures such as Toni Morrison and has since been printed in 10 languages. His second book The Audacity of Hope: Thoughts on Reclaiming the American Dream, was published in October 2006. The work discussed Obama's visions for the future of America, many of which became talking points for his eventual presidential campaign. Shortly after its release, it hit No. 1 on both the New York Times and Amazon.com bestsellers lists.
As he described in The Audacity of Hope, Barak Obama is a Christian whose religious views developed in his adult life. He wrote that he "was not raised in a religious household". He described his mother, raised by non-religious parents, to be detached from religion, yet "in many ways the most spiritually awakened person that I have ever known". He described his father as "raised a Muslim", but a "confirmed atheist" by the time his parents met, and his stepfather as "a man who saw religion as not particularly useful". Obama explained how, through working with black churches as a community organizer while in his twenties, he came to understand "the power of the African-American religious tradition to spur social change".

Obama was elected to the Illinois Senate in 1996, succeeding State Senator Alice Palmer as Senator from Illinois's 13th District, which at that time spanned Chicago South Side neighborhoods from Hyde Park – Kenwood south to South Shore and west to Chicago Lawn. In the Illinois State Senate, Barak Obama worked with both Democrats and Republicans to help working families get ahead by creating programs like the state Earned Income Tax Credit, which in three years provided over $100 million in tax cuts to families across the state. He also pushed through an expansion of early childhood education, and after a number of inmates on death row were found innocent, Senator Obama worked with law enforcement officials to require the videotaping of interrogations and confessions in all capital cases.
In May 2002, Obama commissioned a poll to assess his prospects in a 2004 U.S. Senate race; he created a campaign committee, began raising funds and lined up political media consultant David Axelrod by August 2002, and formally announced his candidacy in January 2003. In the 2004 Democratic primary, he won 52 percent of the vote, defeating multimillionaire businessman Blair Hull and Illinois Comptroller Daniel Hynes.
That summer, Obama was invited to deliver the keynote speech in support of John Kerry at the 2004 Democratic National Convention in Boston. Obama emphasized the importance of unity, and made veiled jabs at the Bush administration and the diversionary use of wedge issues. Sworn into office January 4, 2005, Obama partnered with Republican Senator Richard Lugar of Indiana on a bill that expanded efforts to destroy weapons of mass destruction in Eastern Europe and Russia.
In the U.S. Senate, Barak Obama focused on tackling the challenges of a globalized, 21st century world with fresh thinking and a politics that no longer settles for the lowest common denominator. His first law was passed with Republican Tom Coburn, a measure to rebuild trust in government by allowing every American to go online and see how and where every dime of their tax dollars is spent. He was also the lead voice in championing ethics reform that would root out Jack Abramoff-style corruption in Congress.
In February 2007, Obama made headlines when he announced his candidacy for the 2008 Democratic presidential nomination. Up against McCain and formidable Hillary Clinton before that, Barack Obama faced steep odds in his bid to become this nation's chief executive. But Barak Obama persevered on the strength of many strong state election finishes and record levels of financial support. On January 20, 2009, Obama became the 44th president of the United States, and the first African-American to hold this office. During his inauguration speech, Obama summarized the state of the nation by saying, "Today I say to you that the challenges we face are real. They are serious and they are many. They will not be met easily or in a short span of time. But know this, America: They will be met."
As President of the United States, Barak Obama signed economic stimulus legislation in the form of the American Recovery and Reinvestment Act in February 2009 and the Tax Relief, Unemployment Insurance Reauthorization, and Job Creation Act of 2010 in December 2010. Other domestic policy initiatives include the Patient Protection and Affordable Care Act, the Dodd–Frank Wall Street Reform and Consumer Protection Act and the Don't Ask, Don't Tell Repeal Act of 2010. In foreign policy, Obama gradually withdrew combat troops from Iraq, increased troop levels in Afghanistan, and signed an arms control treaty with Russia. In October 2009, Obama was named the 2009 Nobel Peace Prize laureate.