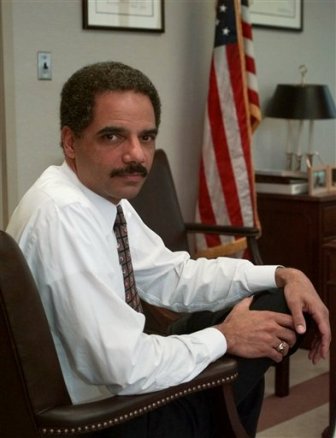 Eric Holder is the 82nd Attorney General of the United States and the first African American to hold the position, serving under President Barack Obama. Holder previously served as a judge of the Superior Court of the District of Columbia, a United States Attorney, Deputy Attorney General of the United States and worked at the law firm of Covington & Burling in Washington, D.C. He was senior legal advisor to then-Senator Barack Obama during Obama's presidential campaign and one of three members of Obama's vice-presidential selection committee.
Eric H. Holder, Jr. was born in the Bronx, New York, to parents with roots in Barbados. Born January 21, 1951 to Miriam and Eric Himpton Holder, Sr., both his father and maternal grandparents were born in Barbados. His father was from Saint Joseph, Barbados and arrived in the United States at the age of 11, later becoming a real estate broker.
Eric Holder grew up in East Elmhurst, Queens, and attended public school until the age of 10. When entering the 4th grade he was selected to participate in a program for intellectually-gifted students.
In 1969, Eric Holder graduated from Stuyvesant High School in Manhattan and attended Columbia College, where he played freshman basketball and was co-captain of his team. He earned a Bachelor of Arts degree in American history in 1973. Holder received his Juris Doctor from Columbia Law School, graduating in 1976.
While in law school, Eric Holder clerked at the N.A.A.C.P. Legal Defense Fund and the Department of Justice's Criminal Division. Upon graduating, he moved to Washington and joined the Department of Justice as part of the Attorney General's Honors Program. He was assigned to the newly formed Public Integrity Section in 1976 and was tasked to investigate and prosecute official corruption on the local, state and federal levels.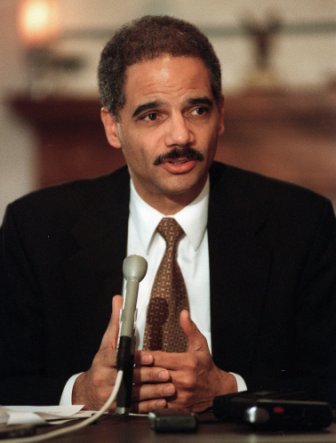 Holder was employed by the U.S. Justice Department's Public Integrity Section from 1976 to 1988. In 1988 President Ronald Reagan appointed him as a Judge of the Superior Court of the District of Columbia.

Five years later Holder left this position when President Bill Clinton appointed him U.S. Attorney for the District of Columbia. In 1997 Clinton nominated Holder to replace Jamie Gorelick, the retiring Deputy Attorney General in Janet Reno's Justice Department. Holder was confirmed in the Senate by a unanimous vote.
In 2001 Eric Holder worked as an attorney at Covington & Burling in Washington, D.C., representing clients such as Merck and the National Football League. He represented the NFL during its dog fighting investigation against Michael Vick.
In 2004, Holder helped negotiate an agreement with the Justice Department for Chiquita Brands International in a case that involved Chiquita's payment of "protection money" to the United Self-Defense Forces of Colombia, a group on the U.S. government's list of terrorist organizations. In the agreement, Chiquita's officials pleaded guilty and paid a fine of $25 million. Holder represented Chiquita in the civil action that grew out of this criminal case.
In March 2004, Holder and Covington & Burling were hired by Illinois Governor Rod Blagojevich to act as a special investigator to the Illinois Gaming Board. The Gaming Board had voted 4-1 earlier that month to allow a casino to be built in Rosemont, Illinois. That vote defied the recommendation of the board's staff, which had raised concerns about alleged organized-crime links to the Rosemont casino's developer. The move had also raised concerns that the governor had named his close friend and fund-raiser, Christopher Kelly, as a "special government agent" to be involved in official state negotiations about the casino. Holder's legal work for the State of Illinois never materialized when the board reversed its decision and refused to hire Kelly. The investigation was subsequently canceled on May 18, 2004.
In late 2007, Holder joined then-United States Senator Barack Obama's presidential campaign as a senior legal advisor. He served on Obama's vice presidential selection committee.
Eric H. Holder, Jr. was sworn in as the 82nd Attorney General of the United States on February 3, 2009 by Vice President Joe Biden. President Barack Obama announced his intention to nominate Mr. Holder on December 1, 2008.
Eric Holder gave a speech on race relations on February 18, 2009, in the midst of Black History Month, in which he called the United States "a nation of cowards" on racial issues. "Though race-related issues continue to occupy a significant portion of our political discussion and though there remain many unresolved racial issues in this nation, we average Americans simply do not talk enough with each other about race," he said. The speech stirred mild controversy, with some reacting favorably to Holder's comments and others sharply criticizing them. Obama rebuked Holder's comments, saying that "I think it's fair to say that if I had been advising my attorney general, we would have used different language".