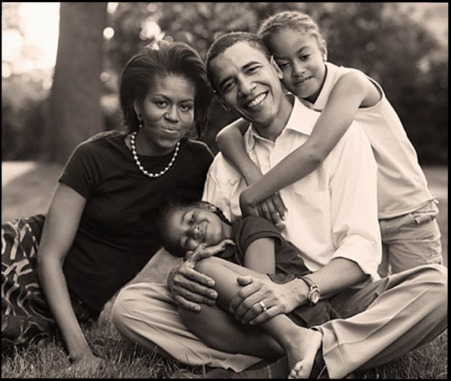 Michelle Obama is the wife of the 44th President of the United States, Barack Obama, and is the first African-American First Lady of the United States. As the wife of a Senator, and later the First Lady, she has become a fashion icon and role model for women, and a notable advocate for poverty awareness and healthy eating.

Michelle LaVaughn Robinson was born on January 17, 1964, in Chicago, Illinois to Marian and Fraser Robinson III. Her father, a city pump operator and Democratic precinct captain, worked and lived with multiple sclerosis; his limp and crutches did not affect his abilities as the family breadwinner. Michelle's mother stayed home with her children until they reached high school. The family lived in a one-bedroom apartment on the top floor of a brick bungalow. The living room, converted with a divider down the middle, served as Michelle's bedroom.
Michelle Robinson attended Whitney Young High School, Chicago's first magnet high school, where she had a commute of three hours a day. Michelle excelled in school, she was on the honor roll for four years, took advanced placement classes, was a member of the National Honor Society and served as student council treasurer. Her classmates included Santita Jackson, the daughter of Jesse Jackson. Michelle graduated from high school in 1981 as salutatorian fo her class.
Moving on to college, Michelle Robinson studied sociology and African-American studies at Princeton University. Graduating cum laude, she went on to study for a career in law. At Harvard she participated in demonstrations advocating the hiring of professors who were members of minorities and worked for the Harvard Legal Aid Bureau, assisting low-income tenants with housing cases. Michelle Obama is the third First Lady with a postgraduate degree, after her two immediate predecessors, Hillary Rodham Clinton and Laura Bush. In July 2008, Obama accepted the invitation to become an honorary member of the 100-year-old black sorority Alpha Kappa Alpha, which had no active undergraduate chapter at Princeton when she attended. After graduating from Harvard Law School in 1988, Michelle Robinson joined the Chicago law firm Sidley & Austin, where she he specialized in intellectual property rights and marketing, representing clients that included AT&T and Union Carbide.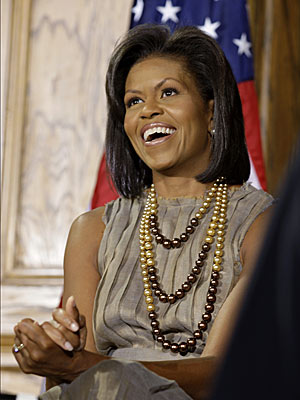 Michelle Robinson first met Barack Obama when he came to work as a summer associate in June of 1989 at Sidley & Austin, where she was already working as an attorney. When he returned to Cambridge, Massachusetts to complete Harvard Law School, they continue to correspond and date. The couple soon became serious and engaged in 1991, shortly after Obama finished law school. After their marriage the couple remained in Chicago where their first home was an apartment in the Hyde Park section of Chicago. her husband, Barack Obama taught at the University of Chicago law school and worked at a small civil rights law firm.
Although her work as an attorney enabled Michelle Obama to pay her substantial student loans, the death of both her father and a friend provoked a focus on her priorities and values, and she became determined to build a career in community service. Michelle Obama began community service work as an assistant in the office of Chicago Mayor Richard Daley, where she was employed for a year before moving to another position within the city government. Drawing on her business experience from the law firm, Michelle Obama was charged with serving as a liaison between the city and fledgling businesses, seeking to help encourage Chicago economic development.
In 1996, Michelle Obama joined the University of Chicago with a vision of bringing campus and community together. As Associate Dean of Student Services, she developed the university's first community service program, and under her leadership as Vice President of Community and External Affairs for the University of Chicago Medical Center, volunteerism skyrocketed.
Initially leery of her husband's ambition to enter politics because of its instability, she campaigned for him during his failed 2000 race for U.S. Congress and his successful one for the U.S. Senate in 2004. Michelle Obama continued to work full-time and raise her daughters in Chicago while her husband worked as a Senator in Washington and returned home on weekends and recesses. Michelle Obama served on several boards, including TreeHouse Foods, and the Chicago Council on Global Affairs.
In May 2007, three months after her husband declared his presidential candidacy, Michelle Obama reduced her professional responsibilities by 80 percent to support his presidential campaign. Early in the campaign, she had limited involvement in which she traveled to political events only two days a week and traveled overnight only if their daughters could come along, but by early February 2008 her participation had increased significantly, attending thirty-three events in eight days. She made several campaign appearances with Oprah Winfrey. Michelle Obama wrote her own stump speeches for her husband's presidential campaign and generally spoke without notes.
On the first night of the 2008 Democratic National Convention Craig Robinson, her older brother and the head basketball coach for Oregon State University, introduced Michelle Obama. She delivered well received her speech focusing on herself and her family. In the prepared remarks, Michelle Obama's speech included: "I come here as a wife who loves my husband and believes he will be an extraordinary president. I come here as a mom whose girls are the heart of my heart and the center of my world, they're the first thing I think about when I wake up in the morning, and the last thing I think about when I go to bed at night. Their future, and all our children's future, is my stake in this election. And I come here as a daughter, raised on the South Side of Chicago by a father who was a blue-collar city worker and a mother who stayed at home with my brother and me. My mother's love has always been a sustaining force for our family, and one of my greatest joys is seeing her integrity, her compassion and her intelligence reflected in my own daughters".
During her early months as First Lady, Michelle Obama frequently visited homeless shelters and soup kitchens, along with touring a cancer ward with Sarah Brown, wife of British Prime Minister Gordon Brown. The First Lady is a strong advocate for military families.
Like her predecessors Clinton and Bush, who supported the organic movement by instructing the White House kitchens to buy organic food, Michelle Obama planted an organic garden and installed bee hives on the South Lawn of the White House, which will supply organic produce and honey to the First Family and for state dinners and other official gatherings.
Michelle Obama has become an advocate of her husband's policy priorities by promoting bills that support it. Following the enactment of the Pay equity law, the first lady hosted a White House reception for women's rights advocates in celebration. She has pronounced her support for the economic stimulus bill in visits to the United States Department of Housing and Urban Development and United States Department of Education. Some observers have looked favorably upon her legislative activities, while others have said that she should be less involved in politics. According to her representatives, Michelle Obama intends to visit all United States Cabinet-level agencies in order to get acquainted with Washington.