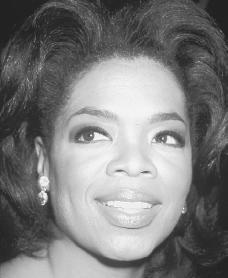 Oprah Gail Winfrey is an African American television host, actress, producer, and philanthropist, best known for her self-titled, multi-award winning talk show, which has become the highest-rated program of its kind in history. She has been ranked the richest African American of the 20th century, the greatest black philanthropist in American history, and was once the world's only black billionaire. She is also, according to some assessments, the most influential woman in the world. Winfrey was originally named "Orpah" after the Biblical character in the Book of Ruth. Her family and friends' inability to pronounce "Orpah" caused them to put the "P" before the "R" in every place else other than the birth certificate.
Born to an unwed teenage mother, Oprah Winfrey spent her first years on her grandmother's farm in Kosciusko, Mississippi, while her mother looked for work in the North. Life on the farm was primitive, but her grandmother taught her to read at an early age, and at age three Oprah was reciting poems and Bible verses in local churches. Despite the hardships of her physical environment, she enjoyed the loving support of her grandmother and the church community, who cherished her as a gifted child.
Her world changed for the worse at age six, when she was sent to Milwaukee to live with her mother, who had found work as a housemaid. In the long days when her mother was absent from their inner city apartment, young Oprah was repeatedly molested by male relatives and another visitor. The abuse, which lasted from the ages of nine to 13, was emotionally devastating. When she tried to run away, she was sent to a juvenile detention home, only to be denied admission because all the beds were filled. At 14, she was out of the house and on her own. By her own account, she was sexually promiscuous as a teenager. After giving birth to a baby boy who died in infancy, she went to Nashville, Tennessee to live with her father.
Winfrey said her father saved her life. He was very strict and provided her with guidance, structure, rules, and books. He required his daughter to read regularly complete weekly book reports
. Vernon made sure that his daughter stuck to her curfew, maintained high grades in school and encouraged Oprah to be her best. Oprah's father helped her turn her life around.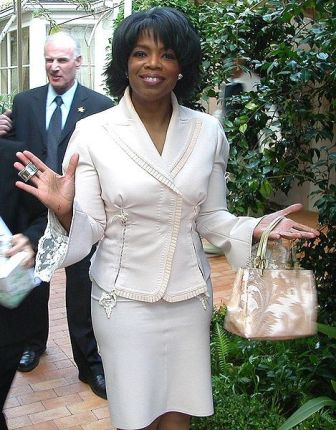 At age 17, Oprah Winfrey won the Miss Black Tennessee beauty pageant and was offered an on-air job at WVOL, a radio station serving the African American community in Nashville. She also won a full scholarship to Tennessee State University, where she majored in Speech Communications and Performing Arts. Oprah continued to work at WVOL in her first years of college, but her broadcasting career was already taking off. She left school and signed on with a local television station as a reporter and anchor.
In 1983, Winfrey relocated to Chicago to host WLS-TV's low-rated half-hour morning talk show, AM Chicago. The first episode aired on January 2, 1984. Within months after Winfrey took over, the show went from last place in the ratings to overtaking Donahue as the highest rated talk show in Chicago. The movie critic Roger Ebert persuaded her to sign a syndication deal with King World. Ebert predicted that she would generate 40 times as much revenue as his television show, At the Movies. It was renamed The Oprah Winfrey Show, expanded to a full hour, and broadcast nationally beginning September 8, 1986.
Winfrey's syndicated show brought in double Donahue's national audience, displacing Donahue as the number one day-time talk show in America. In the early years of The Oprah Winfrey Show, the program was classified as a tabloid talk show. In the mid 1990s Winfrey then adopted a less tabloid-oriented format, hosting shows on broader topics such as heart disease, geopolitics, spirituality and meditation and interviewing celebrities on social issues they were directly involved with, such as cancer, charity work, or substance abuse. Her final show is scheduled to air in September 2011.
Winfrey, who became almost as well-known for her weight loss efforts as for her talk show, lost an estimated 90 pounds (dropping to her ideal weight of around 150 pounds) and competed in the Marine Corps Marathon in Washington, DC, in 1995. In the wake of her highly publicized success, Winfrey's personal chef, Rosie Daley, and trainer, Bob Greene, both published best-selling books.
With the debut in 1999 of Oxygen Media, a company she co-founded that is dedicated to producing cable and Internet programming for women, Winfrey ensured her place in the forefront of the media industry and as one of the most powerful and wealthy people in show business. In 2002, she concluded a deal with the network to air a prime-time complement to her syndicated talk show. Her highly successful monthly,
O: The Oprah Magazine
debuted in 2000, and in 2004, she signed a new contract to continue
The Oprah Winfrey Show
through the 2010-11 season. In 2009, Winfrey announced that she would be ending her program when her current contract with ABC ends. Winfrey is expected to move to the Oprah Winfrey Network, a joint venture with Discovery Communications. The show is currently seen on 212 U.S. stations and in more than 100 countries worldwide.
Although one of the wealthiest women in America and the highest paid entertainer in the world, Winfrey has made generous contributions to charitable organizations and institutions such as Morehouse College, the Harold Washington Library, the United Negro College Fund, and Tennessee State University.