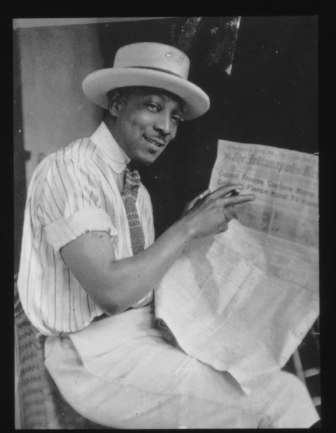 James Van Der Zee was an African American photographer. He survived the post Second World War collapse of studio portraiture by turning to photographic conservation, preserving an extraordinary archive of his own photographs that records the residents, customs, and key events of pre-war Harlem. Especially important are images of businesses, religious organizations, and social institutions such as Marcus Garvey's Universal Negro Improvement Association. Rediscovered in 1969 during research for the Metropolitan Museum of Art's exhibition Harlem on my Mind, Van Der Zee's legacy was assured through the establishment of an archive at Harlem's Studio Museum.
James Van Der Zee was born in 1896 in Lenox, Massachusetts. His parents, former servants of President Ulysses S. Grant, settled in Lenox, a summer haven for New England's wealthy that was home to only half a dozen black families. James was the second of six children and enjoyed a close-knit family. In Lenox, James was raised on a steady diet of music and art. As a child he learned piano, violin, and art.
In the fifth grade, Van Der Zee had become the second person in Lenox to own a camera. He had taken hundreds of pictures of his family and others and developed them all himself.
In 1906, at the age of 20, James Van der Zee moved to Harlem and started the five-piece Harlem Orchestra. The group had some success, but money was tight. Music lessons became a prime source of income for Van Der Zee.
Needing additional income, James Van Der Zee signed on as a darkroom technician in a department store in 1914. At times he would fill in behind the camera, and within three years, he had the courage and the reputation to open his own studio. He called it "Guarantee Photo." In 1932, he outgrew his first studio and went on to open the larger GGG Studio, with his second wife as his assistant. In these studios, James Van Der Zee employed many techniques, using props, architectural elements and costumes in the tradition of the Victorian and Edwardian eras. So much time was taken in posing his subjects that he often only could do three sittings a day.
Heavyweight champion Jack Johnson, the Reverend Adam Clayton Powell Sr., entertainers Bill "Bo Jangles" Robinson and Sunshine Sammy, singers Florence Mills and Mamie Smith, all were subjects for Van Der Zee's lens. And when Marcus Garvey was looking for someone to chronicle the life of the Universal Negro Improvement Association, he chose James Van Der Zee.
Although he photographed many of the African-American celebrities who passed through Harlem, most of his work was of the straightforward commercial studio variety, weddings and funerals (including pictures of the dead for grieving families), family groups, teams, lodges, clubs, or people simply wanting to have a record of themselves in fine clothes.
During the Great Depression, and as the availability of personal cameras severely lessened the need of professional photography, the gap was filled by shooting passport photographs and miscellaneous photographic jobs to make a living. After World War II, he survived via commissions and in the field of photo restoration.


National recognition was given to James Van Der Zee at age 82, when his collection of 75,000 photographs spanning a period of six decades of African-American life was discovered by the Metropolitan Museum of Art. His photos were featured in 1969 as part of the Harlem on my Mind exhibition. From the 1970s until his death in 1983, Van Der Zee photographed the many celebrities who had come across his work and promoted him throughout the country. He was known to have brought the spirit of Harlem to life.
Works by Van Der Zee are artistic as well as technically proficient. His work was in high demand, in part due to his experimentation and skill in double exposures and in retouching negatives of children. One theme that recurs in his photographs was the emergent black middle class, which he captured using traditional techniques in often idealistic images. Negatives were retouched to show glamor and an aura of perfection. This affected the likeness of the person photographed, but he felt each photo should transcend the subject. His carefully posed family portraits reveal that the family unit was an important aspect of Van Der Zee's life.

James Van Der Zee sometimes combined several photos in one image, for example by adding a ghostly child to an image of a wedding to suggest the couple's future, or by superimposing a funeral image upon a photograph of a dead woman to give the feeling of her eerie presence.