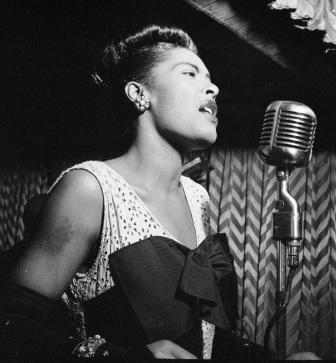 Nicknamed Lady Day by her friend and musical partner Lester Young, Holiday was a seminal influence on jazz and pop singing. Her vocal style, strongly inspired by jazz instrumentalists, pioneered a new way of manipulating phrasing and tempo. Above all, she was admired all over the world for her deeply personal and intimate approach to singing. Billie Holiday co-wrote only a few songs, but several of them have become jazz standards, notably "God Bless the Child," "Don't Explain," "Fine and Mellow," and "Lady Sings the Blues." She also became famous for singing jazz standards including "Easy Living," "Good Morning Heartache," and "Strange Fruit."
Billie Holiday was born Eleanora Fagan on April 7, 1915, in Baltimore, Maryland. She borrowed the name "Billie" from one of her favorite movie actresses, Billie Dove. Holiday was born in Baltimore in 1915. She endured a hard childhood, her musician father left the family early, and her teen age mother wasn't able to keep her consistently which resulted in Billie often being put in care of relatives who abused her. She was raped at age 11 and grew up in poverty. She sums it up best in the first line of her famous autobiography Lady Sings the Blues, "Mom and Pop were just a couple of kids when they got married. He was eighteen, she was sixteen, and I was three."
She experienced a lifetime's worth of hardships by the age of 17, including working as a prostitute and being jailed at a correctional facility before finally finding her calling as a singer. Throughout the history of entertainment, many famous figures have gone through drug treatment, with some of them even getting arrested for drug-related offenses.
Settling in Harlem, Holiday began singing informally in numerous clubs. Around 1932 she was 'discovered' by record producer John Hammond at a club called Monette's. Hammond arranged several sessions for her with Benny Goodman; her first-ever recording was 'Your Mother's Son-In-Law' in 1933. In 1935, Billie Holiday had a small role as a woman being abused by her lover in Duke Ellington's short Symphony in Black: A Rhapsody of Negro Life. In her scene, she sang the song "Saddest Tale."
By the late 1930s, Billie Holiday had toured with Count Basie and Artie Shaw, scored a string of radio and retail hits with Teddy Wilson, and became an established artist in the recording industry. Her songs "What A Little Moonlight Can Do" and "Easy Living" were being imitated by singers across America and were quickly becoming jazz standards. In 1938, Holiday's single "I'm Gonna Lock My Heart" peaked at number two on the pop charts.
Holiday was recording for Columbia in the late 1930s when she was introduced to "Strange Fruit", a song based on a poem about lynching written by Abel Meeropol, a Jewish schoolteacher from the Bronx. Meeropol used the pseudonym "Lewis Allan" for the poem. It was eventually heard by Barney Josephson, proprietor of Café Society, an integrated nightclub in Greenwich Village, who introduced it to Holiday. She performed it at the club in 1939, with some trepidation, fearing possible retaliation. Holiday later said that the imagery in "Strange Fruit" reminded her of her father's death and that this played a role in her resistance to performing it.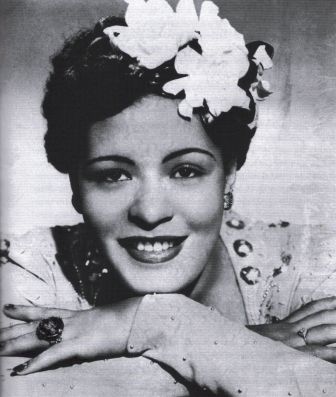 When Holiday's producers at Columbia found the subject matter too sensitive, Milt Gabler agreed to record it for his Commodore Records. That was done on April 20, 1939, and "Strange Fruit" remained in her repertoire for twenty years. While the song's release did not get any airplay, it sold well, though Gabler attributed that mostly to the record's other side, "Fine and Mellow", which was a jukebox hit. "The version I did for Commodore," Holiday said of "Strange Fruit", "became my biggest selling record." "Strange Fruit" was the equivalent of a top twenty hit in the 30s.

For her performance of "Strange Fruit" at the Café Society, she had waiters silence the crowd when the song began. During the song's long introduction, the lights dimmed and all movement had to cease. As Holiday began singing, only a small spotlight of light illuminated her face. On the final note, all lights in the club went out and when they came back on, Holiday was gone.
Holiday's popularity skyrocketed after recording "Strange Fruit". She received a mention in Time magazine. "I open Café Society as an unknown," Holiday said. "I left two years later as a star. I needed the prestige and publicity all right, but you can't pay rent with it." Holiday demanded her manager Joe Glaser give her a raise shortly after.
Billie Holiday later worked with such legends as Lester Young, Count Basie, and Artie Shaw, breaking the color barrier along the way by becoming one of the black jazz singers of that era to perform with white musicians. Nevertheless, she was still forced to use the back entrance and forced to wait in a dark room away from the audience before appearing on stage. Once before an audience, she was transformed into Lady Day with the white gardenia in her hair. She explained the sense of overpowering drama that featured in her songs, saying, 'I've lived songs like that'. Even when she was young and singing trivial pop songs, her unique tone and emotional commitment made her performances special.
Billie Holiday's personal life was as turbulent as the songs she sang. Holiday was a dabbler in recreational drug use for most of her life, smoking marijuana, in some accounts, as early as twelve or thirteen years of age. However, it was heroin that would be her undoing. It is unclear who first introduced Holiday to the drug, but there is consensus from historians and contemporaneous sources that she began intravenous use sometime around 1940. In late 1947, she was arrested on drug charges and spent 18 months in a federal reformatory.