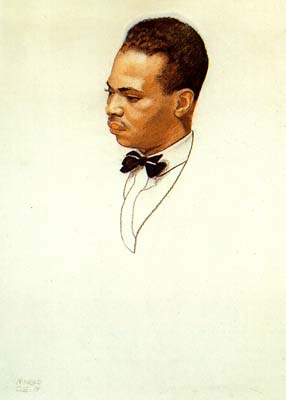 Poet, anthologist, novelist, translator, children's writer, and playwright, Countee Cullen is something of a mysterious figure. He was a leading African American Romantic poet poets of his time and one of the lights of the
Harlem Renaissance
. Countee Cullen won more major literary prizes than any other black writer of the 1920s: first prize in the Witter Bynner Poetry contest in 1925, Poetry magazine's John Reed Memorial Prize, the Amy Spin garn Award of the Crisis magazine, second prize in Opportunity magazine's first poetry contest, and second prize in the poetry contest of Palms. In addition, he was the second black to win a Guggenheim Fellowship.
Cullen was born Countee LeRoy Porter and was believed to be abandoned by his parents at birth (although this is somewhat unknown). He was raised by his grandmother, Mrs. Porter. Cullen was secretive about his life, so it is unclear where he was actually born; some scholars claim he was born in Louisville, Kentucky, or Baltimore. Later in his life, Cullen said he was born in New York City.
After Cullen's grandmother passed away in 1918, Cullen at the age of 15 was adopted unofficially by the Reverend F.A. Cullen, minister of Salem M.E. Church, one of the largest congregations of Harlem. Later Reverend Cullen became the head of the Harlem chapter of NAACP. His real mother did not contact him until he became famous in the 1920s.
As a schoolboy, Cullen won a citywide poetry contest and saw his winning stanzas widely reprinted. With the help of Reverend Cullen, he attended the prestigious De Witt Clinton High School in Manhattan. After graduating, he entered New York University, where his works attracted critical attention. Cullen's first collection of poems, COLOR (1925), was published in the same year he graduated from NYU. Written in a careful, traditional style, the work celebrated black beauty and deplored the effects of racism.
Cullen was at the center of one of the major social events of the Harlem Renaissance. On April 9, 1928 Countee Cullen married Yolande Du Bois, the only child of W E. B. Du Bois, in one of the most lavish weddings in black New York history. This wedding was to symbolize the union of the grand black intellectual patriarch and the new breed of younger Negroes who were responsible for much of the excitement of the Renaissance. The marriage turned out disastrously and ended quickly in 1930.
Cullen received the Harmon Foundation Literary Award in 1927 as well as a Guggenheim Fellowship for study abroad. He also published his second major collection of poems, Copper Sun , that year.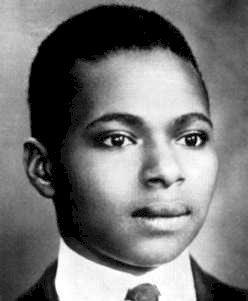 In 1929, Cullen published The Black Christ and Other Poems to less than his accustomed glowing reviews. He was bitterly disappointed that The Black Christ, his longest and in many respects most complicated poem, was considered by most critics and reviewers to be his weakest and least distinguished. In the poem, Cullen compared the lynching of a black man to Christ's crucifiction.
From 1934 until the end of his life Countee Cullen taught English, French, and creative writing at Frederick Douglass Junior High School in the New York City. During this period he also wrote two works for young readers: "The Lost Zoo", poems about the animals who perished in the Flood, and "My Lives and How I Lost Them", an autobiography of his cat.
In the last years of his life Cullen wrote mostly for the theatre. With Arna Bontemps he adapted her novel, God Sends Sunday (1931), as "St. Louis Woman" for the musical stage. Its score was composed by Harold Arlen and Johnny Mercer, both white. The Broadway musical, set in poor black neighborhood in St. Louis, was criticized by black intellectuals for creating a negative image of black Americans. Cullen also translated the Greek tragedy Medea by Euripides, which was published in "The Medea and Some Poems" with a collection of sonnets and short lyrics.
In 1940 Cullen once again married, this time to Ida Mae Robertson. The couple had been close for about ten years before the marriage. They remained happily married until his death.
As a poet Cullen was conservative: he did not ignore racial themes, but based his works on the Romantic poets, especially Keats, and often used the traditional sonnet form. Not wanting to be considered a "Negro" poet, but rather a poet, Cullen ran into an age-old problem that African-American artists encounter. He did not wish to be categorized, but rather appreciated as an artist who happened to be of African descent. Yet, he wrote beautiful verses with racial themes.
On January 9, 1946, Cullen died unexpectedly of uremic poisoning and complications from high blood pressure. After his death, for a few years, Cullen was honored as the most celebrated African-American writer. A collection of some of his best work was also arranged in On These I Stand.

In 2002, scholar Molefi Kete Asante listed Countee Cullen on his list of 100 Greatest African Americans.