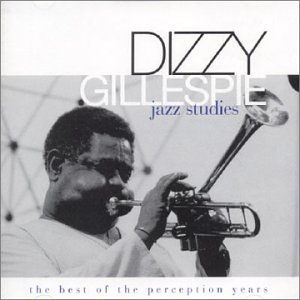 John Birks "Dizzy" Gillespie was an African American jazz trumpet player, bandleader, singer, and composer dubbed "the sound of surprise". Together with Charlie Parker, Dizzy Gillespie was a major figure in the development of bebop and modern jazz. He taught and influenced many other musicians. One of the greatest jazz trumpeters of all time (some would say the best, Gillespie was such a complex player that his contemporaries ended up copying Miles Davis and Fats Navarro instead. Dizzy Gillespie was instrumental in founding Afro-Cuban jazz, the modern jazz version of what early-jazz pioneer Jelly Roll Morton referred to as the "Spanish Tinge".
Dizzy Gillespie was a trumpet virtuoso and gifted improviser, building on the virtuoso style of Roy Eldridge, but adding layers of harmonic complexity previously unknown in jazz. Dizzy's beret and horn-rimmed spectacles, his scat singing, his bent horn, pouched cheeks and his light-hearted personality were essential in popularizing bebop.
John Birks Gillespie was born on October 21, 1917 in Cheraw, South Carolina, the youngest of nine children. His father James was a brick layer and a week-end local bandleader, so Dizzy was born into music. His father passed away when Dizzy was ten. At age twelve Dizzy began teach himself to play both the trumpet and the trombone. He was able to seriously study music in 1932 after being chosen to attend Laurinburg Institute in North Carolina. Dizzy dropped out of school at seventeen to move to Philadelphia, where he began to work as a musician.
Soon he joined a band led by Frankie Fairfax, which also included Charlie Shavers. Shavers knew many of the trumpet solos of Roy Eldridge, and Gillespie learned them by copying Shavers. While he was in Fairfax's band, Gillespie's clownish behavior earned him the nickname he has carried ever since. Gillespie left Philadelphia in 1937 and moved to New York to try and become better known as a jazz player.
The late 1930s and early 1940s proved to be the most important in Gillespie's career. In 1939 he joined Cab Calloway's band, which included the Cuban-born trumpeter Mario Bauzá, who taught Gillespie the basics of Afro-Cuban music and its relationship to jazz. Gillespie continued to explore the combination of the two styles, and was partly responsible for bringing Afro-Cuban music into the palette from which jazz musicians draw today. His most famous experiment with Afro-Cuban music is his composition "Manteca."
Calloway played the Cotton Club and toured extensively. During this period Gillespie continued to play all-night jam sessions at Minton's and Monroe's Uptown House to develop his musical knowledge and style. Gillespie joined the Earl "Fatha" Hines band in 1942, about the same time Charlie Parker did. Although Parker became famous as an alto saxophonist, he was playing tenor sax at that time. Gillespie first met Parker in Kansas City, Missouri, in 1940 when he was on tour with Cab Calloway. The two of them jammed together at the Booker T. Washington Hotel for several hours.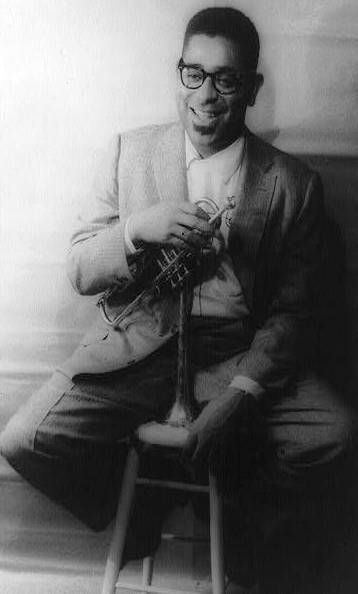 In 1944 Dizzy Gillespie received the New Star Award from Esquire magazine, the first of many awards he would receive in his career. Describing the new style his quintet played, Gillespie wrote, "We'd take the chord structures of various standard and pop tunes and create new chords, melodies, and songs from them."

Gillespie's quintet and the presentation of modern jazz reached its peak in 1953—with a concert at Massey Hall in Toronto that featured Gillespie, Parker, Bud Powell (1924–1966), Max Roach (1924–), and legendary jazz bassist Charles Mingus (1922–1979). Billed by jazz critics as "the greatest jazz concert ever," it was recorded by Mingus and later released on Debut Records.

Dizzy also did concert tours as a soloist with the "Jazz At The Philharmonic" presentations. He continued to do widespread touring during the late 1970s, mainly with a quintet, with many overseas visits to Africa, Australia, Cuba, Europe, etc. Gillespie was featured at President Jimmy Carter's 1978 White House Jazz Party and induced Carter to provide the vocals for a rendition of "Salt Peanuts."
In the last decade, Dizzy Gillespie's career seemed recharged, and he became ubiquitous on the concert circuit as a special guest. New York Times writer Peter Watrous in describing Dizzy's month long engagement at the Blue Note wrote, "In honor of his 75th birthday, Mr. Gillespie played for four weeks at the Blue Note in Manhattan in a stint that featured perhaps the greatest selection of jazz music ever brought together for a tribute." Dizzy Gillespie died of cancer on January 6, 1993.