W.C. Handy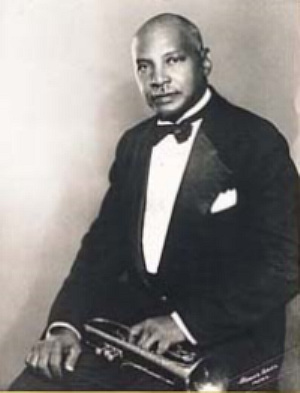 Composer, musician, music publisher W.C. Handy is known as the "Father of the Blues." Handy is credited with helping popularize blues music. The son and grandson of ministers, W.C. Handy showed his love of music at an early age.
The predecessors of the blues were around long before Handy ever picked up a cornet, but they had no name. They were the "folk music" songs of black-American slaves, sung as a deeply emotional and personal response to the brutality and desperation of their lives. It was an undefined sound that was derived from the varied African cultures touched by the slave trade, a sound rooted in firm African traditions carried halfway across the world.
W. C. Handy's remarkable life started eight years after the conclusion of the American Civil War. William Christopher Handy was born on November 16, 1873, in Florence, Alabama. He grew up in a log cabin that his grandfather had built on what is now called College Street. As a young child, he displayed a keen interest in music and his intuitive ear could catalog the musical notes of songbirds, the whistles from nearby river boats, and even the rhythms of the Tennessee River. However, musical talent, especially the playing of musical instruments, was frowned upon by his family and church.
Despite Handy's lack of encouragement, he longed to own a guitar that he had seen in a local shop window and he secretly saved the money he made by picking berries and nuts and making lye soap. When he had finally saved enough money to buy the guitar, he proudly brought it home to his shocked and dismayed family. Handy's father made him take the guitar back and exchange it for a dictionary.
Handy joined a local blues band as a teenager, but he kept this fact a secret from his parents. He purchased a cornet from a fellow band member and spent every free minute practicing it. An exceptional student in school, he placed near the top of his class. In September of 1892, Handy traveled to Birmingham to take a teaching exam, which he passed easily. He obtained a teaching job in Birmingham but soon learned that the teaching profession paid poorly. He quit the position and found work at a pipe works plant in nearby Bessemer.
As a young man, he played cornet in the Chicago World's Fair in 1893. While performing at a barbecue in Henderson, Kentucky, he met Elizabeth Price, and they married shortly afterwards on July 19, 1896.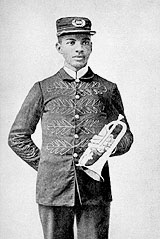 In 1902 W.C. Handy traveled throughout Mississippi listening to various musical styles played by ordinary Negroes. The instruments most often used in many of those songs were the guitar, banjo and to a much lesser extent, the piano. His remarkable memory served him well, and he was able to recall and transcribe the music he heard in his travels.
Handy received a letter from a musician friend in August of 1896, inviting him to join a minstrel group called "Mahara's Minstrels." He saw this as a great opportunity even though minstrel groups were not highly regarded. Handy and his new wife Elizabeth traveled to Chicago where Handy took the job with Mahara's Minstrels at a salary of $6 per week. The three-year minstrel tour took them throughout the southwestern states of Texas and Oklahoma, across the Southeast through Tennessee and Georgia, and south to Florida and eventually to Cuba. Life on the road was not an easy way to make a living and Elizabeth especially grew weary of it. Following their return from Cuba, the group headed north again, stopping along the way for a performance in Huntsville, Alabama. Handy decided to stay in Florence with his family for a much needed rest.
In 1909 W.C. Handy and his band moved to Memphis, Tennessee and established their presence on Beale Street. The genesis of his "Memphis Blues" was as a campaign tune originally entitled as "Mr. Crump" which he had written for Edward Crump, a successful Memphis, Tennessee mayoral candidate in 1909 (and future "boss"). He later rewrote the tune and changed the name to "Memphis Blues."
The 1912 publication of his "Memphis Blues" sheet music introduced his style of 12-bar blues to many households and was credited as the inspiration for the invention of the foxtrot dance step by Vernon and Irene Castle, a New York–based dance team. Some consider it to be the first blues song. He sold the rights to the song for $100. By 1914, when Handy was at the age of 40, his musical style was asserted, his popularity increased significantly, and he composed prolifically.
Melancholy about the growing popularity of a song that was no longer his, Handy started searching for a second hit. He holed himself up in a rented room and set to work. Snatches of street life drifted in through the window. "Ma man's got a heart like a rock cast in the sea," is said to have come from the lips of a drunken black woman stumbling down the dimly lit street. The mournful words worked their way into his soul and triggered the flood of memories of his own lost and hungry St. Louis days. He wrote, "I hate to see de evenin sun go down," and between midnight and dawn, a classic--"St. Louis Blues"--was born.
"St. Louis Blues" was followed by a flurry of other compositions, including "Jogo Blues," "Yellow Dog Blues," "Joe Turner Blues," and "Beale Street Blues." In 1908, Handy and Harry H. Pace, a singer and songwriter, created the Pace & Handy Music Company. The company soon thrived. Handy and the blues were on their way.
The composer of more than 80 hymns, marches, and blues tunes, W. C. Handy did more to carry the blues into the mainstream of music than any other man. His contribution is a legacy that has exerted a profound and lasting influence on twentieth-century music--a legacy that includes rock 'n roll, which was an offshoot of Chicago's electrified blues. It was Handy's background of solid education and training in classical music that set him apart from his fellow black musicians. It seems to have taken someone with a foot in each world to open the door between them and let the blues come in.