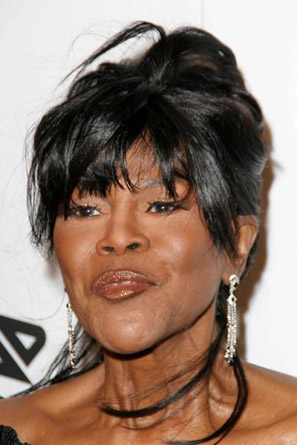 Cicely Tyson is one of America's most respected dramatic actresses. A successful stage actress, Tyson is also known for appearances in the film Sounder and the television specials The Autobiography of Miss Jane Pittman and Roots. Tyson was honored by the Congress of Racial Equality, the National Association for the Advancement of Colored People, and the National Council of Negro Women. In 1977 she was inducted into the Black Filmmakers Hall of Fame.
Cicily Tyson was born in 1933 and raised in Harlem, New York, the daughter of Theodosia, a domestic, and William Tyson, a pushcart operator. Her parents were immigrants from the island of Nevis of the Federation of Saint Kitts and Nevis in the West Indies; her father arrived in New York City at the age of 21 and was processed at Ellis Island on August 4, 1919.
After working as a secretary Cicely Tyson launched her career as a model. Tyson owes her career to a good haircut. In a beauty salon, her hairdresser asked Tyson to model at a hairstyle show. At the hair show, she was spotted by a photographer from Ebony magazine, and began her successful career as a model. Cicely Tyson appeared on the covers of many Black American publications and some mainstream magazines such as Vogue and Harper's Bazaar. Within a few years, she was among the most successful black models in America. However, she wasn't completely happy with her modeling career. When asked by a Time magazine reporter about it, Tyson stated, "I felt like a machine."
Cicely Tyson decided to pursue an acting career after she was asked to participate in a movie named The Spectrum that was never released. She enjoyed acting and decided to enroll in acting school. While learning her craft, she also began performing in Off-Broadway stage productions.
Tyson got her first real break in 1963, playing a secretary to George C. Scott on the TV series East Side/West Side, and in 1966 signed on with the daytime soap The Guiding Light. That same year, she made her credited screen debut starring opposite Sammy Davis Jr. in the drama A Man Called Adam.
Her success led to more television roles. She became a frequent guest star on numerous 1960s and 1970s television programs such as I Spy, Naked City, The Nurses and The Bill Cosby Show.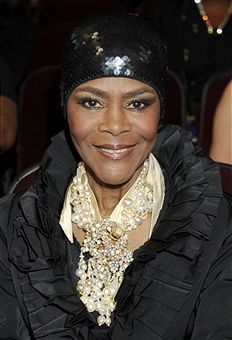 Because she was committed to presenting only positive images of black women, Tyson did not have steady work in film and television. Her next notable role was as Rebecca Morgan in the popular and critically acclaimed film Sounder (1972), for which she received an Academy Award nomination for best actress. In 1974 she appeared in perhaps her best-known role, that of the title character in the television drama The Autobiography of Miss Jane Pittman. Her performance as the 110-year-old former slave whose life is depicted up through the Civil Rights Movement of the 1960s won Tyson two Emmy Awards. She became the first African-American actress to win the Best Actress Emmy Award.
Other acclaimed television roles included Roots, King, in which she portrayed Coretta Scott King, The Marva Collins Story, When No One Would Listen, and Oldest Living Confederate Widow Tells All for which she received her third Emmy Award.

In 1983, Tyson appeared on Broadway in a production of The Corn Is Green which was poorly reviewed and closed after only two weeks. She was fired when she took a night off to attend a tribute to her then-husband, jazz musician Miles Davis. Tyson sued the producers, maintaining that she was entitled to payment in full as stipulated in her contract, about $750,000. The case and appeals took 15 years, but Tyson won.
In her 1994-1995 television series Sweet Justice, Cicily Tyson portrayed a feisty, unorthodox Southern attorney named Carrie Grace Battle, a character she shaped by consulting with and shadowing the legendary Washington, D.C. civil rights and criminal defense lawyer Dovey Johnson Roundtree. In 2005, Tyson co-starred in the movies Because of Winn-Dixie and Diary of a Mad Black Woman. The same year she was honored by Oprah Winfrey at her Legends Ball.
In 1997, Tyson again donned old woman's makeup to offer a delightfully crotchety version of Charles Dickens' Scrooge in the 1997 USA Network original production Ms. Scrooge. Two years later, she had another television success, and another Emmy nomination, with A Lesson Before Dying, a drama set in the 1940s about a black man sentenced to death for a murder he did not commit
Tyson was honored by the Congress of Racial Equality, the National Association for the Advancement of Colored People, and the National Council of Negro Women. In 1977 she was inducted into the Black Filmmakers Hall of Fame.