Sammy Davis Jr.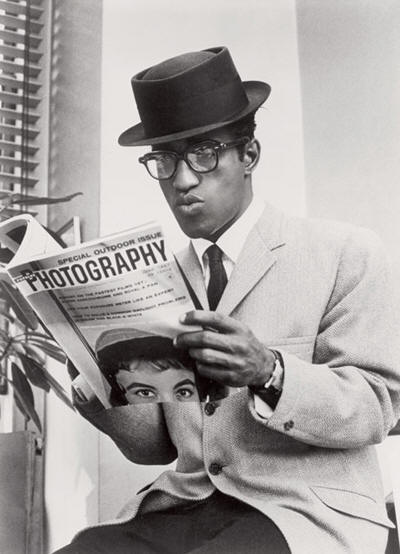 Primarily a dancer and singer, Sammy Davis Jr. was a childhood vaudevillian, and became known for his performances on Broadway and in Las Vegas, as a recording artist, television and film star, and the only black member of Frank Sinatra's "Rat Pack".
Samuel George Davis, Jr. was born in New York City, New York, to Sammy Davis, Sr., an African-American entertainer, and his wife Elvera Sanchez, a tap dancer. During his lifetime, Davis, Jr. stated that his mother was Puerto Rican and born in San Juan; however, in the 2003 biography In Black and White, author Will Haygood writes that Davis, Jr.'s mother was born in New York City to Cuban American parents, and that Davis, Jr. claimed he was Puerto Rican because he feared anti-Cuban backlash would hurt his record sales.
Davis's parents were vaudeville dancers. As an infant, he was raised by his paternal grandmother. When he was three years old, his parents separated. His father, not wanting to lose custody of his son, took him on tour. Davis learned to dance from his father and his "uncle" Will Mastin, who led the dance troupe his father worked for. Davis joined the act as a child and they became the Will Mastin Trio. Throughout his career, Davis included the Will Mastin Trio in his billing.
Mastin and his father shielded him from racism. Snubs were explained as jealousy, for instance. When Davis served in the United States Army during World War II, however, he was confronted by strong racial prejudice. He later said, "Overnight the world looked different. It wasn't one color any more. I could see the protection I'd gotten all my life from my father and Will. I appreciated their loving hope that I'd never need to know about prejudice and hate, but they were wrong. It was as if I'd walked through a swinging door for eighteen years, a door which they had always secretly held open."
Sammy Davis Jr. nearly died in an automobile accident on November 19, 1954 in San Bernardino, California, as he was making a return trip from Las Vegas to Los Angeles. The accident occurred at a fork in U.S. Highway 66 at Cajon Blvd and Kendall Drive. Davis lost his left eye as a result, and wore an eye patch for at least six months following the accident. He appeared on What's My Line wearing the patch. Later, he was fitted for a glass eye, which he wore for the rest of his life. While in the hospital, his friend Eddie Cantor told him about the similarities between the Jewish and black cultures. Prompted by this conversation, Davis, who was born to a Catholic mother and Protestant father, began studying the history of Jews and converted to Judaism several years later. One passage from his readings, describing the endurance of the Jewish people, intrigued him in particular: "The Jews would not die. Three millennia of prophetic teaching had given them an unwavering spirit of resignation and had created in them a will to live which no disaster could crush". In many ways, the accident marked a turning point in Davis's career, taking him from a well-known entertainer to a national celebrity and icon.
In 1956 Sammy Davis Jr. starred on Broadway in
Mr Wonderful.
His refusal to appear in any clubs that practiced racial segregation led to the integration of several venues in Miami Beach and Las Vegas.
Davis married Swedish-born actress May Britt in 1960, when interracial marriages were forbidden by law in 31 states. The couple had one daughter and adopted two sons and
divorced
in 1968. Davis was married to dancer Altovise Gore from 1970 until his death in 1990.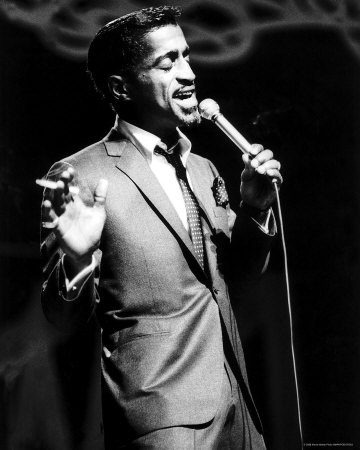 In 1964, Sammy Davis Jr. was starring in Golden Boy at night and shooting his own New York-based afternoon talk show during the day. When he could get a day off from the theater, he would be in the studio recording new songs, or performing live, often at charity benefits as far away as Miami, Chicago and Las Vegas, or doing television variety specials in Los Angeles. Davis knew he was cheating his family of his company, but he could not help himself; as he later said, he was incapable of standing still.
Sammy Davis Jr. starred in the Broadway musical "Golden Boy" in the 1960s. Initially a success, internal tensions, production problems and bad reviews, many of them directed at Davis for playing a role originally written for a white man, resulted in its closing fairly quickly. His film and nightclub career were in full swing, however, and he became even more famous as one of the "Rat Pack", a group of free-wheeling entertainers that included Dean Martin, Frank Sinatra, Joey Bishop and Peter Lawford.
On December 11, 1967, NBC broadcast a musical-variety special entitled Movin' With Nancy. In addition to the Emmy Award-winning musical performances, the show is notable for Nancy Sinatra and Sammy Davis, Jr. greeting each other with a kiss, one of the first black-white kisses in U.S. television history
In the early 1970s, Sammy Davis Jr. supported Republican President Richard M. Nixon, even giving the startled President a hug on live TV. The incident was controversial, and Davis was given a hostile reception by his peers, despite the intervention of Jesse Jackson. Previously he had won their respect with his performance as Joe Wellington Jr. in Golden Boy and his participation in the Civil Rights Movement. Nixon invited Davis to sleep in the White House in 1973, which is believed to be the first time an African-American was invited to do so. Davis spent the night in the Queen's Bedroom. Unlike Frank Sinatra, Davis voted Democratic for president again after the Nixon administration, supporting the campaigns of Rev. Jesse Jackson in 1984 and 1988.