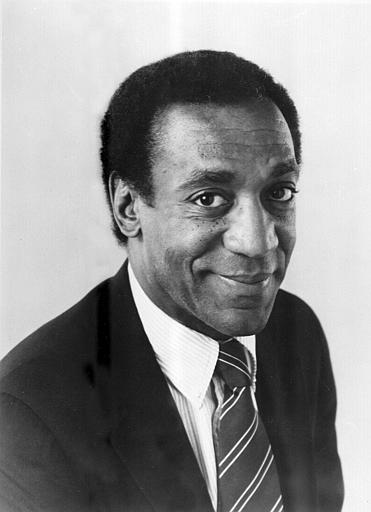 Bill Cosby is an American comedian, actor, author, television producer, educator, musician and activist. Cosby played a major role in the development of a more positive portrayal of blacks on television. He has been a sought-after spokesman, and has endorsed a number of products, including Jell-O pudding, Kodak film, Ford, Texas Instruments, and Coca-Cola, including New Coke. In 2002, scholar Molefi Kete Asante included him in his book, the 100 Greatest African Americans. In 1976, Cosby earned a Doctor of Education degree from the University of Massachusetts. For his doctoral research, he wrote a dissertation entitled, "An Integration of the Visual Media Via 'Fat Albert And The Cosby Kids' Into the Elementary School Curriculum as a Teaching Aid and Vehicle to Achieve Increased Learning".
William H. Cosby Jr. was born on July 12th, 1937, in Philadelphia, Pennsylvania. He is one of four sons born to Anna Pearl, a maid, and William Henry Cosby, Sr., who served as a sailor in the U.S. Navy. During much of his early childhood, Cosby's father was away in the U.S. armed forces and spent several years fighting in World War II. As a student, Bill Cosby described himself as a class clown. Cosby was the captain of the baseball and track and field teams at Mary Channing Wister Elementary School in Philadelphia, as well as the class president. Early on, though, teachers noted his propensity for clowning around rather than studying. At Fitz Simmons Junior High, Cosby began acting in plays as well as continuing his devotion to playing sports. He went on to Central High School, an academically challenging magnet school, but his full schedule of playing football, basketball, baseball, and running track made it hard for him. In addition, Cosby was working before and after school, selling produce, shining shoes, and stocking shelves at a supermarket to help out the family. Bill Cosby transferred to Germantown High School, but failed the tenth grade.
After tenth grade, Cosby joined the Navy and completed high school through a correspondence course. He later took up an athletics scholarship at Temple University, supporting himself during his studies by tending bar, where his easy-going style and witty joking with the clientele prompted suggestions that he try stand-up comedy.
Cosby been doing stand up and was soon discovered by Carl Reiner. He appeared on variety shows in his early twenties, including the famed Ed Sullivan Show. While many comics were using the growing freedom of that decade to explore controversial, sometimes risqué, material, Cosby was making his reputation with humorous recollections of his childhood. In the 1960s, Bill Cosby's stand-up act was a coast-to-coast sensation, spawning a string of hilarious, best-selling comedy albums, which went on to win eight Gold Records, five Platinum records and five Grammy Awards. His role on TV's I Spy made him the first African-American to co-star in a dramatic series, breaking television's racial barrier and winning three Emmy Awards.
Cosby met his wife Camille Hanks while he was performing stand-up in Washington, D.C., in the early 1960s, and she was a student at the University of Maryland. They married on January 25, 1964, and had five children: daughters Erika Ranee, Erinn Chalene, Ensa Camille, and Evin Harrah, and son Ennis William born in 1969. His son Ennis was shot dead while changing a flat tire on the side of the Interstate 405 in Los Angeles on January 16, 1997.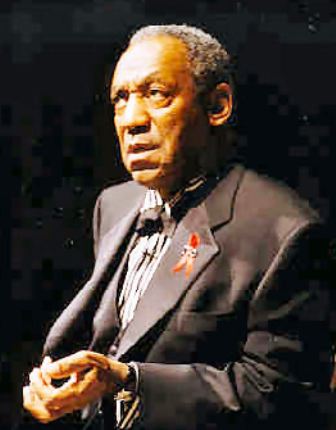 Cosby's subsequent projects for television included the situation comedy The Bill Cosby Show (1969–71), and the variety show The New Bill Cosby Show, which aired from 1972-1973. The early cancellations of both shows did not deter Cosby. He returned to his studies and earned a Bachelors of Art, a Masters Degree, and a Doctorate in Education from the University of Massachusetts. His interest in children and their growth led to the successful cartoon Fat Albert and the Cosby Kids (1972–84, 1989). He appeared in numerous commercials and on children's shows such as Sesame Street and Electric Company; he also made several feature films, which enjoyed limited success.
Cosby's most successful work, The Cosby Show, appeared on NBC from 1984 to 1992, becoming one of the most popular situation comedies in television history. The Cosby Show depicted a stable, prosperous black family, Cosby's character was a doctor and his wife a lawyer, and avoided racial stereotypes. Cosby oversaw all aspects of the the shows production, scrutinizing scripts for possible negative images of family life, particularly African American stereotypes. Bill Cosby made sure the set highlighted African American art on the living room walls, and talk of actual black universities was also included. The show had broad cross-cultural appeal and won several major awards. After the show ended he starred in the series Cosby (1996–2000), in which his Cosby Show costar Phylicia Rashad again played his wife.
Both Bill Cosby and his wife Camille have been active in supporting African American charities, including the NAACP, the United Negro College Fund, Spelman College, and the National Sickle Cell Anemia Foundation. He and his wife, Camille, founded the Hello Friend/Ennis William Cosby Foundation in their son's memory to fund teachers of students with learning disabilities. Cosby became an active member of The Jazz Foundation of America in 2004. For several years, he has been a featured host for its annual benefit, A Great Night in Harlem, at the Apollo Theater in New York City.